'The Outsider' Trailer: Jared Leto Joins The Yakuza In New Netflix Thriller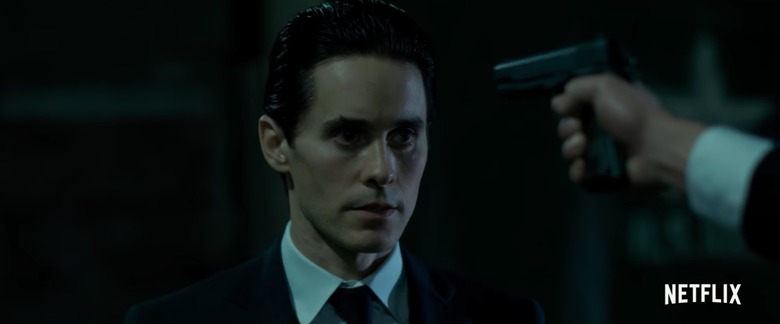 Netflix has released a trailer for The Outsider, a bloody noir starring Jared Leto as a former American POW set in post-World War II Japan.
Leto gets to Last Samurai it up as an American soldier who becomes indebted to the Japanese yakuza, a catch-all for the country's organized crime, and is forced to navigate Japan's seedy criminal underworld to repay his debts.
The Outsider Trailer
If you like watching Jared Leto beat people up in Asian-inspired locales, you're in luck. The last time we saw Leto in a feature film, he was donning a kimono and gutting android women like fish in Blade Runner 2049. Now, he sheds the kimono for a snappy suit and goes to war-torn Japan.
Leto's hollow cheekbones and blank eyes don't communicate much — except that he's a ruthless killer who descends further into madness as he gets caught in the yakuza's bloody web. There's really not much to say about this trailer: it's moody, it's brutal, and it doubles down on Netflix's current fixation with Japan — whether it's through cyberpunk science-fiction (Altered Carbon), anime adaptations (Death Note), or anime itself.
The Outsider has long been in the works. A script was written in 2011 and bounced around to different studios, with high profile names like Michael Fassbender and Tom Hardy attached. But Netflix saved it from development hell when it acquired worldwide distribution rights in 2016.
You can see the stylish poster for The Outsider below.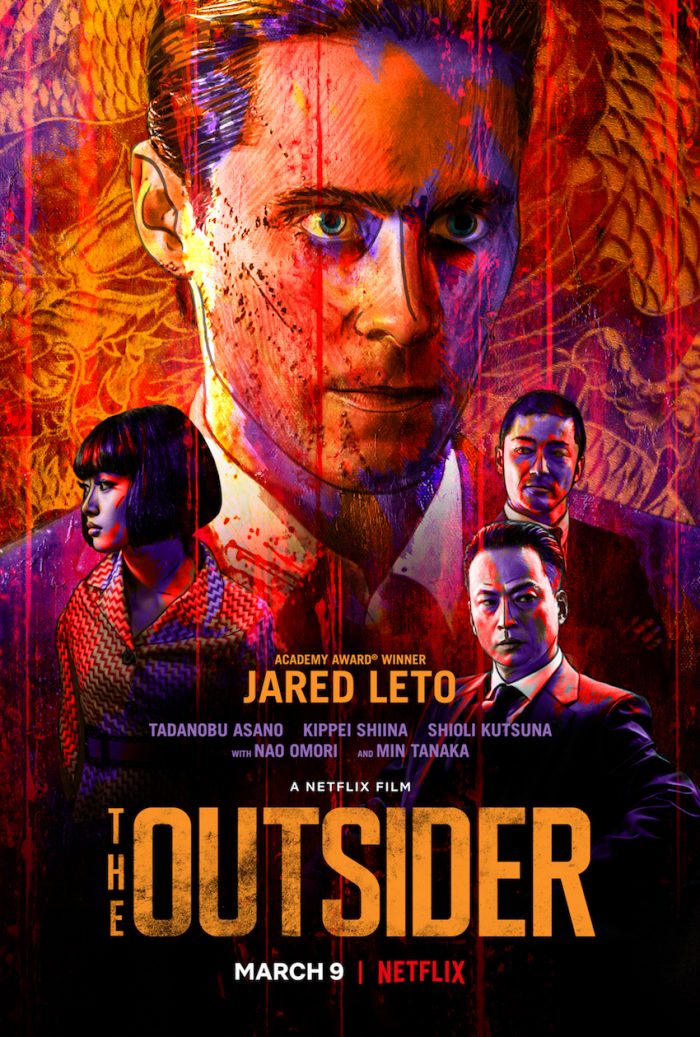 Danish filmmaker Martin Zandvliet, best known for the Oscar-nominated Foreign Language film Land of Mine, makes is English language debut with the film. The script was co-written by Andrew Baldwin (Bastille Day) and John Linson (producer of Lords of Dogtown).
The cast is rounded out by Tadanobu Asano, Kippei Shiina, Shioli Kutsuna, Emile Hirsch, Raymond Nicholson, Rory Cochrane, Nao Omori, and Min Tanaka.
Here is the official synopsis for The Outsider:
Set in post-WWII Japan, an imprisoned American soldier (Leto) is released with the help of his Yakuza cellmate. Now free, he sets out to earn their respect and repay his debt while navigating the dangerous criminal underworld.
The Outsider is set to premiere on Netflix on March 9, 2018.