'Jurassic World 3' Roaring Into Theaters In June 2021 With Writers Emily Carmichael & Colin Trevorrow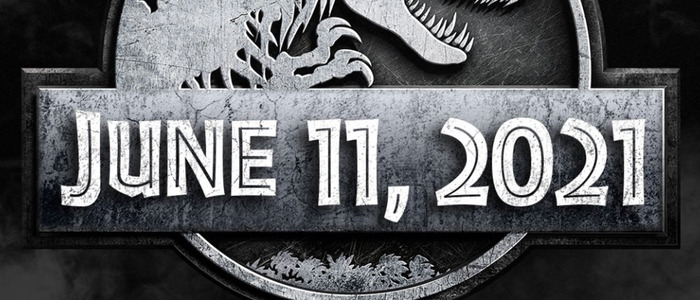 Jurassic World: Fallen Kingdom hasn't hit theaters yet, but plans for Jurassic World 3 are already stomping forward. The sixth entry in the Jurassic Park franchise will hit theaters in June 2021, with Emily Carmichael tapped to write the script alongside Colin Trevorrow.
Life continues to find a way with the Jurassic franchise – Jurassic World 3 will hit theaters on June 11, 2021. Jurassic World director Colin Trevorrow is once again handling writing duties, and Emily Carmichael has been hired to tackle the script alongside him. Trevorrow originally pitched Jurassic World as a trilogy, making this the last film in his proposed arc.
Jurassic World 3 will be released June 11, 2021. pic.twitter.com/9RLUWl13tZ

— Jurassic World (@JurassicWorld) February 21, 2018
Carmichael has a working history with Trevorrow and Jurassic franchise grandaddy Steven Spielberg. In 2016, she was hired to write and direct the film Powerhouse, with Spielberg and Trevorrow producing. Regarding Carmichael and Powerhouse, Trevorrow said:
"Emily Carmichael is the next great writer-director of the kind of movies I love...Her ability to find warmth and humanity in genre storytelling is a superpower in itself."
Carmichael also has a writing credit on the upcoming Pacific Rim: Uprising. Variety confirms Carmichael and Trevorrow will work from a story by Trevorrow and Derek Connolly. Trevorrow and Connolly handled writing duties on Jurassic World and the upcoming Jurassic World: Fallen Kingdom. Trevorrow directed Jurassic World, while Jurassic World: Fallen Kingdom is helmed by J.A. Bayona.
"It's important to this franchise that we welcome new creative voices to keep our storytelling fresh and alive," Trevorrow said in a statement. "I'm thrilled with the tension and beauty J.A. has brought to 'Fallen Kingdom, and I know Emily will add another layer of emotion to the concluding chapter of our trilogy."
After harsh fan reaction to Jurassic World (which nonetheless made serious bank at the box office), "new creative voices" are exactly what the franchise needs.
Fallen Kingdom Leads Into Jurassic World 3
Trevorrow spoke in the past about Jurassic World: Fallen Kingdom setting up Jurassic World 3:
"I knew where I wanted it to go. I remember telling Steven [Spielberg] even while we were making the first movie, "This is the beginning. Here is the middle. And here's the end of the end. This is where we want to go. I feel like that kind of design is crucial to a franchise like this if you really want to bring people along with you and make sure they stay interested. It needs to be thought through on that level. It can't be arbitrary, especially if we want to turn this into a character-based franchise with people who you lean in to follow what they're going to do."
Trevorrow then added:
"At the end of [Fallen Kingdom] it's not a cliffhanger, but it's designed for people to want to know what's going to happen next, whereas the earlier Jurassic Park movies had pretty clear definitive endings. They were much more episodic. In working with Derek Connolly, my co-writer, we were also thinking about where it was gonna go in the future."
Jurassic World: Fallen Kingdom hits theaters on June 22, 2018.