'The Man Who Killed Don Quixote' First Look: Believe It Or Not, This Movie Is Happening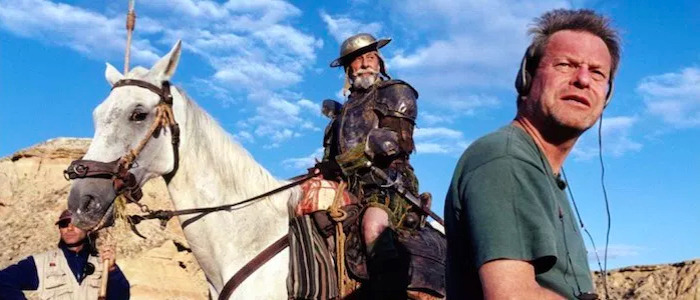 Heaven and hell seemed to unite in defiance of Terry Gilliam's The Man Who Killed Don Quixote. His repeated attempts to make the film over the last 20 years have been plagued by disasters — natural and human.
But, against all odds, he may just have done it. He may have finally made the darn thing. And more than two decades after Gilliam first set out on this passion project, we have our first look at The Man Who Killed Don Quixote.
The first image from The Man Who Killed Don Quixote comes as it makes the rounds at the European film market. The image features Jonathan Pryce as a deluded old man who believes himself to be Don Quixote, and Adam Driver as Toby, an advertising executive pulled into Don Quixote's schemes.
The Man Who Killed Don Quixote First Look
around european film market i've got the first official picture from terry gilliam's quixote with adam driver and jonathan pryce #themanwhokilleddonquixote #Berlinale #TerryGilliam pic.twitter.com/5IOmapTqSc

— Andrea Corsini (@andreamtcorsini) February 21, 2018
It's an image that has been a long time coming.
Driver and Pryce are only the latest pair of actors to be attached to this project, following Johnny Depp and Jean Rochefort in 2000, and Unbroken star Jack O'Connell and John Hurt in 2008. Gilliam has spent so long trying to make this film that the project itself has become a bit of a myth — Hollywood's own Sisyphus endlessly rolling a boulder up a hill. But movies lost to development hell are a dime a dozen, right?
The History of The Man Who Killed Don Quixote
No, The Man Who Killed Don Quixote is something else. The story starts in 1998, when Gilliam first set out to make a film loosely based on the novel Don Quixote by Miguel de Cervantes. At first, the production came together quickly, with Depp and Rochefort on board as the lead characters, but was soon halted by flash floods, aircraft testing, and Rochefort's injury. This is all chronicled in the fascinating documentary Lost in La Mancha.
But Gilliam would not be swayed. He tried again with O'Connell and Hurt, but production was halted after Hurt was diagnosed with cancer. At the same time, Gilliam was mistakenly reported as dead, though his passion project would not be so for long. In 2016, he began rolling that boulder uphill once again, and production began for a third time for Don Quixote with Driver and Gilliam's former Monty Python teammate, Michael Palin. Then, a miracle. Apart from Palin being shortly replaced by Jonathan Pryce, the filming of The Man Who Killed Don Quixote somehow went off without a hitch. Shooting wrapped in June of 2017, and Gilliam started nearing the crest of that hill in November 2017. After post-production ends, the film will be handed to Amazon Studios for distribution.
Here is the "official" synopsis for the film:
The Man Who Killed Don Quixote tells the story of a deluded old man who is convinced he is Don Quixote, and who mistakes Toby, an advertising executive, for his trusty squire, Sancho Panza. The pair embark on a bizarre journey, jumping back and forth in time between the 21st and magical 17th century. Gradually, like the infamous knight himself, Toby becomes consumed by the illusory world and unable to determine his dreams from reality. The tale culminates in a phantasmagorical and emotional finale where Toby takes on the mantle of Don Quixote de la Mancha.
After nearly 17 years of languishing in development hell, The Man Who Killed Don Quixote is expected to debut at this year's Cannes Film Festival. Maybe. The sky could still fall tomorrow.