How Donald Glover "Punched Up" The Jokes In 'Black Panther'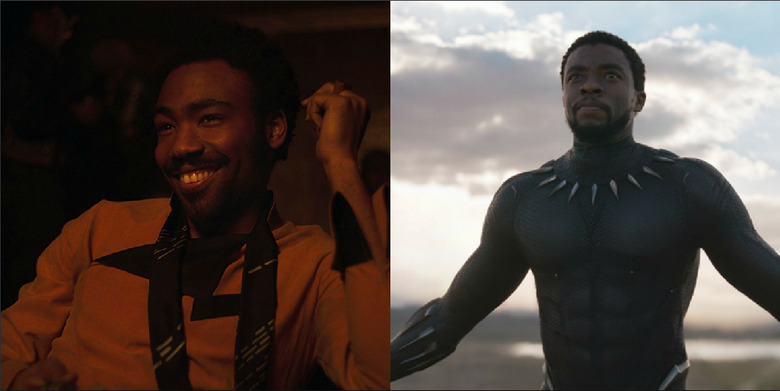 If there was ever a movie that perfectly embodied Black Excellence, it's Black Panther. From visionary director Ryan Coogler to the insanely talented cast to the diverse crew to even the invisible hands that helped create the box office smash, the film is a landmark moment for blockbuster filmmaking.
And now we know that one of those invisible hands belong to Donald Glover, the creator and star of FX's excellent Atlanta and our new Lando Calrissian.
Outside of a minor role in Spider-Man: Homecoming, Glover has no ties to Disney or Marvel, so it's kind of a miracle that the actor-writer-rapper extraordinaire was able to take a gander at the Black Panther script. But he and his brother Stephen Glover, a fellow rapper and Atlanta writer, both gave their input on Black Panther. Ryan Coogler told Collider:
Donald and Stephen actually gave me notes on a draft. They came in and read – came in and took a day, they were really busy – they took a day and read the draft... this was right before we started the shoot. They had some cool insight.
But what parts of the movie did Glover give insight on? The jokes, of course.
The multi-hyphenate may be best known at the moment for stealing every scene in the Solo: A Star Wars Story trailer (despite having no lines!) as the charismatic Lando, but before he became an acclaimed actor-musician-writer, Glover was a comedian first. Glover told Entertainment Tonight:
"[Director] Ryan [Coogler] was gracious enough to be like, 'Will you take a look at this script?' Which was really cool. Marvel locks things down, so we had not as much time as I would've wanted. We had a couple of hours to punch up some jokes and stuff like that. It was already there anyway. They had already done a great job, so it was really cool to just get our fingerprints on there a bit."
Credit for the script itself goes to Coogler and Joe Robert Cole, but both Donald and Stephen Glover get thanked in the credits for Black Panther. And now they get to bask in the success of Black Panther's history-making box office haul ($201.8 million on opening weekend, and climbing) and its immense influence on the Marvel Cinematic Universe and beyond.
Black Panther is currently playing in theaters.