Daily Podcast: How Black Panther Changes The Future Of The MCU, It: Chapter Two, The Push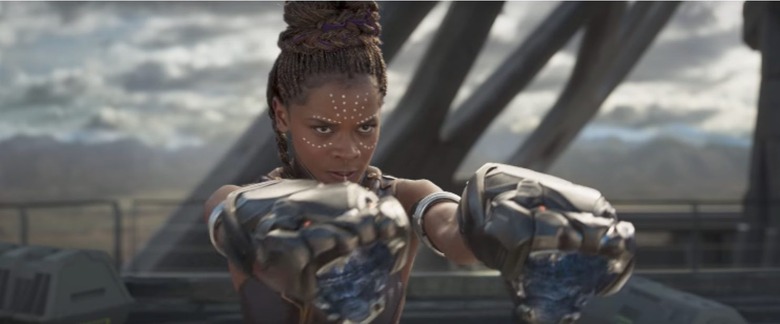 On the February 20, 2018 episode of /Film Daily, /Film editor-in-chief Peter Sciretta is joined by weekend editor Brad Oman, senior writer Ben Pearson, and writer Chris Evangelista to talk about the latest news, including The Push trailer, It: Chapter Two casting, and Black Panther's insane box office success. And in our feature presentation, we talk about how Black Panther might affect the future of the Marvel Cinematic Universe.You can subscribe to /Film Daily on iTunes, Google Play, Overcast and all the popular podcast apps (here is the RSS URL if you need it).
In the News:
'The Push' Trailer: A Reality Movie About Convincing Someone to Commit Murder
Feature Presentation: What does Black Panther mean for the future of the MCU?
We will likely see more black heroes on screen:
Shuri as Ironheart?
https://twitter.com/Bosslogic/status/964768497468239872
Blade?
War Machine?
Falcon?
Assuming Cap, Thor, and Tony all die or don't return after Avengers 4, this leaves T'Challa (and maybe Doctor Strange?) as the new face of the MCU and the new main box office draw. Along with Captain Marvel, this means a very, very different Phase 4 cast.
Does this setup Martin Freeman as Everett K. Ross in Captain Marvel?
Is Everett K. Ross the new Agent Coulson?
The whole world now has Wakanda's overpowered tech, what does this mean for stakes in the MCU and Infinity War?
Wakanda: the TV series?
Ben -
Why 'Black Panther' Doesn't Contain Any Infinity Stones
(also, "was this a spoiler?" discussion)
Is the final infinity stone, The Soul Stone, on Wakanda? What's up with the purple flowers?
Black-market arms dealer Ulysses Klaue smuggled large amounts of vibranium out of Wakanda and sold them on the black market. Was Howard Stark a buyer? First scene in BP is 1992, right after Howard's assassination months earlier.
Who might be a villain for the sequel? M'Baku starts out as a jealous villain attempting to take the throne of Wakanda for himself, only to be defeated by T'Challa, turning him into a reluctant ally. Could that alliance be short lived?
You can find more about all the stories we mentioned on today's show at slashfilm.com. /Film Daily is published every weekday, bringing you the most exciting news from the world of movies and television as well as deeper dives into the great features from slashfilm.com. You can subscribe to /Film Daily on iTunes, Google Play, Overcast and all the popular podcast apps (RSS). Please feel free to send your feedback, questions or comments to us at peter@slashfilm.com and leave your name and general geographic location in case we mention the e-mail on the air. Please rate and review the podcast on iTunes and spread the word! Thanks to Sam Hume for our logo.