'The Terror' Featurette: AMC's New Horror Drama Looks Incredible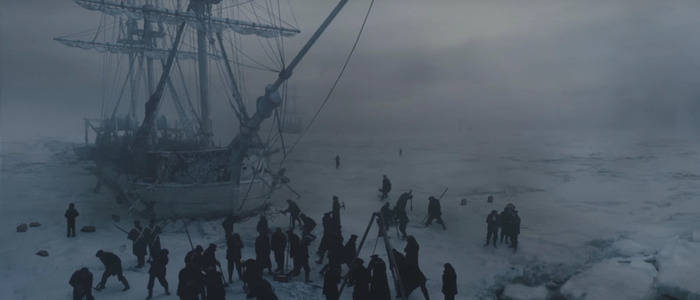 AMC is about to unleash your next TV obsession: The Terror. The historical horror show adapts the Dan Simmons novel of the same name, based on the true story of Captain Sir John Franklin's lost expedition in the late 1800s. A The Terror featurette goes behind-the-scenes of the new Ridley Scott-produced series.Dan Simmons' lengthy tome The Terror makes for a great read, and will likely make for an even greater TV series. The new AMC adaptation of Simmons' book comes from creator David Kajganich, with filmmaking legend Ridley Scott serving as one of the executive producers. A new The Terror featurette has behind-the-scenes interviews with the cast and crew and they discuss the upcoming series.
The Terror Featurette 
This looks kind of...awesome? I thought an earlier trailer for The Terror looked a tad unimpressive, but this featurette makes the show look truly fantastic, full of moody, stylish, cinematic direction. That shot of someone in a diving suit being lowered into the icy waters is incredible. On top of that, the story itself is almost too engrossing to pass-up. As co-star Jared Harris says, "There have been more successful trips to the moon than there have been passages through the Northwest Passage."In 1845, two ships, HMS Erebus and HMS Terror, set sail from England on an expedition under the command of Captain Sir John Franklin (played on the show by Ciarán Hinds). Franklin's  mission hoped to sail through the Arctic with hopes of traveling through last unexplored section of the Northwest Passage. The mission started off well-enough, but problems began to set in very soon. Before long, both ships were trapped in ice, and slowly but surely, men started dying.Simmons' novel, and the show, adds a supernatural element to the story – the presence of a malevolent, inhuman force out there in the ice, stalking the men. In addition to Jared Harris and Ciarán Hinds, The Terror stars Tobias Menzies, Paul Ready, Adam Nagaitis, Matthew McNulty, Liam Garrigan, Ronan Raftery and Nive Nielsen.The Terror premieres on AMC on March 26, 2018.
Inspired by a true story, The Terror centers on the Royal Navy's perilous voyage into unchartered territory as the crew attempts to discover the Northwest Passage. Faced with treacherous conditions, limited resources, dwindling hope and fear of the unknown, the crew is pushed to the brink of extinction. Frozen, isolated and stuck at the end of the earth, The Terror highlights all that can go wrong when a group of men, desperate to survive, struggle not only with the elements, but with each other.