'The Force Of Sound' Trailer: Find Out How They Make Lightsaber Sounds In This 'Last Jedi' Documentary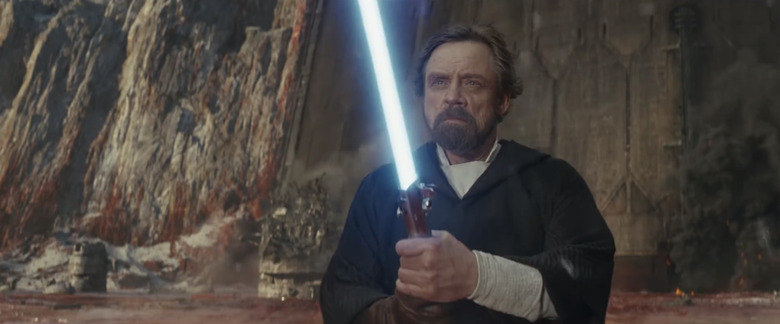 There's a moment in Star Wars: The Last Jedi where the sound completely cuts off for 10 seconds. You probably remember it — or at least heard about the viral AMC signs assuring Star Wars fans that yes, that silence is supposed to happen. It's a powerful moment, one where silence speaks louder than words. But it couldn't have achieved that level of power if not for the stellar sound design in Star Wars: The Last Jedi.
The Force of Sound is a new documentary from ABC News Features that delves into the Oscar-nominated sound design of Star Wars: The Last Jedi. From the crying of porgs to BB-8's rattling, you'll get to learn about all the blood, sweat, and tears that went into creating the sound of Last Jedi. And yes, you will find out how they make lightsaber sounds.
The Force of Sound Trailer
At Skywalker Ranch, a dedicated team creates and mixes the sound for Star Wars: The Last Jedi. And it's a less elegant affair than you would expect.
The Last Jedi sound department make all the sounds themselves, clapping together hooves to imitate the sound of the Fathiers galloping on Canto Bight (it's more than just banging coconuts together), or rattling a metal ball alongside BB-8's movements. And a fun fact that we learn from this trailer: an intern is the one who discovered the perfect sound for a porg's cry — a turkey.
"Sound is not just a layer we put on top of the storytelling, it is the storytelling," director Rian Johnson says in the trailer.
The Sound of Silence in The Holdo Maneuver
And that sound storytelling comes to its apex in a moment of complete silence: the Holdo maneuver. In the movie's most breathtaking moment, Admiral Holdo makes the jump to lightspeed in a desperate attempt to destroy the First Order's ships. She succeeds, and it results in an indelible image of a spacecraft being ripped in two by beams of light, frozen at the moment of destruction.
Johnson spoke to /Filmcast about how the stunning scene was engineered, through "the idea of that exposure shift." He added, "We had versions of it before that with just regularly lit ships, with streaks of white going through them, and it was nowhere near as impactful. It was when they showed this version of it to me that had this exposure shift, and I was like, 'Oh my God, that makes it all kind of click.'"
In The Force of Sound trailer, Johnson says the decision around the scene "felt kind of radical," admitting that he wondered, "can we get away with this?"
The new documentary will debut on ABCNews.com/features on February 20, 2018. The documentary is not currently expected to air on network television.