'Unbanned: The Legend Of AJ1' Trailer: Sneaker Documentary About How Air Jordans Changed The World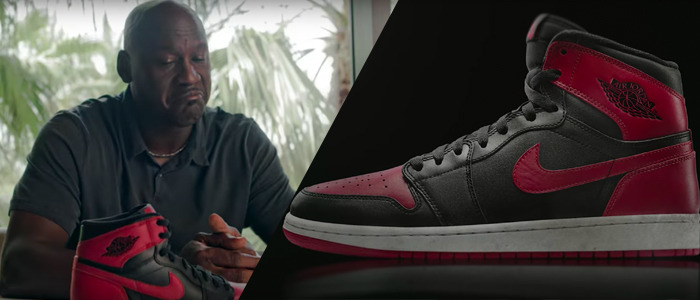 In the 1980s, it may have been difficult for some to understand how owning a pair of Air Jordans "gave a voice to the voiceless." But the shoes proved to be the Big Bang of sneaker culture, which subsequently exploded and crossed over with multiple aspects of popular culture: sports, fashion, music, and more. Now a new documentary called Unbanned: The Legend of AJ1 is here to tell the tale, featuring interviews with Michael Jordan, Michael B. Jordan, Spike Lee, Lena Waithe, Anthony Anderson, DJ Khaled, and many more.
The first Unbanned trailer debuted during the NBA All-Star Weekend, and you can check it out below.
Unbanned trailer
As a kid who played basketball growing up, I always wanted a pair of Jordans – but I couldn't afford them. Even when I was in junior high, I knew that wearing Air Jordans was a huge deal: Jordans were a status symbol, an item of clothing that announced to the world that you were part of the club.
But back then, I didn't comprehend the seismic cultural revolution that these sneakers were ushering in. I had no idea that it was controversial for Nike to make a black basketball player the face of their company. I also didn't even realize that the sneakers were banned at one point. So I'm looking forward to learning more about it and seeing what writer Dexton Deboree (Star Party, Black Crescent Moon) does with Unbanned, which marks his directorial debut.
"The AJ1 is more than a shoe. It's a symbol of a much greater meaning across genders, race, geography and time," Deboree said in a statement to IndieWire. "Now more than ever, what this shoe represents, its impact on society and its role in really creating, defining and redefining a lot of our modern culture makes it a story that has to be told."
If sneakers aren't really your thing but you're interested in seeing more about Jordan himself, you should seek out an IMAX documentary called Michael Jordan To The Max that came out back in 2000. It follows his retirement from (and eventual return to) basketball, and features tons of footage from the 1998 NBA Finals. It's essentially a puff piece, but it's still a hell of a lot more fun to watch than something like Space Jam. (Sorry not sorry, fellow Millennials – that movie does NOT hold up.)
Unbanned will be released on July 13, 2018.