'The Last OG' Trailer: Tracy Morgan And Tiffany Haddish Head To TBS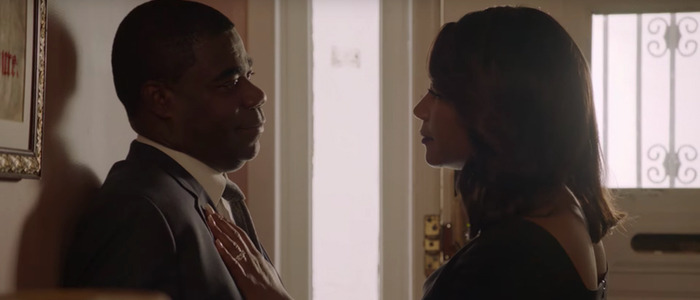 Tiffany Haddish is everywhere these days, and rightfully so. The latest project for the very funny actress is a the new TBS series The Last OG. Haddish co-stars with Tracy Morgan in a story about an ex-con trying to adjust when he returns to his old Brooklyn neighborhood.
Tiffany Haddish's acclaimed turn in Girls Trip has launched her into superstardom. More and more projects featuring the actress are popping-up every day. Just recently, it was announced Haddish would co-star along Melissa McCarthy in The Kitchen. Before that, however, Haddish will be seen in the TBS series The Last OG. The series stars Tracy Morgan as a recently released ex-con who finds his old Brooklyn neighborhood drastically changed. He also discovers his ex-girlfriend (Haddish) is now married – and that she's raising children Morgan's character never knew existed. Watch The Last OG trailer below.
The Last OG Trailer
Some of the jokes in this trailer fall a bit flat, but Morgan and Haddish are two of the funniest performers working right now, so I have no doubt they'll elevate the material. The Last OG also stars Cedric the Entertainer, Taylor Mosby, Dante Hoagland, Allen Maldonado and Ryan Gaul. And that's not all: the series was created by recent Oscar nominee Jordan Peele, along with John Carcieri.
"A big part of the show is that [Tracy Morgan's character is] in this world that's changed without him," Carcieri said at the 2017 TCA press tour. "There's an Archie Bunker quality to the show, and that's part of what's funny about it."
"We don't only explore the black community, but humanity," Morgan said at the same TCA event. "It's not a black show. It's about humanity — second chances, redemption."
The Last OG will premiere on TBS on April 3, 2018.
Tray (Tracy Morgan) is an ex-con who is shocked to see just how much the world has changed when he is released from prison for good behavior after a 15-year stint. Returning to his newly gentrified Brooklyn neighborhood, he discovers that his former girlfriend, Shay (Tiffany Haddish), has married an affable, successful white man (Ryan Gaul) who is helping raise the twins (Taylor Mosby and Dante Hoagland) Tray never knew existed. Wanting nothing more than to connect with his kids, but having neither the money to support them nor himself, Tray falls back on the skills he learned in prison to make ends meet while treading unfamiliar territory.