'Thor: Ragnarok' Extended Scene: Jeff Goldblum Goes Full Goldblum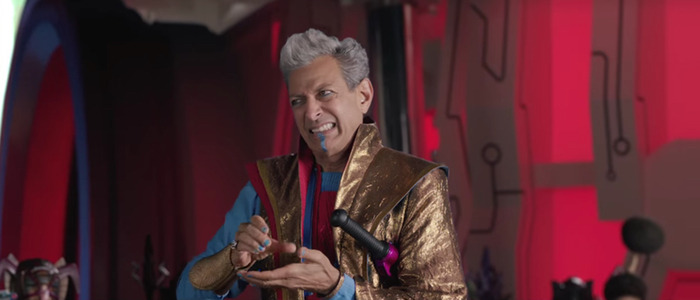 There was a lot to love about Taika Waititi's Thor: Ragnarok, but one of the best elements of the film was Jeff Goldblum's Grandmaster. Waititi is smart enough to understand all you need for cinematic gold is to point a camera at Goldblum and let him run wild. In a new Thor Ragnarok extended scene, Jeff Goldblum goes Full Goldblum™ as the Grandmaster, and it's an absolute delight.
At this point, it would be wise for Marvel and Disney to release Thor: Ragnarok – The Goldblum Cut, compiling the hours of footage of Jeff Goldblum running wild the minute the cameras were trained on him. We've already seen deleted scenes featuring Goldblum's Grandmaster, and now there's an extended scene in which Goldblum does what he does best: ramble like a crazy person while employing puzzling hand gestures. It's a treat to watch, so please, watch it.
Thor Ragnarok Extended Scene 
Honestly, what the hell is Jeff Goldblum even doing in this clip? I don't know, but I love it! I can only imagine there are hours of more unseen footage of Goldblum doing...whatever it is he's doing here. And I want to see all of it. Regarding his wild and crazy Grandmaster performance, the actor told Independent: 
"I don't know how much was me...But, Taika Waititi, he's an improviser. He said 'If you want to, I have a notion that we'll improvise a lot. And it'll be a character who will make use of several of the things you do. It won't be comic-book-y. Your character is theatrical'. I would go, 'why don't I say this?' Taika would say, 'dance like I am'. Then I would [Goldblum starts dancing in his chair] until we got kicked off set. We fooled around a lot. I was very anxious to see which version made the final cut. I liked what they used. They took out the bad stuff and made me look OK."
"They took out the bad stuff." Whatever this "bad stuff" is, Mr. Goldblum, I'd like to see it immediately. Because I'm sure it's incredible.
The upcoming Thor: Ragnarok Blu-ray has a wealth of deleted and extended scenes, and I really hope Jeff Goldblum is in almost all of them. There's also this:
Exclusive Short/Team Darryl – Fresh off being unseated as the ruler of Sakaar, the Grandmaster makes his way to Earth to start a new life. It's been over a year since Thor left Australia and Darryl has been struggling to pay his rent. Now Darryl needs a new roommate to help make the monthly payments. Unfortunately for Darryl, the Grandmaster was the only one who answered Darryl's "Roommate Needed" ad and with no viable options, the Grandmaster moves in.
Give it to me. Give me all the Goldblum.
Thor: Ragnarok arrives on Blu-ray on March 6, 2018.