Dr. Seuss Biopic Coming From 'Wonder' Director Stephen Chbosky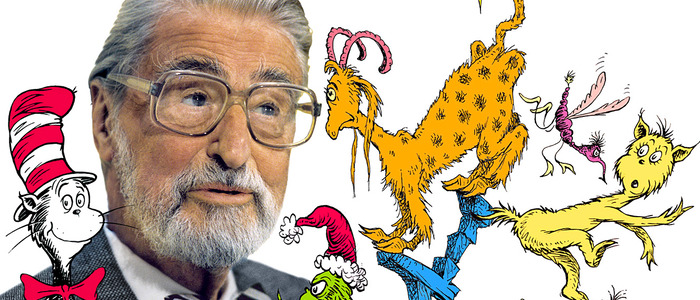 Dr. Seuss, AKA Theodor Geisel, will be the subject of a new biopic from The Perks of Being a Wallflower and Wonder director Stephen Chbosky. The film, called Seuss, will follow Geisel in his early days, before he became the children's author still renowned to this day. It will also chronicle his relationship with his wife Helen. More on the Dr. Seuss biopic below.
Would you watch a Dr. Seuss biopic in a box? Would you watch a Dr. Seuss biopic with a fox? Okay, that's enough of that. Deadline reports that Stephen Chbosky, director of The Perks of Being a Wallflower and Wonder will indeed direct a Dr. Seuss biopic. Finally, we're going to learn just what this Seuss fellow was a doctor of!
The film, titled Seuss, will follow the young Theodor Geisel in the 1920s as he struggles to find his artistic voice. Geisel's life changes for the better when he meets his future-wife Helen Palmer, who inspires him to become Dr. Seuss. Later in their marriage, Helen is inflicted with a crippling illness, and Geisel's career begins to fall apart, until Helen inspires Geisel to write The Cat in the Hat. Geisel went on to publish more than 60 children's books under the pen name Dr. Seuss.
Truth be told, this sounds a bit treacly, but Chbosky is talented enough that he might find a way to make it all work. Seuss' script comes courtesy of Jonathan Stewart and Eyal Podell. While Dr. Seuss has an ever-lasting legacy thanks to his work, the subject of his life has remained mostly untouched by films. The closest thing to a biopic is a 1994 made-for-TV movie called In Search of Dr. Seuss. In that film, a reporter goes through a journey guided by the Cat in the Hat  to learn all about the real Dr. Seuss. It's not very good! I'm sure this biopic will have a much different approach.
Meanwhile, film adaptations of Dr. Seuss' work continue to flood Hollywood. A new animated take on How the Grinch Stole Christmas, The Grinch, is due out this November. In addition to that, there's a new Cat in the Hat movie being developed at Warner Bros.
Chbosky, meanwhile, also has a Prince Charming move in development with Disney. It's not clear if he'll be working on that first and then move on to Seuss, or if the Dr. Seuss biopic will come first. Either way, it's time to start fan-casting young Dr. Seuss.