Now Stream This: Indie Dramas, Screwball Comedies, Horror Anthologies And 'Walk Hard'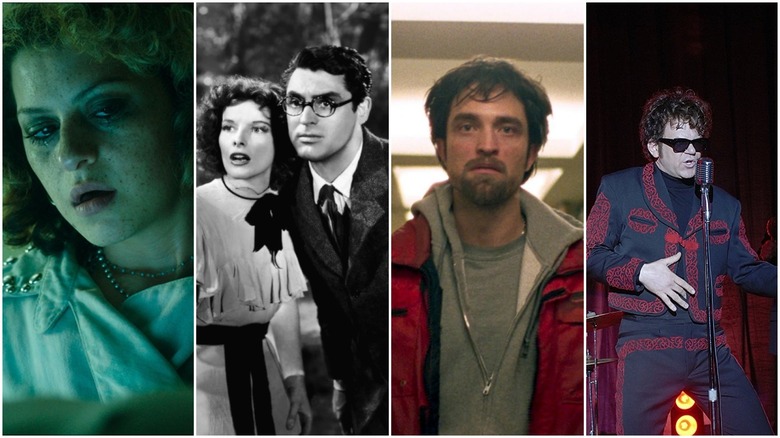 (Welcome to Now Stream This, a column dedicated to the best movies streaming on Netflix, Amazon, Hulu, and every other streaming service out there.) 
Looking for something to stream this weekend and beyond? I've got you covered. This latest edition of Now Stream This has scoured streaming services to bring you back a variety of films: comedy, horror, drama, as well as modern-day movies and classics from Hollywood's yesterday.
Here you'll find the directorial debut of Amber Tamblyn; a classic screwball comedy; a horror anthology film; a forgotten Nicole Kidman thriller; a recent highly acclaimed sci-fi flick; an intense indie drama; yet another incredible performance from Michael Stuhlbarg; and much more. It's time for best movies streaming right now. Let's get streaming.
Now Streaming on Netflix
Release Date: 2016Genre: Indie-DramaDirector: Amber TamblynCast: Alia Shawkat, Janet McTeer, Alfred Molina, Emily Rios, Rhys WakefieldActress Amber Tamblyn made her directorial debut with this intense, stylish drama. Alia Shawkat plays a young woman dealing with the sudden death of her boyfriend. The grieving process is hard enough as it is, but Shawkat's character also has to contend with her dead lover's extremely unstable mother, played with smoldering yet sad menace by Janet McTeer. Paint It Black is one of those rare unpredictable films that never goes the way you'd expect. It also looks incredible, proving that Tamblyn has a great directorial eye (with some help from cinematographer Brian Rigney Hubbard).For fans of: The Neon Demon, Sunset Blvd., Search Party, mood lighting. 
Now Streaming on FilmStruck
Release Date: 1938Genre: Screwball ComedyDirector: Howard HawksCast: Katharine Hepburn, Cary Grant, Charles Ruggles, Walter Catlett, May Robson, Nissa the LeopardYou can't go wrong with this Howard Hawks classic. Audiences avoided this screwball comedy when it hit theaters in 1938, but it's since gone on to become renowned as the masterpiece that it really is. Cary Grant plays an absent-minded paleontologist who gets caught-up in a madcap adventure with a possibly crazy heiress, played by Katherine Hepburn. Do these two loons fall in love? Of course they do, but before that happens they have to deal with a missing dinosaur bone and a leopard named Baby. Bringing Up Baby is one of the funniest damn movies ever made, so if you're feeling blue (and I can't blame you if you are), feel free to fire this flick up and forget your troubles for 102 minutes.For fans of: His Girl Friday, The Philadelphia Story, What's Up Doc?, endless double entendres.
Now Streaming on Amazon Prime Video
Release Date: 2016Genre: Sci-Fi DramaDirector: Denis VilleneuveCast: Amy Adams, Jeremy Renner, Forest Whitaker, Michael StuhlbargJóhann Jóhannsson's death over the weekend was a huge loss for film scores. Jóhannsson seemed to be at the very beginning of an incredible film score career, only to have his life tragically cut short. One of his recent, haunting scores is featured in Denis Villeneuve's sci-fi drama Arrival. Amy Adams stars as a linguist recruited to decode an alien language. The more she interacts with the aliens, the closer the world comes to catastrophe. This is big, bold, intelligent science fiction, the likes of which Hollywood usually shys away from. Villeneuve packs Arrival with big ideas, but best of all, the film has an emotional core that you might not expect. And underneath it all is Jóhannsson's eerie, experimental score.For fans of: Blade Runner 2049, Contact, Close Encounters of the Third Kind, heptapods. 
4. Walk Hard: The Dewey Cox Story 
Now Streaming on Netflix
Release Date: 2007Genre: ComedyDirector: Jake KasdanCast: John C. Reilly, Jenna Fischer, Kristen Wiig, Tim Meadows, Chris ParnellWalk Hard was not a hit when it played in theaters, but since then it's gained a cult following. And rightfully so. This movie is hysterical, and endlessly quotable. Director Jake Kasdan and co-writer Judd Apatow take a sledgehammer to the by-the-numbers musician biopic (i.e. Walk the Line, Ray, etc.). John C. Reilly is Dewey Cox, the type of musician who likes to think about his entire life right before he plays a show. From beginning to end, Walk Hard is laugh-out-loud funny, and features some killer cameos too good to spoil.For fans of: Airplane!, Young Frankenstein, The Naked Gun, famous characters announcing who they are when they enter a scene. 
Now Streaming on Netflix
Release Date: 2009Genre: Dark ComedyDirector: Joel and Ethan Coen.Cast: Michael Stuhlbarg, Richard Kind, Fred Melamed, Sari LennickWere you (rightfully) bummed-out when Michael Stuhlbarg failed to net a Best Supporting Actor Oscar nomination this year for Call Me By Your Name or The Shape of Water? Well, the Academy is starting to make a habit of stubbing Mr. Stuhlbarg, and they should quit it. For example: the actor failed to receive a Best Actor nod for his brilliant turn in the Coen Brothers' quirky dark comedy A Serious Man. Stuhlbarg plays a physics professor in the 1960s whose life slowly falls apart. What follows is a funny, surprising film that only the Coen Brothers could create. And heads-up: the very last shot of the film is stunning.For fans of: Inside Llewyn Davis, Burn After Reading, Barton Fink, accepting the mystery. 
Now Streaming on Amazon Prime Video
Release Date: 2017Genre: Indie-DramaDirector: Ben and Josh SafdieCast: Robert Pattinson, Jennifer Jason Leigh, Ben Safdie, Barkhad Abdi, Buddy DuressFrom the Safdie Brothers comes this blistering, manic long night's journey into day. Robert Pattinson gives the best performance of his career as a small time crook who needs to raise 10 grand to get his developmentally disabled brother (Ben Safdie) out of prison. When he later learns that his brother is in the hospital after getting in a fight in prison, Pattinson attempts to bust him out. And then everything goes to hell. This is a frantic, intense film, and it's definitely not going to be for everyone. But Good Time is alive in ways most other indie films aren't, and there's such a raw, intense energy coming off this movie that it's almost exhausting. If you can stomach the film's often unpleasant subject matter, you'll be rewarded.For fans of: Heaven Knows What, After Hours, Bringing Out the Dead, Sprite. 
Now Streaming on Shudder
Release Date: 2017Genre: HorrorDirector: Joe LynchCast: Steven Yeun, Samara Weaving, Steven Brand, Caroline Chikezie, Kerry Fox, Dallas RobertsOne thing is clear after watching Mayhem: Steven Yeun deserves to be a movie star. Yeun stars as a lawyer at a big, greedy law firm. As Mayhem begins, we learn of the ID-7 virus – a virus that turns people into raging murderers, sort of like the infected in 28 Days Later. Thanks to Yeun's firm, people who commit murder while infected are able to get off on murder charges once they're cured. The argument is it's the virus that makes them killers, so they can't be blamed. You can probably guess where this is going: Yeun's character gets fired right as the ID-7 sweeps through his office, and soon it's kill or be killed as the building goes into lock-down. Mayhem comes from director Joe Lynch, and while this could be classified as a horror-comedy at times, Lynch keeps the balance just right. Filmmakers dabbling in horror-comedy have a tendency to far too often go way too big on the humor, which capsizes the movie. Lynch thankfully avoids that, and the film is the better because of it. What really makes Mayhem work, though, is Yeun, who makes one heck of a compelling lead.For fans of: Tucker and Dale vs. Evil, Everly, The Belko Experiment, nail guns. 
Now Streaming on Amazon Prime Video
Release Date: 1988-1991Genre: Television, HorrorDirector: VariousCast: Lili Taylor, David Spade, Tony Shaloub, Steve Buscemi, Gina Gershon, Matt LeBlancFrom 1988 to 1991, Monsters had a syndicated run, bringing cheesy horror shorts into people's living rooms. Sort of the light-hearted cousin to Tales from the Darkside, Monsters was the type of horror anthology you could gather around and watch with your family. It's aged a bit (what early '90s TV show hasn't?), but it's still a whole lot of fun. One episode, "The Moving Finger", was adapted from a Stephen King short story of the same name. In the story, a giant, sentient finger comes up out of someone's toilet. Yeah, it's weird. The best part of Monsters, however, were the opening credits, which featured a family of monsters gathering around their TV to watch the show. During this opening, a little monster girl grabs some bugs from a dish and proclaims, "Oh wow, Candied Critters!" You can't beat that, folks.For fans of: Tales from the Dark Side, Tales From the Crypt, Friday the 13th the Series, candied critters.
Now Streaming on Shudder
Release Date: 1963Genre: HorrorDirector: Mario BavaCast: Boris Karloff, Mark Damon, Michèle Mercier, Susy Andersen, Lydia Alfonsi, Glauco Onorato, Jacqueline PierreuxMario Bava helms this glorious horror anthology film featuring, among others, Boris Karloff. There are three stories here: one about a woman receiving strange phone calls; another about a vampire; and a third about someone trying to steal from the dead. All three are wonderful, but the last segment, "The Drop of Water", is a particularly ghoulish delight. As is the case with all Bava horror films, Black Sabbath has style to spare, awash in crimson reds and deep blues. If you're in the mood of something to give you the creeps on a chilly night as the winter winds down, look no further than this.For fans of: Trick-r-Treat, The Vault of Horror, Creepshow, Black Sunday, Boris Karloff's severed head. 
Now Streaming on Hulu
Release Date: 2002Genre: Comedy ThrillerDirector: Jez ButterworthCast: Nicole Kidman, Ben Chaplin, Vincent Cassell, Mathieu KassovitzNicole Kidman seems to be experiencing something of a renaissance lately, but the truth is she never went away. She just happened to appear in movies people didn't pay much attention to. Like 2002's Birthday Girl, from director Jez Butterworth. Ben Chaplin is a lonely bank clerk who orders a Russian mail-order bride. The bride, played by Kidman, arrives in his quiet little small town, and after some awkwardness, the two hit it off via some kinkiness. Just when Chaplin is beginning to enjoy his new life, Kidman's "cousins" show up at his house, and things go very, very wrong. To be clear: Birthday Girl is problematic as fuck, so be warned. But it's also a surprisingly well-crafted thriller, and Kidman delivers yet another memorable performance.For fans of: Secretary, To Die For, Malice, Nicole Kidman using a not-so-believable accent.