Jon Favreau Voicing Alien In 'Solo: A Star Wars Story' [Updated]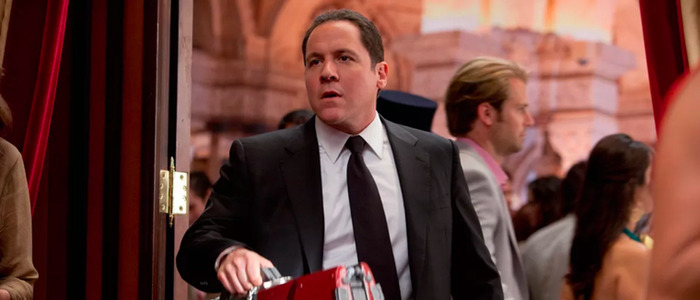 Update: Jon Favreau and EW have both confirmed that the briefly-seen alien in the Solo trailer is the character Favreau is voicing. You can see an image below.
#Solo #StarWars pic.twitter.com/IFovO3mGm0

— Jon Favreau (@Jon_Favreau) February 16, 2018
The original story follows below.
***
Director and Star Wars fan Jon Favreau is going to be voicing an "important alien" in Solo: A Star Wars Story. Solo director Ron Howard took to Twitter to confirm Favreau's involvement in the upcoming Star Wars origin spin-off today. Time to start placing your bets as to which important alien he's playing. My money is on Sy Snootles.
It seems we learn something new about Solo every other day now. A few days ago Jon Favreau posted this on Twitter:
@RealRonHoward and Lawrence Kasdan #starwars #solo pic.twitter.com/VGSi2fH0Zs

— Jon Favreau (@Jon_Favreau) February 2, 2018
Today, Solo director Ron Howard provided an update on the pic:
Wondering why we r all together? @Jon_Favreau is voicing a very cool & important alien character for #HanSolo Flattered & fortunate I could pull him away from his #LionKing directing duties https://t.co/W5N7YoAlq6

— Ron Howard (@RealRonHoward) February 14, 2018
There you have it: Jon Favreau is voicing a "cool" and "important" alien in the film. Who will be voicing the uncool and unimportant aliens, though? We'll probably find that out later.
Who Is Jon Favreau Playing In Solo?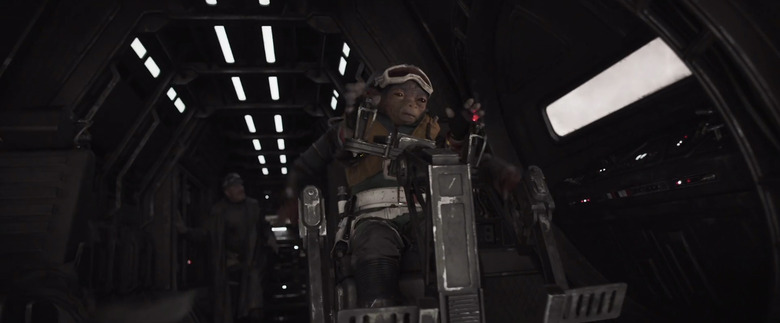 Let's speculate wildly about Favreau's part, shall we? Does this mean Favreau is voicing a character previously established in Star Wars lore, or is he taking on the voice of a new character? Perhaps it's this alien seen briefly in the Solo trailer (see above image) My guess: Favreau's character will only pop-up briefly and not be a major player. Or I could be wrong – stranger things have happened.
As previously mentioned, Favreau is a big Star Wars fan. The filmmaker and actor voiced the character Pre Vizsla for several seasons of the animated series Star Wars: The Clone Wars.  At one point, he was also one of several directors listed to possibly helm Star Wars: The Force Awakens. At the time, Favreau said:
"I have had the good fortune of working with George [Lucas] and around George, and whether it is doing a voice on Clone Wars, or being at the Skywalker Ranch mixing Iron Man – so I have been very happy and lucky to just experience the culture that Lucas has created, both in my own life growing up as a kid and professional – whether it was interviewing him at film festivals on stage, he is just a really wonderful, talented gifted guy who has changed the business so much, so I am just giddy, first and foremost as a fan, to see what happens with it. I think there is a lot of question marks of how they are going to do it, and who they are going to do it with, and what the story is going to be about; but to say that I am not excited about it is definitely an understatement. We'll see."
While Favreau has yet to land himself a Star Wars directing gig, his continued involvement with various forms of the franchise has no doubt kept him happy. And there's still a good chance he might direct a Star Wars film one day. After all, Disney and Lucasfilm are planning to make even more Star Wars movies stretching all the way into the foreseeable future.