'Blackcoat's Daughter' Director To Helm 'A Head Full Of Ghosts'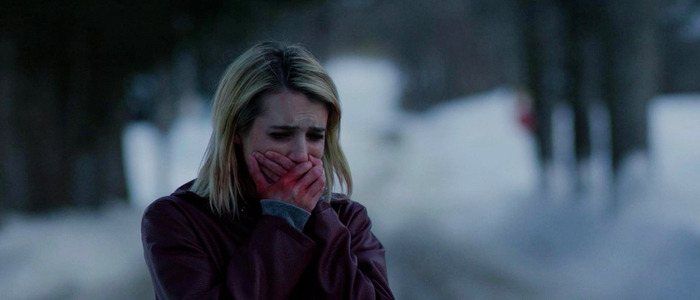 Oz Perkins, director of the super-creepy slow-burn horror movies I Am The Pretty Thing That Lives In The House and The Blackcoat's Daughter, has his next tale of terror lined-up. The filmmaker will adapt Paul Tremblay's novel A Head Full of Ghosts to the big screen. The book tells the story of a suburban family thrown into chaos when their eldest daughter apparently becomes possessed by supernatural forces.
While I Am The Pretty Thing That Lives In The House and The Blackcoat's Daughter aren't the flashiest horror movies in recent memory, they are some of the best. Director Oz Perkins (son of Psycho star Anthony Perkins) has made a name for himself helming slow-burn scary movies that work their way under your skin. Now, Perkins has the perfect new project: an adaptation of the Paul Tremblay novel A Head Full of Ghosts. Deadline confirms Perkins is on board to write and direct the film. Here's the book's synopsis:
The lives of the Barretts, a normal suburban New England family, are torn apart when fourteen-year-old Marjorie begins to display signs of acute schizophrenia. To her parents' despair, the doctors are unable to stop Marjorie's descent into madness. As their stable home devolves into a house of horrors, they reluctantly turn to a local Catholic priest for help. Father Wanderly suggests an exorcism; he believes the vulnerable teenager is the victim of demonic possession. He also contacts a production company that is eager to document the Barretts' plight. With John, Marjorie's father, out of work for more than a year and the medical bills looming, the family agrees to be filmed, and soon find themselves the unwitting stars of The Possession, a hit reality television show. When events in the Barrett household explode in tragedy, the show and the shocking incidents it captures become the stuff of urban legend.
Tremblay's book is very effective, and subtly chilling, which makes it the perfect match for Perkins. The book plays with perception – Tremblay keeps the reader guessing as to whether or not something truly supernatural is going on here, or if it's all the product of Marjorie's mind.
A Head Full of Ghosts will be produced by Team Downey partners Susan Downey and Robert Downey Jr., along with The Allegiance Theater's Daniel Dubiecki and Lara Alameddine, and David Gambino. If you haven't seen I Am The Pretty Thing That Lives In The House and The Blackcoat's Daughter yet, you should get on that ASAP. Pretty Thing is streaming on Netflix and Blackcoat's Daughter is streaming on Amazon Prime Video.