New 'Star Wars Rebels' Clip: Ezra Leads A Rescue Mission For Hera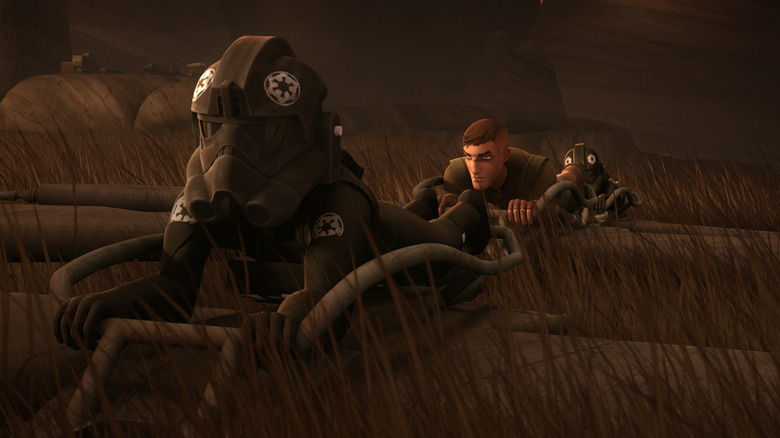 Star Wars Rebels is nearing its final episodes.
The animated Disney XD series has captivated Star Wars fans young and old for the past four seasons, enriching the new Star Wars canon and introducing the lovable crew of The Ghost, the spunky rebels fighting against the tyranny of the Empire. But now, it will soon be time to say goodbye to leader Kanan, ace pilot Hera, brave warrior Sabine, hulking Zeb, and teen con artist Ezra.
Star Wars Rebels returns to Disney XD to air its final episodes this month. Over the next three weeks, two back-to-back episodes will air each week until the series bittersweet conclusion on March 5, 2018. First up: "Jedi Night" and "DUME."
In anticipation of the upcoming two episodes, Disney XD has released a short clip from "Jedi Night."
Star Wars Rebels Clip
After years of leading the crew of the Ghost, Kanan stands aside to finally let Ezra take the lead in a rescue mission for Hera, who was captured by Imperial forces in the mid-season finale. Ezra leads the team to infiltrate the Imperial headquarters on Lothal.
In the foreboding clip, Kanan, fearing that his feelings for Hera will cloud his judgment, passes the baton to his young "padawan" Ezra, series creator Dave Filoni told ABC News:
"This is a big decision moment. Kanan is smart enough to know that his emotions around her could actually cloud his judgment and what he would choose to do... It is a nice transference moment. There's always this thing where you have a student, and they're becoming more and more adept than the master."
It's a moment that nicely parallels previous master-protégé moments that have been a central part of the Star Wars franchise: from Qui-Gon Jinn and Obi Wan, to Obi Wan and Luke Skywalker. The wizened mentor passes the torch so that the strapping young hero can find it in himself to save the day.
So does that spell potential doom for Kanan in the future? Filoni was coy on the matter. "There's only a small group of people that actually know the entire ending of the series," Filoni said. "I have all their names written down in my office. I know exactly who knows what. It's my best attempt to keep all of this from getting out."
Here are the official synopses for the episodes "Jedi Night" and "DUME":
In "Jedi Night" -  The Ghost crew infiltrates the Imperial headquarters of Lothal to save one of their own.
In "DUME" – The Ghost crew rallies together to find new purpose and resolve.
Star Wars Rebels returns to Disney XD on February 19, 2018 at 9 p.m. ET/PT.