The Original Script Pages For 'Bill And Ted's Excellent Adventure' Have A Surprisingly Emotional Origin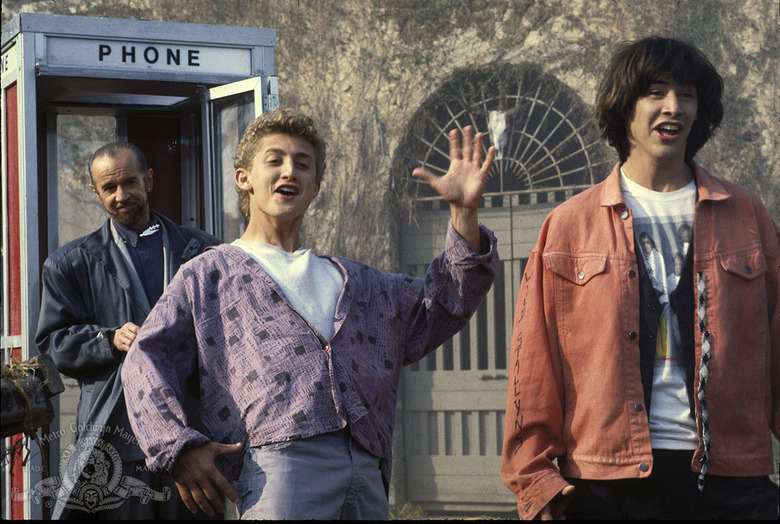 Nearly 30 years ago, Bill Preston and Ted Logan stepped into a time-traveling phone booth and wreaked havoc on history. But in the process, they taught us an important lesson: Be excellent to each other.
It's a simple, jovial message from two pure-hearted lunkheads, one that has resonated in the decades since Bill & Ted's Excellent Adventure became a cult classic. Original stars Keanu Reeves and Alex Winter have since moved on — Reeves to breaking the bones of assassins, Winter to his tech and political activism – but it's always excellent to revisit the cult comedy. And the latest jaunt back in time comes courtesy of one of Bill and Ted's creators himself, writer Ed Solomon.
Solomon, who co-wrote Bill & Ted's Excellent Adventure with Chris Matheson, recently posted the first script pages for the film on his Twitter feed. The pages are no more than scribbles and barely-legible notes that Solomon and Matheson jotted down when they were young, struggling writers in a coffee shop.
But along with the images of the pages, Solomon launches into the sweet, inspiring backstory of how he and Matheson conceived of Bill and Ted and his pride in bringing this brand of positivity into the world.
I promised this to some people a while ago (sorry for the delay, had to get them down from storage again). These are very first pages from the original, hand-written draft of Bill & Ted, written in a coffee shop by Chris Matheson & me in what now seems like another life. 1/ pic.twitter.com/yjcnf27QPS

— Ed Solomon (@ed_solomon) February 13, 2018
Writing it was never anything other than a pure joy. It was hard, when in the mindset of these guys, not to feel the kind of ebullience and generosity of spirit that they embody. And we knew absolutely nothing about so-called "rules" of writing. 2/ pic.twitter.com/OafxFGCT90

— Ed Solomon (@ed_solomon) February 13, 2018
We were guided by one thing: what made us laugh? I remember at one point looking across the table from each other and saying "Maybe someday somebody might even READ this script!" We had NO idea that they'd be so beautifully embodied by the great @alxwinter and Keanu Reeves. 3/ pic.twitter.com/pZsB8GC7Gq

— Ed Solomon (@ed_solomon) February 13, 2018
And of course, George Carlin, who we all so dearly miss. To me, the fans of this movie are like family. We never thought it would even get MADE, let alone find a home with people. 4/ pic.twitter.com/jBC6p7qWFB

— Ed Solomon (@ed_solomon) February 13, 2018
Chris and I have often said to each other: if all we did in our career was put the phrase "Be Excellent To Each Other" out into the world, that wouldn't be such a bad thing. Sometimes when work is tough, or things don't land the way I'd hoped, I think about that and feel ok. 5/5 pic.twitter.com/GQ5Y3jDFDU

— Ed Solomon (@ed_solomon) February 13, 2018
It's a riveting, emotional story that makes you appreciate the power of Bill & Ted's Excellent Adventure, and everything that Solomon and Matheson put into those characters. Solomon's tribute to the late George Carlin, who played Bill and Ted's time-traveling guide from the future, is touching as well.
Bill & Ted would eventually spawn a sequel, Bill & Ted's Bogus Adventure, in addition to two TV spin-offs — one an animated series with Reeves and Winter reprising the roles behind the recording booth, and another a brief live-action series that ran for seven episodes starring Evan Richards and Christopher Kennedy as Bill and Ted.
But nothing beats the charm and irreverence of the original, which followed resident high school slackers Bill and Ted as they are sent a time-traveling phone booth from a futuristic utopian society that worships the pair of them. The two travel to several time periods in order to help pass their history tests, but after they get the ingenious idea of kidnapping historical figures to help them with the exam, they throw the entirety of history into chaos. Bill & Ted's Excellent Adventure could have been a silly, empty comedy but thanks to Carlin's affable turn as the future agent Rufus, Reeves' vanity-free breakout role as Ted, and Winter's crop top, it became so much more. I was enamored with the film in high school, where it was "educational" enough that administrators didn't blink an eye when my orchestra teacher played it for us every other week.
Hopefully, Solomon looking to the past is good news for the long-gestating Bill and Ted 3, which is maybe, someday happening. All we need is a time-traveling phone booth.