'Unbreakable Kimmy Schmidt' Season 4 Will Be Split Into Two Parts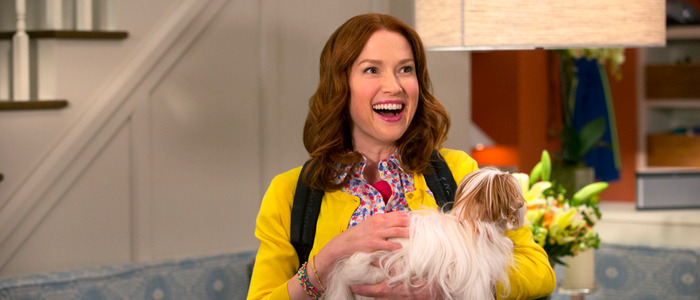 Unbreakable Kimmy Schmidt season 4 is dropping on Netflix very soon, but with a twist. Unlike previous seasons and most Netflix shows in general, Unbreakable Kimmy Scdmidt season 4 will be split into two parts. The first six episodes arrive in May, while the second half of the season will drop sometime later in 2018.
In what could be the start of something new for Netflix, Unbreakable Kimmy Schmidt season 4 is being split into two separate halves. The first six episodes of season 4 will launch on May 30, 2018. The second half of the season will then arrive later. As I'm sure everyone knows by now, Netflix usually drops entire seasons at once, giving viewers the opportunity to binge through the weekend. Splitting a season in half is a slightly bold new move for Netflix, and might signal that the streaming service is attempting to change things up a bit.
Why Split the Season?
Recently, Amazon adopted a similar method with their live-action take on The Tick. A "half-season" comprised of the first six episodes hit the streaming platform in 2016, with episodes 7–12 set for release on February 23, 2018. While bingeing through an entire season over a weekend is fun, it also tends to kill the general buzz surrounding a show. Once everyone is done bingeing, it often seems as if the show in question fades from our collective memories. Perhaps by splitting a season in half like this, Netflix (and Amazon) are attempting to keep that buzz and hype alive a little bit longer.
Unbreakable Kimmy Schmidt focuses on a young woman (Ellie Kemper) who has to re-adapt to the real world after spending 15 years locked in an underground bunker as a prisoner of a religious cult. The show, created by Tina Fey and Robert Carlock, started off wonderfully – the first season is an absolute delight. But subsequent seasons have suffered a distinct drop-off in quality. I found season 3 to be almost unwatchable, give or take a few funny moments here and there. Hopefully season 4 will turn things around.
May is right around the corner, so I imagine we'll be blessed with an Unbreakable Kimmy Schmidt season 4 trailer any day now.
Created by Tina Fey and Robert Carlock, the three-time Emmy-nominated "Unbreakable

Kimmy

Schmidt

" follows

Kimmy

Schmidt

(Ellie Kemper) as she continues to adjust to the 21st century and learn more about who she really is. Joining

Kimmy

on her journey are her best friend and roommate, Titus Andromedon (Tituss Burgess); her former-employer-turned-friend Jacqueline White (Jane Krakowski); and landlord Lillian Kaushtupper (Carol Kane).