'Uncle Drew' Trailer: Kyrie Irving Leads A Team Of NBA Legends In Old-Age Make-Up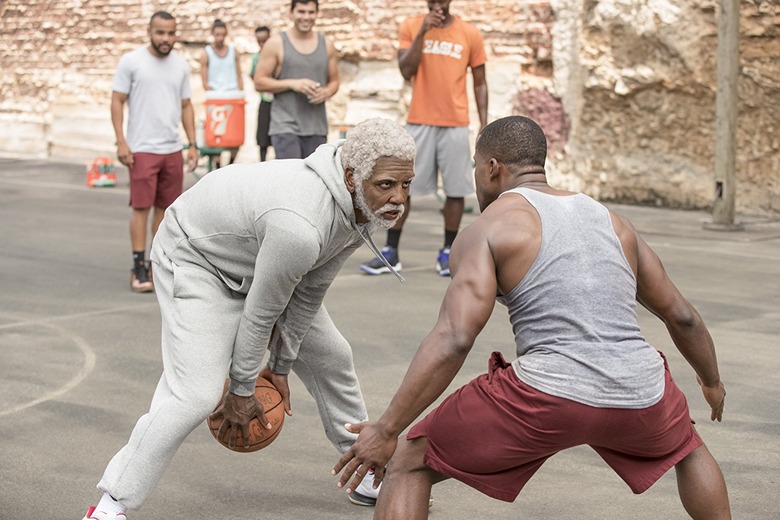 It started as a viral bit. Basketball star Kyrie Irving donned some old-age make-up, a fat suit, and a white wig to play "Uncle Drew," a washed-up basketball player who shows up to a local game and shows up all the young players. He debuted in a Pepsi Max ad that was presented as documentary-style "chapters" — which later came together as a 20-minute short film. The videos soon went viral and and went on to be one of the most popular ads that aired at the NBA finals.
Now, Uncle Drew is getting his own movie.
Kyrie Irving reprises his role as Uncle Drew in the Uncle Drew movie, which follows Get Out's Lil Rel Howery as he begs his uncle to help him beat the reigning team at a tournament. But Uncle Drew has one condition: he wants to bring in his own team.
Uncle Drew Trailer
Cue Kyrie Irving leading a team of NBA basketball legends in old-age make-up, including Shaquille O'Neal, Chris Webber, Reggie Miller, and Nate Robinson. But non-sports fans can get excited for this movie too — Uncle Drew boasts some comedy heavyweights like Girls Trip breakout star Tiffany Haddish, Nick Kroll as the team's rival, and of course, Get Out scene-stealer Lil Rel Howery.
But temper your expectations Haddish fans: it's obvious that Uncle Drew was filmed before she shot to fame after Girls Trip, as the actress seems to have barely more than a brief supporting role. It's not quite the highly anticipated follow-up role to Girls Trip — the film doesn't even appear on her IMDB page.
Uncle Drew is Irving's feature film debut, but he seems to be perfectly comfortable in the role that helped launch him to viral fame. Here's the first chapter of the 2012 viral short.
Here is the official synopsis for Uncle Drew:
After draining his life savings to enter a team in the Rucker Classic street ball tournament in Harlem, Dax (Lil Rel Howery) is dealt a series of unfortunate setbacks, including losing his team to his longtime rival (Nick Kroll). Desperate to win the tournament and the cash prize, Dax stumbles upon the man, the myth, the legend UNCLE DREW (NBA All-Star Kyrie Irving) and convinces him to return to the court one more time. The two men embark on a road trip to round up Drew's old basketball squad (Shaquille O'Neal, Chris Webber, Reggie Miller, Nate Robinson, and Lisa Leslie) and prove that a group of septuagenarians can still win the big one.
Uncle Drew is set to hit theaters on June 29, 2018.