Why The Millennium Falcon Looks Different In 'Solo: A Star Wars Story'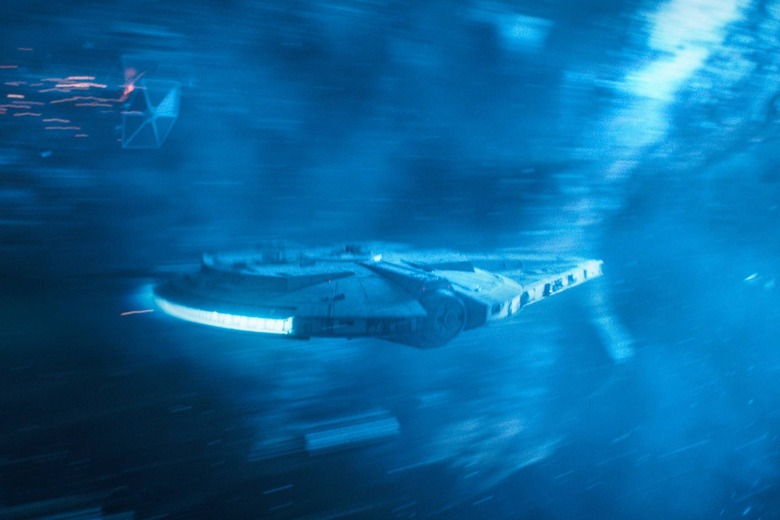 Long before Luke Skywalker rudely called the Millennium Falcon "a piece of junk," it was a sleek, clean vessel. Or at least, it was before Han Solo gets his hands on it in the upcoming Solo: A Star Wars Story prequel film.
Fans of the iconic spacecraft might have noticed how wildly different the Falcon was in the Solo trailer — white, shiny, and lacking its distinguishable mandibles. Now, we get to find out why the starship looks so completely different, and how it slowly transforms into the "piece of junk" we all know and love.
Lando's Party Vessel
Before Han (Alden Ehrenreich, taking over the role from Harrison Ford) piloted the Millennium Falcon, it was Lando Calrissian (Donald Glover) who sat in the captain's chair. A week after the outlet dropped a bunch of new images and plot details, Entertainment Weekly has the scoop on what the Falcon looked like in Lando's care, and why.
Solo screenplay Jon Kasdan — who co-wrote the script with his father Lawrence Kasdan, the veteran co-writer of The Empire Strikes Back, Return of the Jedi, and The Force Awakens — told EW:
"Where Han gave it a certain shabby coolness and a dinged up quality that reflected where he was at that point in his life, this Falcon reflects its owner very clearly in its shape and aesthetic and his needs, even if those needs be a little more space to entertain...One of the things Larry and I had talked about was the Falcon should always reflect the personality of its captain."
So under Lando, the Falcon wasn't just a carrier of goods, but a party vessel. And considering Lando's glamorous, fur-heavy wardrobe, it's probably the setting for some pretty wild shenanigans.
Hints From the Hasbro Toy's Breakaway Panels
We all know the story: Han won ownership of the Millennium Falcon in a game of sabacc. Now it will be more than simple backstory: Solo will show us exactly how the Falcon changes hands from Lando to Han, and how it evolves (or devolves) from a sleek party vessel to a dinky smuggling craft.
First, there's the famed Kessell Run, which Han boasted about crossing in 12 parsecs. The way is plagued with black holes — and in the trailer we see the Falcon dodging giant electric tentacles in a nebula.
The new Hasbro toy line for Solo may provide us with a few hints. The Hasbro toy version of the Millennium Falcon has breakway panels that pop off after the starship kicks into hyperdrive. So perhaps that's why the exterior looks so different decades later — as everyone who has owned a toy knows, parts get lost along the way.
But Ehrenreich told EW that the Falcon's eventual banged-up state isn't entirely an accident, but a matter of practicality:
"It's safer in the galaxy to fly something that looks like a piece of junk. People underestimate you — especially if you're up to no good. Kinda like how you're more likely to get pulled over if you're driving a Lamborghini."
What Happened to That Tapered Nose?
But let's get to the biggest, juiciest change: the tapered nose. Fans immediately noticed that the Falcon had a different silhouette in Solo, ending in a tapered nose instead of forked mandibles. Unfortunately, EW says "it would be a spoiler to reveal exactly how that happens." But they do provide a hint. EW writes:
Those mandibles were always meant to hold something, and it's clear there's a section of the new Hasbro toy that can be removed, perhaps a detachable storage container.
Was it something built in during Lando's time? Or was it an element that has always been part of the Falcon?
"Remember, when the Falcon enters our movie, it's already had a long life," Kasdan says. "And it's been modified even from its original design. What we tried to do with the whole movie was take things that we take for granted and love and turn them on their ear."
Solo: A Star Wars Story is directed by Ron Howard and stars Alden Ehrenreich as Han Solo, along with Woody Harrelson, Emilia Clarke, Donald Glover, Thandie Newton, Phoebe Waller-Bridge, Joonas Suotamo, and Paul Bettany. Solo hits theaters on May 25, 2018.