'Atlanta' Season 2 Trailer: Robbin' Season Is Here For The FX Series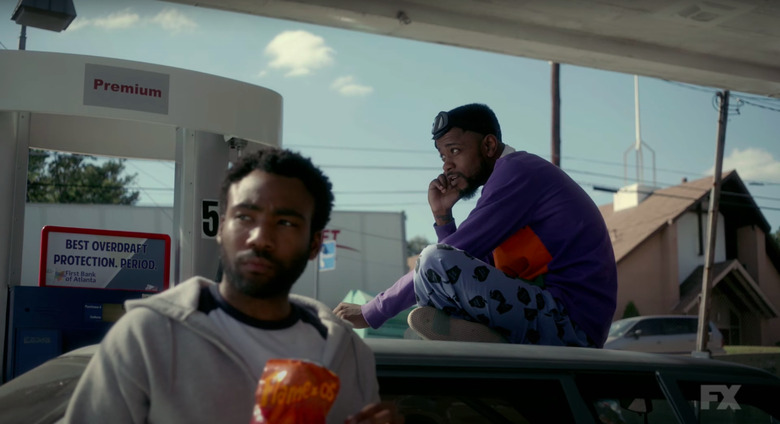 We finally have the first full trailer for Atlanta season 2. And it only gives us a little more information than the surreal, moody teasers that the acclaimed FX comedy has been dropping on us for the past few months.
The long wait for the return of Atlanta is nearly over. After a nearly two-year hiatus for Donald Glover's Golden Globe-winning show, the series returns as Atlanta: Robbin' Season. And that "robbin'" part plays a big role in the first full trailer for Atlanta season 2.
Atlanta Season 2 Trailer
"Everybody gotta eat."
Breakout star LaKeith Stanfield's Darius returns with the sage words he's known for, as Earnest (Glover) and Alfred/Paper Boi (Brian Tyree Henry) struggle with the trappings of more money and more fame. Because we all know that only leads to, as they say, more problems.
"Robbin season" has arrived in Atlanta, a time during which the city's residents become antsy due to, well, robbing. Glover explained the reason behind the season's subtitle to Billboard: it refers to the time of year between Christmas and New Year's when people have packages stolen from their front steps. "People have to get Christmas gifts so it's a time where robbery will go. You might get your package stolen from the front porch," Glover said. "It's just a very tense and desperate time."
"Our characters are going through insane, desperate transitions so Robbin' Season is kind of a metaphor for all of our characters," Glover added.
But as much as the past trailers have emphasized the series' weird Twin Peaks-inspired surrealism, the newest trailer reminds you that Atlanta is still very much a comedy. Paper Boi is still flummoxed whenever people ask him to primp and preen for wider hip-hop audiences, and Darius is still doing...whatever he's doing. And let's not forget Deadpool 2 star Zazie Beets, who took center stage in one of the first season's best episodes, and remains just as grounded and hilarious here.
Here is the official synopsis for Atlanta season 2:
Two cousins work through the Atlanta music scene in order to better their lives and the lives of their families. Donald Glover serves as Executive Producer, along with Paul Simms, Dianne McGunigle and Stephen Glover. Atlanta is produced by FX Productions.
Atlanta season 2, or more accurately, Atlanta: Robbin' Season, returns to FX on March 1, 2018.