11 Gothic Romances That Redefine "Valentine's Day Movie"
Passion and anguish, true love lost and mourned over oceans of time, unrequited love felt so strongly that it drives one to darkness and despair...ah, the horror of love. These sentiments may not appear in the glittery pink and red Hallmark cards littering your local supermarket, but in a year where del Toro's strange and unusual love story The Shape of Water swept the Oscar nominations, this Valentine's Day deserves something a little different, a little darker, a little more...gothic.
Gothic isn't always spiderwebs and haunted mansions or that weird kid in the back of your classroom. From poetic bloodlust to loneliness so crippling you can almost feel your chest caving in, from Universal Monsters and Goblin Kings, from headless horseman to robots, the romances of this list take the phrase "it's better to have loved and lost" to tortuous new heights. They embody the characteristics of a Victorian era genre full of mystery, desire, and the macabre, more tantalizing and real than a thousand shades of grey.
Bram Stoker's Dracula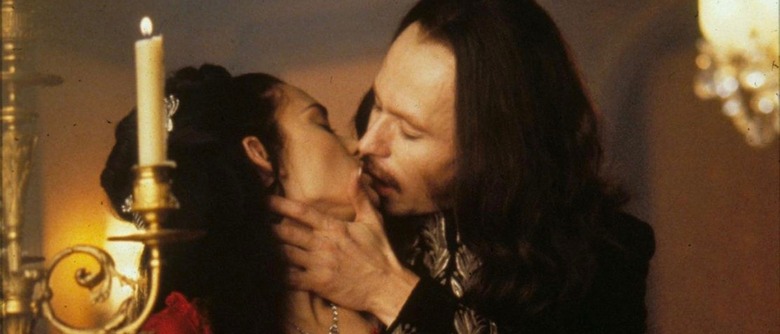 Based on an actual Victorian era gothic romance novel, Bram Stoker's Dracula marries one of the coolest casts around (Gary Oldman, Keanu Reeves, Anthony Hopkins, and Tom Waits, to name a few) with one of the most passionately disturbing romances of all time. Like listening to a Shakespearean sonnet, it takes a moment to fall under Dracula's trance, particularly now that some of its visual techniques have not aged gracefully, but with plenty of velvet, candles, lots of fog, and the dramatic billowing of delicate fabrics in the eerie winds, Dracula certainly nails down the gothic vibe.
However, even if you strip away all of that pomp and circumstance, the bones of the story still produce one of the most heart-wrenching, world shattering, death-defying love stories of all time. The love triangles of gothic romances are far more intense and all-consuming than the love triangles of romantic comedies, and story of Dracula (Gary Oldman), Mina, the reincarnation of his true love Elisabeth (both played by Winona Ryder), and Mina's sensible and modest fiancé Jonathan Harker (Keanu Reeves) is a doozy. If you have found your true love in life, you can almost relate to Dracula's pain of losing his, and when faced with the seductive charm of this centuries-old prince, can you really blame Mina for finding him a little bit more enticing than the sensible Jonathan? Can you forgive evil for the sake of love? This film is as sexy and romantic as it is terrifying and thought-provoking.
The Illusionist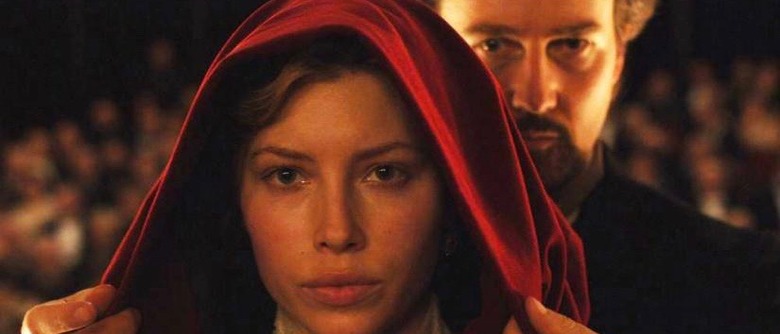 Dealings with death, a connection to ghosts, powerful love that transcends time, and plenty of mystery: these are the characteristics of gothic storytelling. They also happen to describe Neil Burger's 2006 film The Illusionist. Childhood sweethearts in turn-of-the-century Austria, Eduard and Sophie, reunite after being forcibly separated because of their vastly different social classes. Now known as Eisenheim the Illusionist, Eduard (Edward Norton), finds himself an enemy of Crown Prince Leopold, his beloved Sophie's (Jessica Biel) egomaniacal fiancé. After Sophie's tragic murder, Eisenhiem, heartbroken and angry, begins to taunt the Prince, whom he believes to be the murderer, by entertaining the crowd with a new kind of show...talking to the dead.
Even though it has one of the happier endings on this list, The Illusionist definitely takes true love through the path of most resistance. Edward Norton is brilliant as the tortured magician that has lost his chance at happiness not once but twice, and now seemingly forever.  While there may not be haunted castles or a large fog budget and there are no supernatural monsters to be seen, The Illusionist evokes the deep passion and dark mystery of the gothic genre while laying bare the side of love so raw it is stronger than life itself.
Sleepy Hollow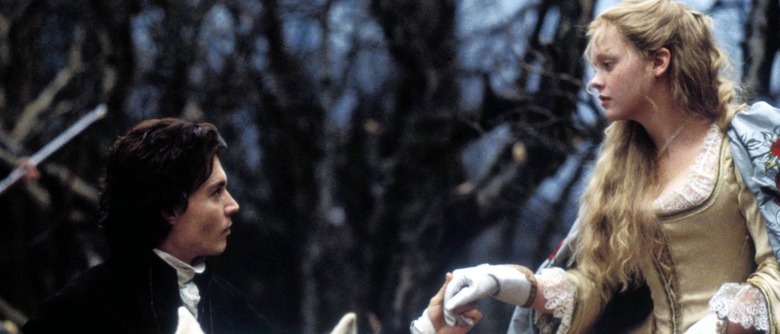 Dark secrets, haunted woods, and a series of dreadful murders! Sleepy Hollow is an American gothic romance, taking place far from the enchanting lands of 19th century Europe. Based on the short story "The Legend of Sleepy Hollow" by Washington Irving, this Tim Burton adaptation is a palpable horror film, with enough cheekiness and budding romance to balance some of the more sinister and bloody elements of this twisted tale. While the story of a headless horseman decapitating townspeople might seem far from the Valentine's Day genre, the perfectly awkward and endearing flirtations between the spirited Katrina Van Tassel (Christina Ricci) and the sensible skeptic Ichabod Crane (Johnny Depp) are positively delightful against the backdrop of this spooky colony that seems to have more conspiracies and secrets than heads. It is enough to make you go 'awwwww' between shrieks of "ewww" and "yeesh."
Every character in Sleepy Hollow seems to be full of personal demons and uncomfortable truths, including Ichabod Crane. Through high-contrast flashbacks into Ichabod's terrifying childhood, and the always recognizable and beautiful sounds of Danny Elfman's score, the whole film is modern gothic poetry like only Tim Burton could create. The romance between Ichabod and Katrina feels more like the 18th century version of the modern indie hipster couple than anything you would expect to find in such a heavy genre, weird eye wear and dabbling with occult symbolism included.
The Phantom of the Opera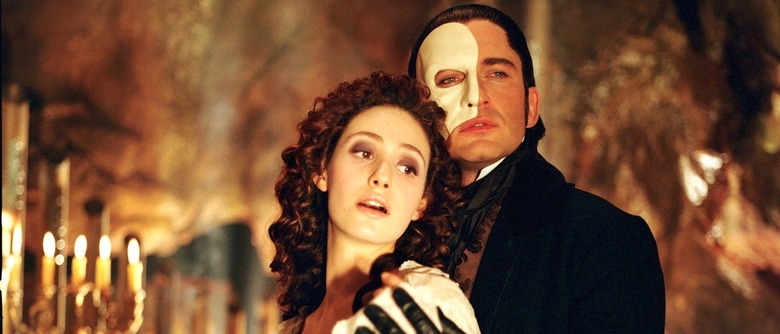 In what began as a silent horror film adaptation starring Lon Chaney as a garish recluse living in the shadows of an Opera house, The Phantom of the Opera has now become one of the most stunning and romantic musicals of all time. As it may be difficult to get tickets to Andrew Lloyd Webber's Broadway hit, the 2004 film adaptation starring Gerard Butler as the mysterious Phantom and Emmy Rossum as the angelic opera soprano Christine Daae is available for your streaming pleasure. Although flawed, this film boasts some truly awe-inspiring musical numbers and a love triangle that will reduce you to tears.
The evil that resides in the soul of the Phantom is something so tragic in its origin that, like Dracula before him, you can almost rationalize it. These monsters were not born, they were made by the cruelty of man and fueled by the insanity of broken hearts. Feared by his own mother and cast aside as a sideshow freak, The Phantom took refuge in the bowels of the opera house, haunting and tormenting its owners for years but never daring to show his disfigured face. He begins coaching the young prodigy Christine as her angel of music; however, when her incredibly handsome childhood sweetheart Raoul (Patrick Wilson) comes back into the picture, the Phantom gets possessive and murderous. His life of solitude and rage never taught him the difference between roses and crashing a chandelier onto a stage risking the lives of hundreds of people.
Besides the conflicting and tearjerking love triangle, the ending of which always has me reaching for the tissue box, what makes The Phantom of the Opera a special entry on this list is Andrew Lloyd Webber's music. "Music of the Night" and "Point of No Return," with their seductive themes of embracing the darkness and letting yourself go, are powerful ballads outlining the internal struggle ever present in the entire gothic romance genre.
Interview With the Vampire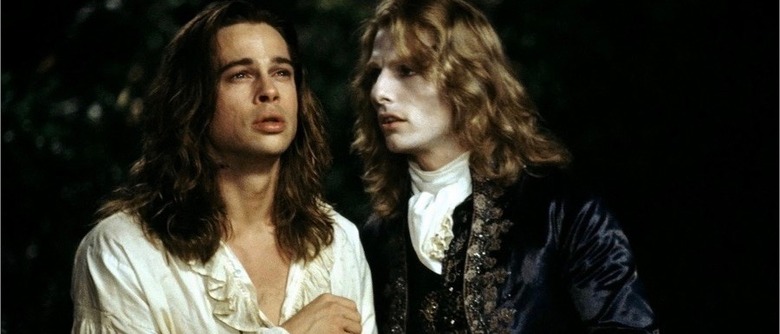 Comprised of several strange almost-relationships glued together by sexual tension so thick you can practically wring out the Blu-Ray, Interview With the Vampire is more gothic eroticism than gothic romance, making it one of the more enticing choices on the list. Still remarkably full of tragic themes, the vampire Lestat, played by Tom Cruise in what I believe to be one of his best roles, blurs the line between murder and sex as he guides the more romantic good-natured Louis (Brad Pitt) through the trials and joys of being one of the most beautiful and deadly creatures to walk to the Earth.
The sexuality in this film knows no sexual orientation. Lestat had a taste for beauty. Whether that beauty came in the form of the many young, ample-bosomed prostitutes, the young, powdered fops of the aristocracy, or his precious Louis, watching him hunt is certainly a feast for the eyes. Louis, the vampire with the heart of gold, seems to draw deep affection from all other vampires. His ability to hang on the shreds of his humanity through feelings like regret and remorse attracted not only his creator, Lestat, but the mysterious Armand (Antonio Banderas), and even his young prodigy, Claudia (Kirsten Dunst), who remained a child in looks alone.
The whole story leaves you as conflicted about the life of a vampire as Louis. On the one hand, Lestat is a perfect tour guide for an underworld of romantic locations, wealth, and charisma. A life where the world is at your fingertips and it need only cost you your soul. On the other hand, is an eternal life that is all lust worth giving up a mortal life that is filled with love? Luckily, that choice Lestat leaves to you.
Ex Machina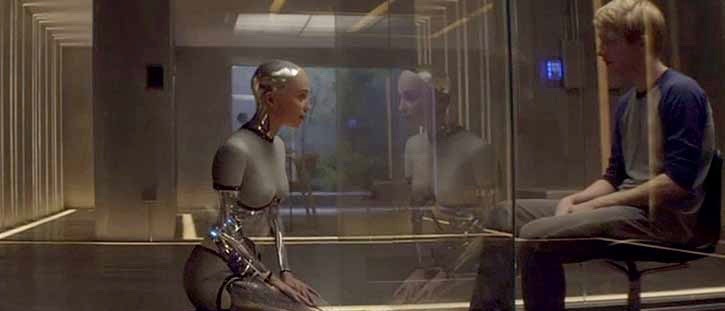 The large secluded house, the rich, eccentric, mad scientist, the eerily loyal assistant, the forbidden romance, the love of something not quite human...don't be fooled by the crisp modern lines and futuristic elements. Ex Machina is a gothic romance in science fiction clothing. Caleb (Domhnall Gleeson), a wide-eyed coding expert, excitedly accepts an invitation to the secret research facility of his mysterious boss, Nathan (Oscar Isaac). When he arrives, he learns that he will be performing a Turing test on Ava (Alicia Vikander), a deceptively beautiful AI designed by Nathan himself.
Although there may be no bolts of lightning or reanimated corpses in sight (sort of), Nathan plays jump rope with the line between creative genius and deranged, perverse monster. Like any gothic tale, the beautiful and elegant surroundings hide sinister secrets. The longer Caleb stays at the house, the more attached he becomes to Ava and the more suspicious he becomes of Nathan. Ava and Caleb make plans to escape the facility and live happily ever after, but of course, this is not a list of perfect love stories, and things never quite go according to plan.
In a list of movies that deal heavily in the macabre, Ex Machina is perhaps the most disturbing. Whether it is because this Black Mirror world is more relatable than the Victorian castles, or simply because it is a story that makes you question everything and almost never lets you breathe, Ex Machina is gothic romance in the digital age.
Labyrinth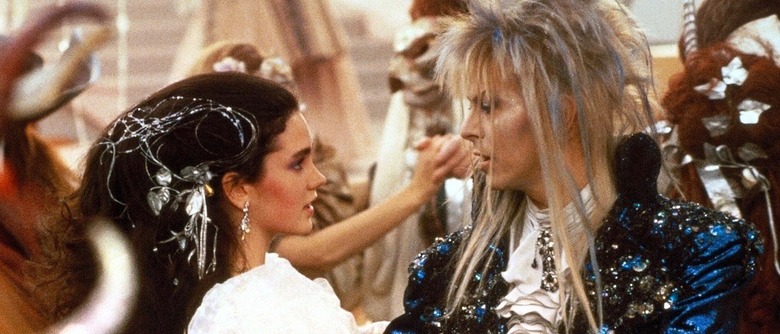 "Fear me, love me, do as I say and I will be your slave." Is that not the stuff of nightmarish fantasy? The fact that it is said by David Bowie in incredibly tight pants doesn't hurt either. So much of gothic romance is the metaphorical meeting of light and dark, be it a budding romance against a grim backdrop or the virtuous archetypical character being lured in by an impassioned creature of the darkness. Although it may lean more heavily towards a fantasy adventure, one of the more iconic moments of this Jim Henson classic is the ballroom sequence, in which the Goblin King's (David Bowie) once-subtle infatuation with Sarah (Jennifer Connelly) is brought to light in such exquisite and mesmerizing fashion that I still wonder how anyone could turn him down.
Like Interview With the Vampire, The Goblin King has a seductive nature to him that is almost too alluring to find fiendish. He is the kind of villain that makes you want to throw caution to the wind. Even when watching the Labyrinth as a child, there was something so riveting about him that when I reenacted the movie with my Barbie dolls, Sarah always chose to stay with him. However, this is a gothic romance in its final act. Instead of watching our heroine be ensnared and manipulated by her dark admirer, the story begins when the spell is broken. When the dark king she believed to only exist in her stories makes one of her darkest desires a reality, she is awakened to the evil nature of her actions and spends the rest of her journey fighting those desires in order to right her wrongs and remove herself from the clutches of this evil figure. Like so many of the older gothic romances, be it Dracula or the Phantom, Sarah must realize through the haze of temptation that he has no real power over her.
Quills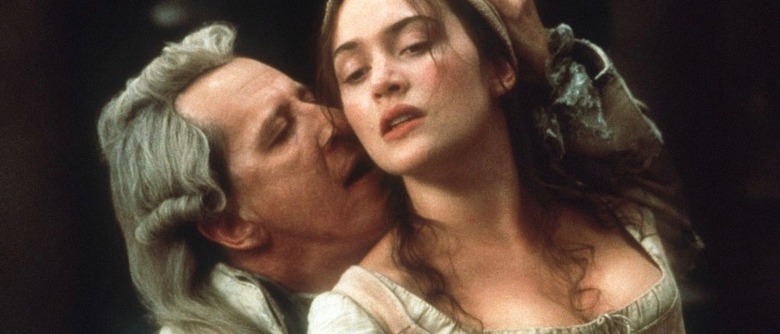 Within the confines of a Napoleonic era madhouse in France, a radiant young laundress named Madeline (Kate Winslet) finds herself caught between her love with the handsome and kind-hearted abbot Coulmier (Joaquin Phoenix) and the perverse fetishist The Marquis de Sade (Geoffrey Rush). Against overcast skies and intimidating walls of stone and bars, the asylum houses all manner of sins and almost too many monsters to count. This fictional story about the condemnation of one of  the very real fathers of BDSM proves there are more monsters in mankind than there are in storybooks.
The virginal Madeline is the only ray of light in this tormented setting. In a time period when women had very little freedom of exploration and cultural conservatism turned a blind eye to sexual assault, Madeline tries to navigate her relationship with the Marquis. Where his words let her escape into a forbidden fantasy, his actions sometimes frighten and harm her, and when the torture-happy Dr. Royer-Collard (Michael Caine), the human personification of all that is wrong with censorship and using God as a disguise, comes to the asylum, the Marquis de Sade goes from manageable to outright mad.
While this film is not for the faint of heart, it is a good as it is horrific, and the purity of the interactions between the innocent laundress and the trusting Abbot puts hope into this house of depravity. The simplicity of their affection is so loud when contrasted with the ravings of the Marquis de Sade and the ruthlessness of the doctor.
Cat People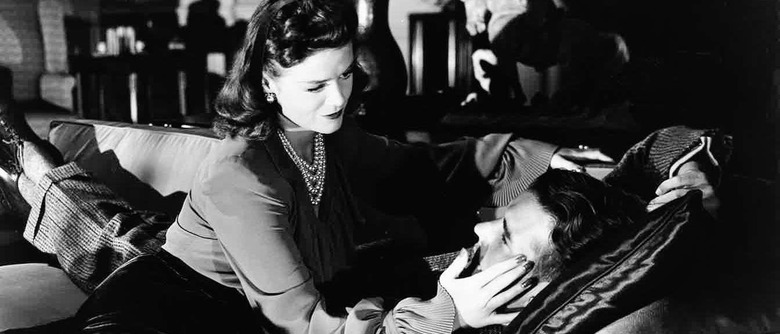 Not many of the relationships on this list are lucky enough to begin with the classic serendipitous meet-cute. However, in the 1942 cult-film Cat People, a simple missed toss of a crumpled piece of sketch paper into a trashcan unites the beautiful Serbian artist Irena (Simone Simon) and engineer Oliver (Kent Smith). They are immediately taken with one another and Oliver's genuine patience and kindness with the reserved Irena is nothing short of true love. After a brief romance, the two marry and live happily ever after! Or they would have...
Irena is more than reserved. Hailing from a Serbian village overrun by evil Satan-worshipping witches, she is afraid that she is cursed like the wicked cat-people of her homeland and will turn into a panther and eat her true love if they are to kiss and consummate their relationship. Even with the fear of being some sort of man-eating were-panther, Cat People still boasts one of the healthiest relationships of the bunch, and it is one of the few gothic love stories that paints the woman as the troubled monster. Like most of these stories, a love triangle does form, leaving Oliver to choose between his increasingly more paranoid wife and his levelheaded, non-feline-inclined coworker.
Crimson Peak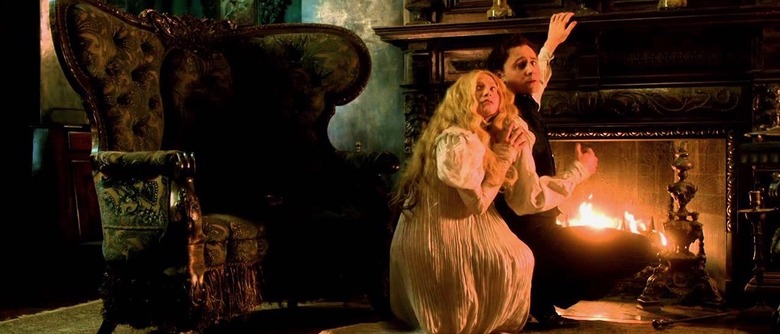 Disguised as a simple, albeit stunning, haunted house horror film, I took a couple friends with me to go see Guillermo del Toro's Crimson Peak when it opened in 2015. When we left, these self-proclaimed horror fans said that they felt more like they had just read an old book than seen a scary movie. Ghosts, hauntings, mysterious inhabitants of big old houses, a questionable romance, and an eerie prophecy; this film starring Tom Hiddleston, Mia Wasikowska, and Jessica Chastain is one hundred percent inspired by the actual gothic romances from the days of Mary Shelley and Bram Stoker. It is an homage, fully realizing every detail that made those stories so poetic that they are still inspiring an array of mediums to this day. The clever and charming heroine, Edith Cushing (Wasikowsha), even makes reference to wanting to be like Mary Shelley...and die a widow. Crimson Peak is a romanticization of gothic horror in every way. From the sway of the house to the truly exceptional costuming, it is a film that you want to go into completely open and unspoiled so that you can soak in every last drop.
It is hard to compete with the classics, and I do not think that is what del Toro set out to do. Every scene, every shot is as poetic and romantic as the story the characters are acting out. And creepy. Oh boy is it creepy. Nothing about this movie seems surefooted: you feel uneasy every single moment, and yet you want so badly for every sweet confession of love between Thomas Sharpe (Hiddleston) and Edith to be genuine. However, Thomas's enigmatic sister Lucille (Chastain) is always lurking about, reminding you that there is something strange about this sibling pair. Not to mention the shadowy ghosts, the bleeding foundation, and the "never go beyond this floor" warnings.
Bride of Frankenstein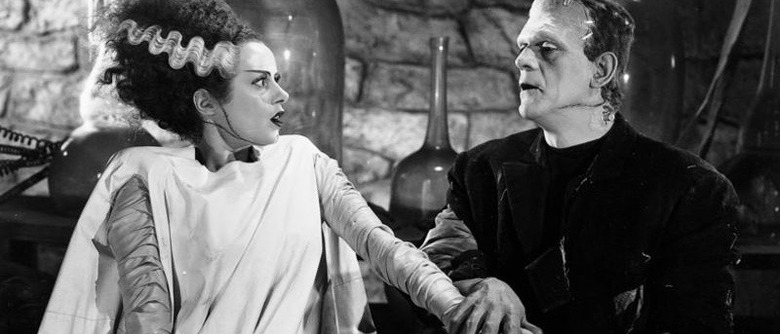 "Such an audience needs something stronger than a pretty little love story, so why shouldn't I write of monsters." 
On a dark and stormy night, Mary Shelley reveals to her company that there was more to her frightful story, and just like that we are transported to the end of Frankenstein, except the townspeople failed, and the monster is alive! However, Dr. Frankenstein seems to have a new lease on life, and wants nothing more than to be with his wife, far away from his experiments. It is only when Doctor Pretorious, a mad scientist that out-mad-sciences Dr. Frankenstein himself, comes knocking with the disturbing plans for a manmade race.
Bride of Frankenstein has become a pop culture figure, and with that I have encountered a lot of misunderstanding about the relationship between the monster and his bride. Some even believed that they were some sort of deranged duo like Bonnie and Clyde or Joker and Harley Quinn, but the film itself is a tragedy, and the relationship was one that should have never existed. Like Dracula, Bride of Frankenstein is what you think of when you think of gothic romance. It is beautiful in its horror and tragedy, and as far as misunderstood monsters go, Frankenstein's monster is the one on which all others are based.
The sinister Dr. Pretorious, with his criminal ways and corrupt motives, makes you detest the idea of creating another monster, but watching the monster, still struggling with understanding his place in the world, form a real friendship with a blind musician who cannot judge him by his monstrous appearance and is just happy to have someone around that is also 'afflicted' is heartbreakingly sweet. The moment that relationship goes up in flames, and he calls out looking for his kind friend, you start to agree with Pretorious's plans, if for no other reason than to bring purpose and peace to this misunderstand creation.