'Black Panther' Tracking For A Record-Setting $165 Million Opening Weekend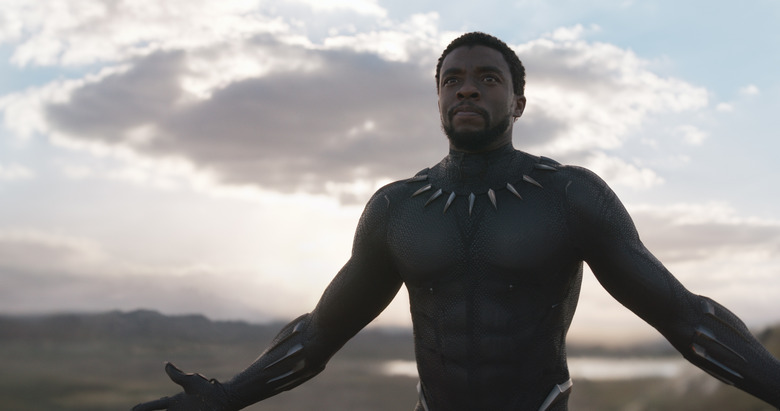 Black Panther is on track to make history — in more ways than one.
Marvel Studios' first solo black superhero movie has been steadily gathering buzz through advance ticket sales, critical acclaim, and good old word-of-mouth...and the hype is starting to manifest in its box office tracking numbers. Early estimates for Black Panther's opening weekend box office put the film at a strong $120 million. But with anticipation growing at a breakneck speed, Black Panther tracking numbers have skyrocketed.
Black Panther is tracking for a massive opening weekend of $165 million, according to The Hollywood Reporter. That means that Black Panther could set records for the biggest opening ever in the month of February, blowing Deadpool's $152 million opening in 2016 out of the water.
Hollywood's leading tracking service NRG initially forecast that Black Panther would open to $125 million domestically, but last week revised the number to $150 million. Now, in the week of the film's release, the number has shot up by $15 million.
At $165 million, Black Panther would be close to cracking the top 10 biggest opening weekends domestically. The immense box office opening haul would place it above the entire The Dark Knight trilogy (The Dark Knight Rises opened highest at $160.9 million), the entire Hunger Games series (Hunger Games: Catching Fire at $158 million), and every Harry Potter film except for The Deathly Hallows: Part 2 ($169 million).
Black Panther could have the fourth highest opening for a Marvel film, lagging behind Captain America: Civil War's $179 million. But it would hew closely to Warner Bros.' highest debut for a DC movie: Batman v Superman: Dawn of Justice opened to $166 million.
But to temper expectations, Disney insiders still expect Black Panther to open in the $75 million-$115 million range. A respectable amount, but not quite reflective of the movie's fierce following. Black Panther now boasts a 97% on Rotten Tomatoes, the best of any Marvel Studios movie, and has set records with pre-sale tickets.
So Black Panther is expected to do gangbusters Stateside, but what about internationally? The film's worldwide box office haul is still in contention, as international audiences generally don't flock to movies with all-black casts. But with the critical acclaim following the movie, and the character's great reception in Captain America: Civil War, it could translate to international success. Black Panther will open in about 70 percent of the international marketplace this week. It will open later in Russia (February 22), Japan (March 1) and China (March 9).
Black Panther is directed by Ryan Coogler and stars Chadwick Boseman as T'Challa/Black Panther. The star-studded, majority-black cast is rounded out by Lupita Nyong'o, Michael B. Jordan, Daniel Kaluuya, Letitia Wright, Winston Duke, Angela Bassett, Forest Whitaker and Andy Serkis.Black Panther opens in theaters on February 16, 2018.