Universal Lands 'Red Notice' In Fierce Bidding War, Earning Star Dwayne Johnson A $20 Million Payday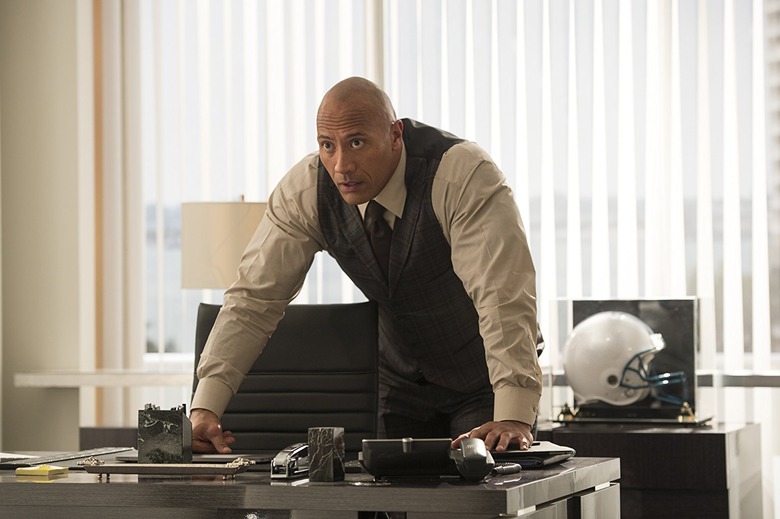 Dwayne Johnson just became $20 million richer.
The Jumanji: Welcome to the Jungle actor and star of not one, but two, upcoming summer blockbusters had Hollywood all in a tizzy, with multiple studios engaging in a fierce bidding war for his thriller Red Notice. Ultimately, Universal came out on top in one of the biggest movie studio deals Hollywood has seen in years.
With the string of box office hits that Johnson has seen, it's no wonder that studios are eager to get a hold of the second highest-grossing actor of 2017. Now, his $20 million payday for Red Notice will surely push Johnson over the top.
Universal and Legendary teamed up to land the action flick, which will be written and directed by Rawson Marshall Thurber as a star vehicle for Johnson. Thurber is a frequent collaborator with Johnson, recently directing Central Intelligence and the upcoming Skyscraper.
Red Notice refers to the highest and most serious of the eight Interpol notices. A red notice is issued in the arrest of wanted criminals. Details of the movie's plot are unknown, but Johnson will reportedly play a man who works for the international police agency.
The Biggest Movie Deal in Years
The multimillion bidding war attracted the attention of nearly every studio, with Legendary, New Line, Paramount, Sony, Universal, and even Netflix jostling to get a piece of the pie. Universal and Legendary were only able to land the film by teaming up, aided by Legendary's distribution deal with Johnson and Thurber's Skyscraper. While the final numbers of the deal haven't been reported, the price tag is heavy, including a $20 million payday for Johnson, and a $10 million fee for Thurber. Red Notice's budget will reportedly be north of $125 million, according to The Hollywood Reporter. Another movie star still has to be secured as well.
Deadline notes that Red Notice is on a remarkably fast track from pitch to finished movie, with a tentative release date set for 2020. Production is intended to start as early as 2019. It's a fast pace for a tentpole movie, but it's relatively similar to how fast Skyscraper came together. Plus with the amount of projects under his sleeve (his IMDB page is almost anxiety-inducing) Johnson exclusively works at breakneck speeds.
Johnson will be seen next in Rampage on April 20, 2018. Johnson and Thurber's Skyscraper will hit theaters on July 13, 2018. And then, of course, the Fast and Furious spin-off starring Johnson and Jason Statham is speeding forward. And there's the Black Adam movie, the Jungle Cruise movie, and everything else on his plate. Basically, expect Johnson to be the only face you see in movie theaters for the foreseeable future.