'The Grinch' First Look Arrives Courtesy Of The Olympics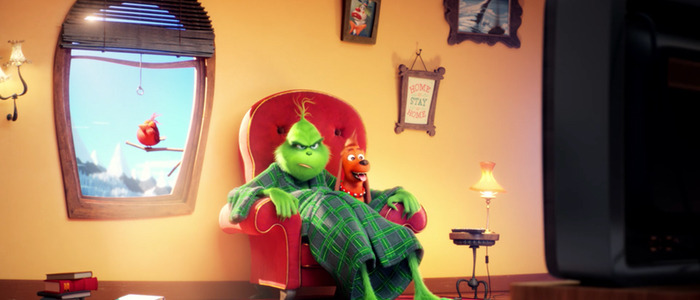 The Winter Olympics have commenced, bringing with them our first real look at The Grinch. Dr. Seuss' immortal Christmas thief has already seen one big screen treatment before, via Ron Howard's candy-colored nightmare adaptation of How the Grinch Stole Christmas. Now, the big green menace is set to come to theaters again in the form of a new animated film from Illumination. See The Grinch first look below.
If Ron Howard's dreadful How the Grinch Stole Christmas adaptation didn't satiate your hunger for more Grinch movies, you're in luck. Illumination Entertainment is bringing Dr. Seuss' character back to the big screen with their 3D animated film The Grinch. Benedict Cumberbatch will voice the nasty, wasty skunk who just wants all the Whos down in Whoville to shut the hell up.
The Grinch will be out later this year, and while there's no trailer yet, we now have our first look at the film. Sort of. A commercial for the Winter Olympics reveals the character in motion, as he watches figure skating and has a quick fantasy sequence in which he, too, takes to the ice. Check it out.
The Grinch First Look
There's not much to take away from this clip. For one thing, I'm almost positive this will not be an actual scene in the finished film. We also don't get to hear Benedict Cumberbatch's voice emanating from that computerized face. In other words, this is a harmless, forgettable teaser. That said, when I think of The Grinch, I don't think of him as a character daydreaming about taking part in a sporting event. Perhaps I'm reading too much into a character from a children's book, but that just seems a bit off to me.
The Grinch was due out in theaters last November, but Illumination pushed it to November 2018. This is likely due to unfinished animation stalling the film. Illumination likely could've released The Grinch earlier in 2018, but since the film is no doubt Christmas-themed, it makes more sense to hold it until this holiday season.The Grinch will once again tell the story of a miserable, furry outcast who decides to ruin Christmas. Spoiler alert: his heart eventually grows three sizes, the Grinch finds the strength of ten Grinches, plus two, and then he gets to carve the roast beast. Peter Candeland and The Secret Life of Pets director Yarrow Cheney helm the film.The Grinch opens November 9, 2018.