'The Big Sick' Writers Are Making A TV Show For Apple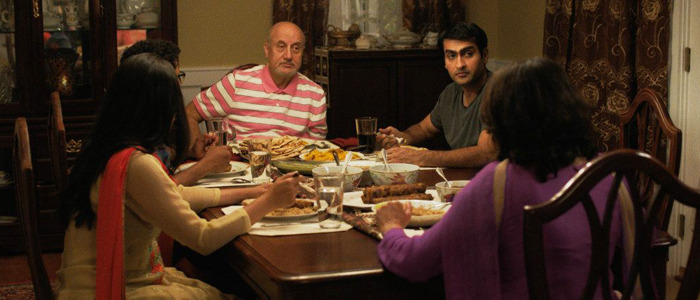 Apple already has one anthology TV series planned with Amazing Stories, but now the tech giant is teaming with Oscar-nominated talent to develop another one. Kumail Nanjiani and Emily V. Gordon, who earned an Oscar nom for writing last year's indie hit The Big Sick, have been hired to write Little America, an anthology series that tells the true stories of American immigrants.
And while Nanjiani and Gordon's names alone would make us pay attention to this project, the additional talent involved here makes us even more excited.
What is this Show About?
Little America – not to be confused with the upcoming Michael Bay movie of the same name – will be based on the true stories found in Epic Magazine, which has an entire section devoted to the immigrant experience. Here's the site's official description of those stories:
E

veryone here came from somewhere else. Even Native Americans crossed the Bering Strait at some point. This is the basic American idea — an identity open to all — but it can be easy to forget from inside. And that's when politics can turn ugly, as it has recently, with our political narrative becoming a story of blame and fear. "Little America" is meant to counter that narrative with a fuller portrait of our most recent arrivals. Here we present just a few stories. You'll meet a woman who kissed a car for 50 hours. A man who escaped communism via zip-line. A Hindu Mayor of a small Kansas town. These stories are a small, collective portrait of America's immigrants. And thereby a portrait of America itself.
Deadline reports that Nanjiani and Gordon will write and executive produce alongside Lee Eisenberg, a long-time writer/producer of The Office and one of the writers and creators of HBO's underseen and underrated comedy Hello Ladies. Eisenberg is a capable writer, and he'll serve as Little America's showrunner should it get picked up. The final piece of the puzzle is the one that gives me extra confidence in this project.
The Secret Weapon
Alan Yang, the co-creator of Netflix's Master of None, is also on board as an executive producer. Yang co-wrote most of Master of None's best episodes, including season two's "New York, I Love You." It's a gorgeous piece of television that essentially pauses the season's narrative arc to tell a series of intersecting side stories featuring random New York City residents: a doorman, a deaf woman, and a cab driver. Yang is the child of immigrant parents, so the idea of him teaming with Nanjiani and Gordon, who made Kumail's immigrant story feel so relatable in The Big Sick, bodes extremely well for this new show.
Other Apple projects (like Amazing Stories, a Jennifer Aniston/Reese Witherspoon drama, Ronald D. Moore's space show, Damien Chazelle's series, Steven Knight's See, and an untitled Kristen Wiig comedy) have straight to series orders. But Little America isn't that far along yet – it's being developed with the hope of a pick-up a little further down the line. The Octavia Spencer-led drama Are You Sleeping is another potential Apple show in that same boat. Fingers crossed that this one gets up and running soon. Hopefully, Apple figures out how they're actually going to actually distribute all of this content they're working on.