'Annihilation' Early Buzz: Alex Garland Has Made A "Dazzling," "Provocative" Sci-Fi Classic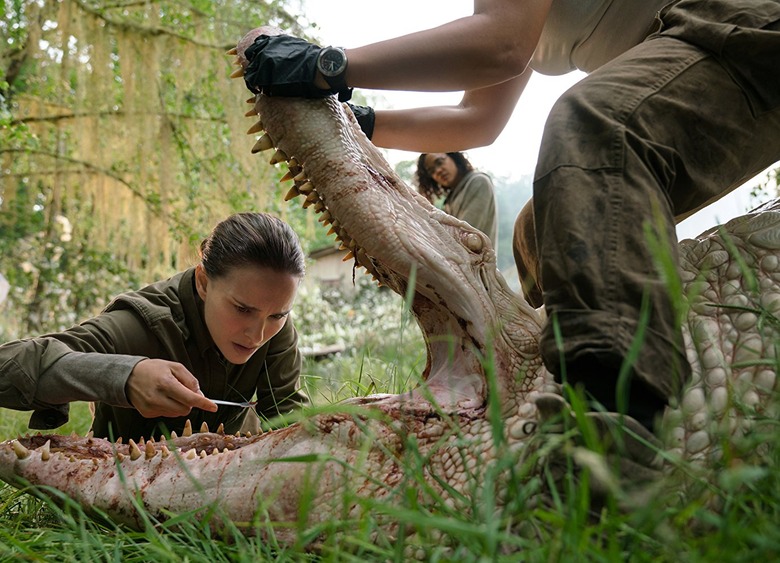 Annihilation promises to be a cerebral science-fiction tale that could rival the acclaim of last year's Blade Runner 2049 or even 2016's Oscar-nominated Arrival. But why — with merely three weeks until the star-studded movie's release — have we heard so little about it?Alex Garland's adaptation of the best-selling Jeff VanderMeer novel has been shrouded in mystery mostly out of necessity. But worryingly, the reviews for the ambitious sci-fi film will remain under lock and key until the day before the film's release. Thank goodness, then, that social media reactions have started flooding in this week. So far, the critical reaction to Garland's follow-up to his stunning directorial debut, Ex Machina, has been over the moon.
Below, we've rounded up the Annihilation early buzz.
First up, here is /Film's own Ben Pearson, who says Annihilation may very well be a masterpiece.
#ANNIHILATION: This is the type of sci-if we always say we want to see. Bold, challenging, singular, visually dazzling. Would not be the least bit surprised to see it hailed as a masterpiece (and it might actually be one).

— Ben Pearson (@benpears) February 8, 2018
And just in case you think that sounds hyperbolic, the rest of the reactions follow a similar lead.
Make no mistake, #Annihilation is a new sci-fi classic. Brilliant, thrilling, and provocative, it has as much metaphoric depth as it does narrative tension. I'm floored. pic.twitter.com/o2taDg2Z7L

— Drew Taylor (@DrewTailored) February 8, 2018
Just saw #Annihilation, and damn, it's gorgeous. Beautifully done, riveting and smart. Going to need to process this one for a while, and I want to see it again! pic.twitter.com/rFl5cnacon

— Jenna Busch (@JennaBusch) February 8, 2018
Alex Garland's #Annihilation is another example of the kind of brainy sci-fi we don't see enough of. Badass female cast and a story that's both beautiful and wickedly disturbing, and an ending you will talk about for days. Dug it so much pic.twitter.com/fW77z6xX4v

— Erik Davis (@ErikDavis) February 8, 2018
Alex Garland's #Annihilation is absolutely phenomenal. It's gorgeous and mesmerizing, with brilliant performances from the entire ensemble. It's a remarkable vision, and has a sequence so thrilling that I was left literally dizzy. It will be on my Top 10 of 2018 without question. pic.twitter.com/zGmDGlyh0M

— Eric Eisenberg (@eeisenberg) February 8, 2018
This much is clear: #Annihilation is NOT the movie you walk out and take to Twitter for a quick opinion. It's grabs you hard and leaves you frazzled. Hats off to Paramount for letting Garland be himself on a bigger budget https://t.co/1nkKEmuPkF

— Zack Sharf (@ZSharf) February 8, 2018
These rapturous critical reactions to Annihilation fly in the face of Paramount's uncertain approach to the sci-fi film, with reports surfacing that producers were worried the film was "too intellectual" and "too complicated" for average moviegoing audiences. This led Paramount to order last-minute changes to dumb things down, but thankfully, Garland was able to preserve his vision.
Unfortunately, even as Paramount stood its ground in supporting Darren Aronofsky's wildly ambitious and wildly divisive mother! last year, the studio didn't seem eager to throw its weight behind yet another audacious film. While Annihilation is set to hit U.S. theaters on February 23, 2018, a deal has been struck with Netflix where Garland's sci-fi film will be released internationally on the streaming service soon after its theatrical bow.
It's frustrating that a bold, unique sci-fi film like Annihilation risks being buried on a streaming service for much of the world. Thought-provoking blockbusters are hard to come by, and risk being pushed out by a morass of emptier, crowd-pleasing tentpoles.
Annihilation stars a fantastic cast, including Natalie Portman, Jennifer Jason Leigh, Gina Rodriguez, Tessa Thompson and Oscar Isaac. Read the synopsis for the film below:
Lena, a biologist and former soldier, joins a mission to uncover what happened to her husband inside Area X – a sinister and mysterious phenomenon that is expanding across the American coastline. Once inside, the expedition discovers a world of mutated landscape and creatures, as dangerous as it is beautiful, that threatens both their lives and their sanity.