'Venom' Trailer: Tom Hardy Is A Lethal Protector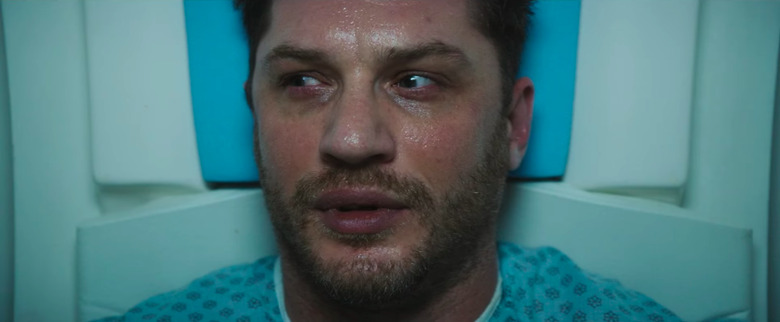 We still can't believe there's a standalone Venom movie, but here's the trailer to prove it. Tom Hardy stars as the character who began life in the pages of Spider-Man. This new film recasts Venom as a "lethal protector," and has him operating outside the ongoing Spider-Man saga. Watch the Venom trailer below.
It's hard to believe a Venom standalone film is really happening, but the fact can no longer be denied. Whether or not Venom as a character can work without Spider-Man swinging around remains to be seen, but Gangster Squad director Ruben Fleischer is certainly going to give it the old college try. The first Venom trailer has arrived to give us a look at Tom Hardy's take on the iconic character. Check it out below.
Venom Trailer 
Well, that certainly was...something. I'm not going to say it was a wise choice to cut a Venom trailer and not actually feature a look at Venom, but here we are. Honestly, if that Venom logo didn't pop up at the end, I wonder if anyone would even know what this is.
As we previously reported, Venom is inspired by two comic book runs: Lethal Protector and Planet of the Symbiotes. Lethal Protector was the first comic that changed Venom, aka Eddie Brock, from a full-fledged Spider-Man villain into an anti-hero. In the comic, Brock struck a deal with Spider-Man that ensured the characters would leave each other alone, then he hightailed it to San Francisco. In Planet of the Symbiotes, earth is invaded by an army of symbiotes, aka the black, gooey alien substance that serves as the raw materials for Venom's iconic costume.
This wont be the first time Venom has appeared on the big screen. Sam Raimi's Spider-Man 3 first rendered Venom in live action, where he was played by Topher Grace. Raimi's take on the character as a frail, sniveling dweeb differed from the traditional hulking comic book version. Now it's Hardy's turn to give it a go.
In addition to Hardy, Venom stars Michelle Williams, Riz Ahmed, Scott Haze, Reid Scott and Jenny Slate. The script comes courtesy of Scott Rosenberg (Jumanji: Welcome to the Jungle), Jeff Pinkner (The Dark Tower), Kelly Marcel (Fifty Shades of Grey) and Will Beall (Aquaman). Here's the synopsis, which contains the phrase "badass," so you know this film means business.
One of Marvel's most enigmatic, complex and badass characters comes to the big screen, starring Academy Award® nominated actor Tom Hardy as the lethal protector 

Venom

.
I remain skeptical about this whole endeavor, but Tom Hardy is a damn good actor, and he might just be able to pull this off. The actor spoke in the past about his commitment to the role, saying: "I just wanted to say that I give you my word of honor that I'm going to do everything that I can to deliver the best Venom that I possibly can muster." Well said, Tom. Don't we all want to deliver the best Venom that we can muster?
Venom opens October 5, 2018.