Bryan Fuller Leaves Yet Another Show, Will No Longer Run 'Amazing Stories'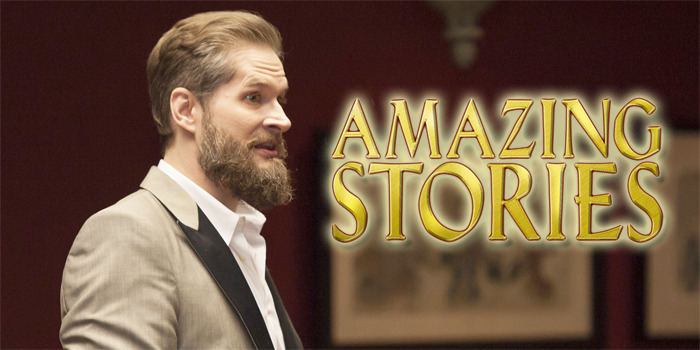 Apple's Amazing Stories has found itself without a showrunner before the show has debuted. Bryan Fuller, the man behind shows like Hannibal and Pushing Daisies, tried to get an Amazing Stories reboot off the ground for years and succeeded when Apple came looking for original programming. But a new report says he's now parted ways with the show. Read about the Bryan Fuller Amazing Stories split below.
The Hollywood Reporter says that Fuller, who was hired to serve as the showrunner of Apple's new iteration of Steven Spielberg's Amazing Stories anthology series, has "exited the project citing creative differences." The outlet claims the writer/producer wanted to make a show along the lines of Black Mirror (read: something with a darkness and edginess to it), but Apple wanted something more family-friendly. That lines up with what we've heard about the tech giant's intentions for its shows in this early stage. Every Apple series must be suitable for display in Apple stores across the globe, so none of them can feature excessive violence, language, or any nudity at all...at least at first.
Fuller seems to be developing a troubling pattern of signing on to projects only to leave a short time later. It happened with Star Trek: Discovery, where he was "pushed out" because he reportedly wasn't turning in scripts on time. Then he moved over to Starz's American Gods, where Fuller was fired after the first season over budget disputes.
His departure from Amazing Stories hurts because he's been developing this show since 2015, where it was initially set up at NBC. We heard last year that Fuller was working with writers like Patton Oswalt, Kumail Nanjiani, Emily Gordon, and Jane Goldman on this show, but it's unclear if they're still involved in this iteration of Amazing Stories.
It's also unclear if Fuller has been fully replaced with a new showrunner. The THR article says Steven Spielberg, Amblin TV's Justin Falvey and Darryl Frank, and Bones creator Hart Hanson will produce the series, and "Hanson will take on a larger role" in the wake of Fuller's exit. Does that mean Hanson will step all the way up to take complete charge of this series? Time will tell.
In the meantime, we're all waiting to hear how Apple plans to actually release all of the shows that they're currently developing. You can read more about the tech company's slate of upcoming original programming right here (they also have a show from La La Land writer/director Damien Chazelle in the works). As for Fuller, he'll be working on a television adaptation of Anne Rice's Vampire Chronicles for Paramount TV. Here's hoping no creative differences pop up on that project.