'Solo: A Star Wars Story' Plot Details: Han's First Heist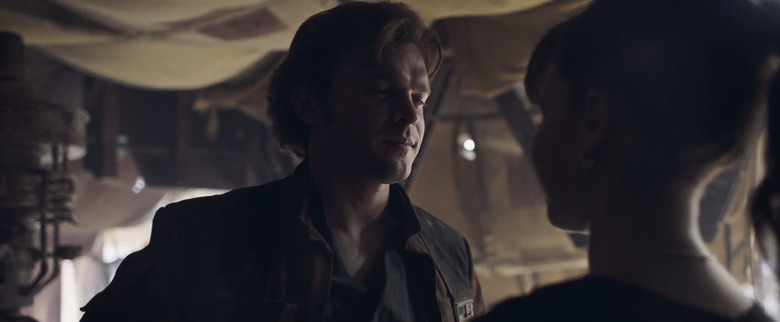 How does Han Solo come to be the scruffy-looking nerf herder that we know and love in the first Star Wars trilogy? By falling in with a few career criminals and embarking on his first heist in the upcoming Solo: A Star Wars Story, the prequel film set a few years before the events of A New Hope.
In the standalone Star Wars film, we'll learn how Han transforms from wanting to be "the best pilot in the galaxy" to a disillusioned smuggler. It starts, according to the new plot details revealed by Entertainment Weekly, with a train robbery.
Entertainment Weekly has a starry-eyed cover story for Solo: A Star Wars Story, Lucasfilm's latest standalone Star Wars film following 2016's Rogue One. The cover photo shows Alden Ehrenreich sporting the signature smirk of Han Solo, leaning casually against his best bud and "walking carpet" Chewbacca (Joonas Suotamo).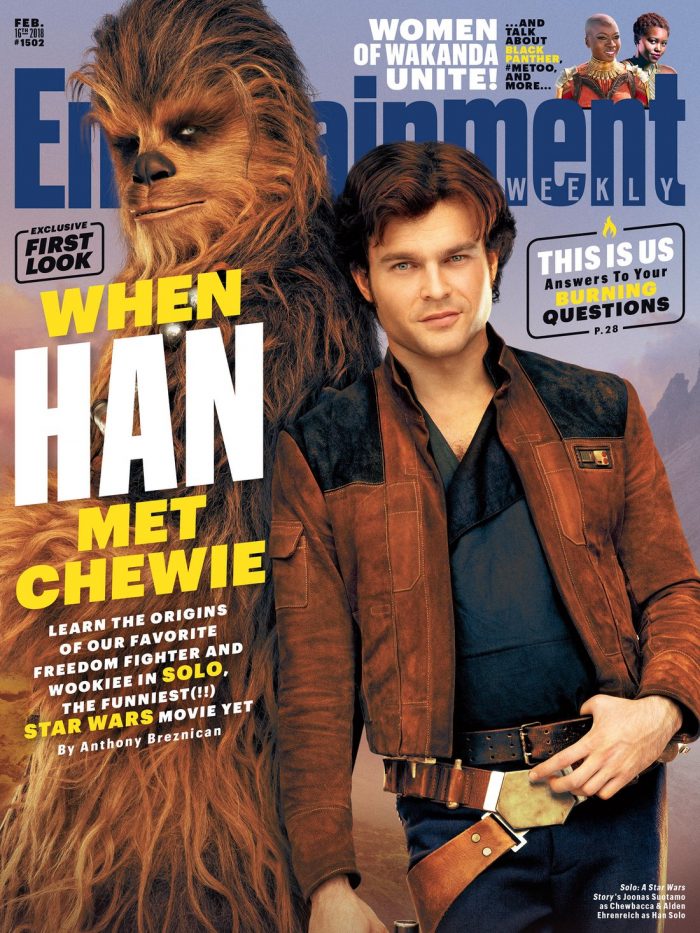 The first footage for Solo: A Star Wars Story finally debuted this week during the Super Bowl, followed by a longer full trailer, giving us our first onscreen glimpse of Ehrenreich as the sardonic smuggler originated by Harrison Ford. But Solo takes place just as Han is on the cusp of breaking bad and becoming a regular in the seedy underbelly of the galaxy. Lucasfilm President Kathleen Kennedy told EW:
"He might be a little more immature, he may be a little less experienced, and he may hone his cynicism over time, but he's very wary. He needs to gain the respect of the people he interacts with, even if they're the lowest of the low."
And Han does that by falling in with a few career criminals: Tobias Beckett (Woody Harrelson), trigger-happy Val (Thandie Newton), and crime boss Dryden Vos (Paul Bettany). But even as Tobias sees potential in Han, the young smuggler-in-training still needs to prove himself to his new team. His first task is to steal a mysterious something from The Conveyex, a roller coaster-like train that we saw in the trailer (check out more on that in our trailer breakdown).
Solo won't be purely a heist movie, however. Filmmakers described the film to EW as a Western crossed with a film noir, while Kennedy described Solo as "a heist, gunslinger type movie." It's a movie replete with shady characters and uncertain loyalties, which Han will find himself trying to navigate throughout the movie, Ehrenreich told EW.
"I think [figuring out who's good and who's bad is] exactly what Han's trying to do throughout the film," he said.
Directed by Ron Howard after the exit of Phil Lord and Chris Miller, Solo also stars Game of Thrones' Emilia Clarke as the resident femme fatale Qui'ra, Atlanta's Donald Glover as a young, scene-stealing Lando Calrissian, and Fleabag star Phoebe Waller-Bridge as his droid sidekick L3-37.
Solo: A Star Wars Story hits theaters on May 25, 2018.
Through a series of daring escapades, young Han Solo meets his future co-pilot Chewbacca and encounters the notorious gambler Lando Calrissian.