Arnold Schwarzenegger To Star In New Amazon Western Series 'Outrider'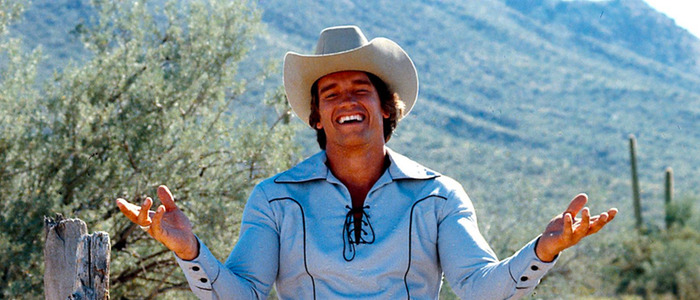 Arnold Schwarzenegger is joining the ever-growing streaming TV landscape with the new Amazon series Outrider. Schwarzenegger will produce and star in the Western drama, described as "a mystery set in the Oklahoma Indian Territory in the late 1800s." More info on the Arnold Schwarzenegger Amazon series is below.
Arnold Schwarzenegger is headed to the Old West, at least in TV form. Deadline reports Schwarzenegger will headline the new Amazons series Outrider. The Austrian Oak will play a Federal Marshall in the Oklahoma Indian Territory in the late 1800s. Here's how Deadline describes the series:
"It tells the dark and dangerous tale of a deputy who is not only tasked by a notoriously brutal judge with apprehending a legendary outlaw in the wilderness – but must also partner with a ruthless Federal Marshall to make sure justice is properly served. And as the story unfolds, not only will enemies become allies, but a series of unpredictable surprises will blur the line between good guys and bad."
This will be Schwarzenegger's first foray into a television drama (he briefly hosted NBC's The Celebrity Apprentice, replacing the original host, He Who Must Not Be Named). Arnold moving into TV makes sense. His days of huge blockbuster movies are long gone, and in the later half of his career, the actor and former bodybuilder has taken on more interesting, obscure projects. If you've ever wanted to see Schwarzenegger hang-up his action movie persona and deliver an honest to gosh dramatic performance, check out the sorrowful zombie movie Maggie. Another one of his recent films was the entertaining, and under-seen, The Last Stand, which was a kind of modern-day Western, with Schwarzenegger playing the sherif of a small town. Schwarzenegger in a dark, gritty TV Western is an appealing concept, and this news certainly has my interest.
Outrider's co-writer/executive producers are Trey Callaway (APB, The Messengers, CSI: NY) and Mark Montgomery. The series is just another cog in the ever-growing Amazon original series machine. Amazon plopped down a huge chunk of change to nab the rights to a Lord of the Rings series. They also have the upcoming Tom Clancy's Jack Ryan, and just this week, word broke that Amazon was planning a new Conan the Barbarian series. As you most likely know, Schwarzenegger played Conan the Barbarian in two films, so we must ask: why not combine these ideas and give us the Conan the Barbarian Western we, as a society, need? Or maybe that's just silly.