Robert Zemeckis Goes Back To Science-Fiction With 'Steel Soldiers'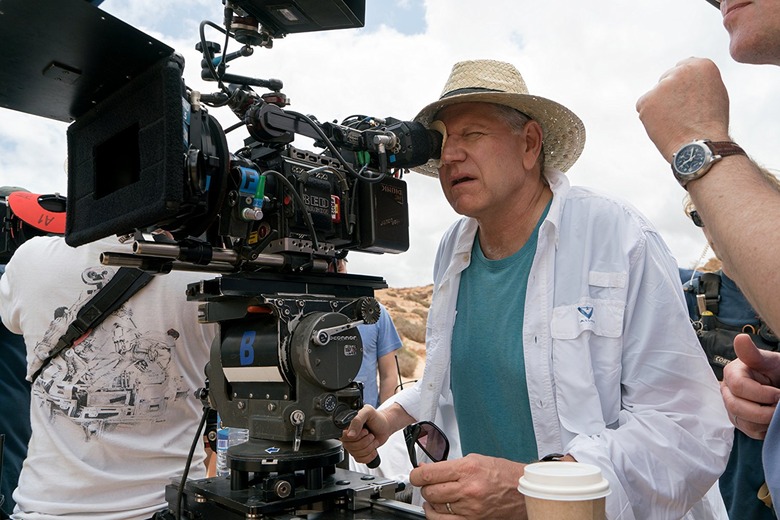 Robert Zemeckis is going where they don't need roads. After mostly working in prestigious dramas and adventure films for the past few decades, the Allied director is returning to the science-fiction genre. Zemeckis is still beloved for his Back to the Future trilogy, which has cemented itself as a staple of '80s nostalgia, and he is now attached to his first sci-fi movie since 1997's Contact.
Zemeckis is producing a sci-fi action film called Steel Soldiers, a multiplatform project under STX Entertainment and China's Alibaba Pictures. There's no word yet on whether Zemeckis will direct, but this news is certainly a little heavy.
Steel Soldiers is being co-developed and produced by STX and Alibaba Pictures to go beyond the theatrical experience, according to Variety. The other platforms this movie will be shown in have not yet been confirmed, but I could foresee it being screened in VR or 4DX — the two trendiest cinematic platforms right now.
According to Variety, Steel Soldiers will tell an "immersive" story. Here's how they describe the plot:
"Steel Soldiers" is aimed at immersing audiences into a futuristic world where humans and androids fight shoulder to shoulder. The film follow a disgraced Special Forces officer being forced to train a new team of high-tech, but imperfect android soldiers, turn them into elite military officers, and lead them in a deadly mission to rescue the robot's creator.
The plot sounds rather grim and gritty, not unlike some of the experimental fare that District 9 director Neill Blomkamp has become known for. Zemeckis is mostly known for making crowd-pleasers, anchored by the charismatic performances of his leads. He is currently set to only produce the film, but it would be fascinating to see Zemeckis stretch his chops with a dark sci-fi flick like this.
The project is being developed by STX and Alibaba, with STXfilms chairman Adam Fogelson touting their partnership. "Alibaba is a trailblazer in today's highly competitive and rapidly changing consumer marketplace," Fogelson said. "Together, we look forward to immersing audiences in the battlefield of the future."
For the most part, the project sounds like an experimental outlet for STX's recently acquired distributor Surreal, a producer of "immersive content" experiences. Immersive experiences have been all the rage in gaming, but they've yet to make the leap to cinema. But with an established filmmaker like Zemeckis at the helm of an experimental multiplatform film, could these technologies finally take off? Maybe. Only the future knows.