'Conan The Barbarian' TV Series In The Works At Amazon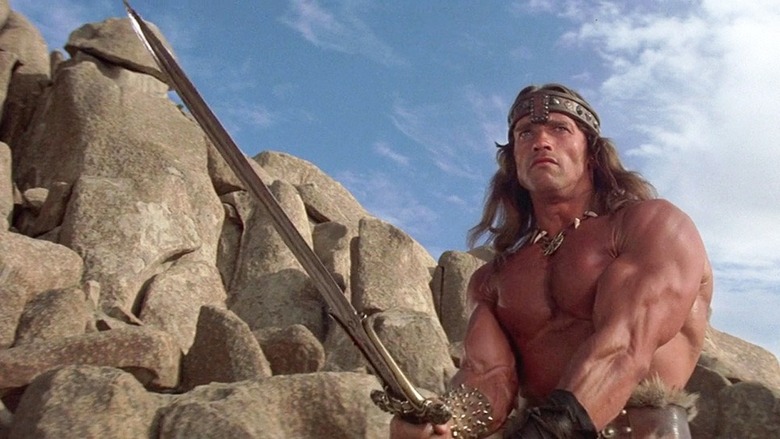 A TV series based on Robert E. Howard's sword-and-sorcery series Conan the Barbarian is in the works at Amazon.
The series comes from Colony co-creator Ryan Condal, Game of Thrones director Miguel Sapochnik, and Fargo and The Handmaid's Tale executive producer Warren Littlefield.
The Conan TV series will be created and written by Condal, according to Deadline. Per Deadline, the series will be a retelling of the classic pulp hero's story by returning "to his literary origins":
Driven out of his tribal homelands, Conan wanders the mysterious and treacherous world of civilization where he searches for purpose in a place that rejects him as a mindless savage.
Conan joins Amazon's recent push for big-budget fantasy series to mirror HBO's success with Game of Thrones, following the recently greenlit Lord of the Rings adaptation. It's no surprise that the streaming service bagged a Game of Thrones director to help create Conan. Sapochnik is reportedly a longtime fan of Conan the Barbarian, which led to his teaming up with Conadal, who has been nursing a "personal obsession" with the material, according to Deadline. The pair of them aim to return to the original Howard works and produce a series faithful to the spirit of his Conan character.
Conan the Barbarian first entered pop culture in 1932 with a series of fantasy stories published in Weird Tales magazine. The character would go on to have an almost mythic popularity, continuing to appear in fantasy magazines long after Howard's death in 1936. Dozens of writers published book editions of Conan, some based off old Howard stories, or recreated from unfinished Howard manuscripts.
In 1982, the pulp fantasy character first leapt from the page to the big screen, played famously by Arnold Schwarzenegger in Conan the Barbarian and its sequel, Conan the Destroyer. A 2011 film starring Jason Momoa failed to achieve the status of Schwarzenegger's well-regarded classic. There have also been two animated TV shows based on the character and a short-lived 1997 syndicated action-adventure series, Conan the Adventurer, starring Ralf Möller.
There are no details yet on the planned premiere date of Amazon's Conan TV series, or when production for the remake will start. Endeavor Content is the studio overseeing the project, while Fredrik Malmberg and Mark Wheeler are executive producing via the Pathfinder Media banner.