'Solo' Super Bowl Spot: New 'Star Wars Story' Footage Finally Revealed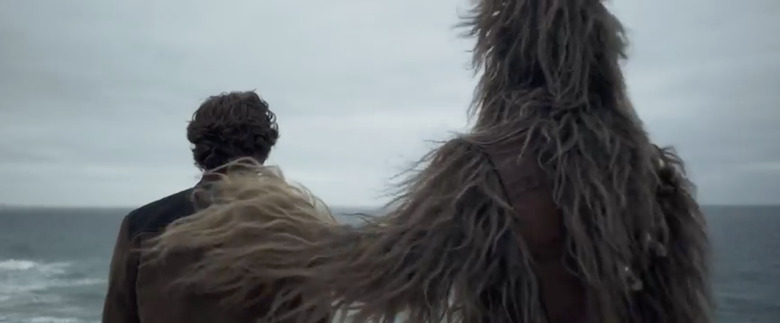 Finally, here's proof that Solo: A Star Wars Story is a real movie: a Solo Super Bowl spot. This quick look at the upcoming Star Wars Story film will likely serve as a tease for a longer trailer airing on Good Morning America tomorrow.
After an unusually long delay, the first Solo: A Star Wars footage has arrived in the form of a new Solo Super Bowl spot. Here we have our first official glimpse of Alden Ehrenreich steeping into Harrison Ford's boots to play that lovable rogue Han Solo. Watch the Solo Super Bowl spot below.
Solo arrives under the cloud of a troubled production. The Lego Movie and 21 Jump Street helmers Phil Lord and Christopher Miller were originally hired to direct the film, but after months of shooting, the duo were fired after clashing with Lucasfilm President Kathleen Kennedy. Ron Howard then came in to take over. Since then, rumors have stated that Howard reshot a huge chunk of the film, while some people involved with the production – including co-star Thandie Newton – suggest that a large amount of what Lord and Miller shot remains. We'll probably eventually get the whole story, but for now, let us bask in the glory of this first official Solo footage.
Solo Super Bowl Spot
This looks exciting, and best of all, it looks different. It doesn't look like it fits comfortably within the on-going Star Wars saga, and it looks far removed from Rogue One. Has director Ron Howard pulled this one off? It's a distinct possibility. Also, it goes without saying, but the best part of this trailer is Donald Glover's Lando sporting that sick fur coat.
Of course, this is also rather brief. The longer trailer that arrives tomorrow will give us a much better idea of what to expect. Solo: A Star Wars Story, starring Alden Ehrenreich, Woody Harrelson, Emilia Clarke, Donald Glover, Thandie Newton, Phoebe Waller-Bridge, Joonas Suotamo, and Paul Bettany, opens May 25, 2018.
Board the Millennium Falcon and journey to a galaxy far, far away in Solo: A Star Wars Story, an all-new adventure with the most beloved scoundrel in the galaxy. Through a series of daring escapades deep within a dark and dangerous criminal underworld, Han Solo meets his mighty future copilot Chewbacca and encounters the notorious gambler Lando Calrissian, in a journey that will set the course of one of the Star Wars saga's most unlikely heroes.