New 'American Gods' Showrunner Hired For Season 2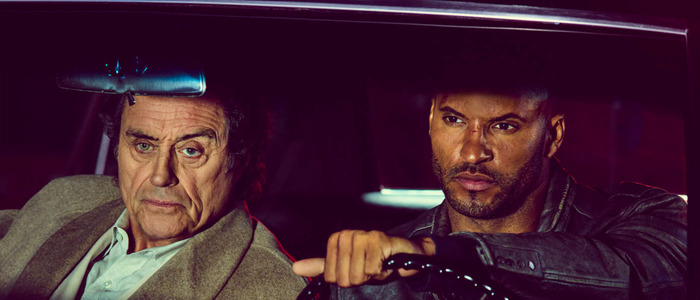 American Gods recently hit a speed-bump when showrunners Bryan Fuller and Michael Green departed the project after season 1 had wrapped. Now American Gods season 2 has brought on a new showrunner: Jesse Alexander, who has worked on Hannibal and Star Trek: Discovery, will serve as the new showrunner alongside American Gods creator Neil Gaiman.
Bryan Fuller and Michael Green did excellent work turning Neil Gaiman's novel American Gods into a weird, twisted, entertaining series for Starz. But after season 1 wrapped and while the writing of season 2 was happening, Fuller and Green jumped ship, leaving American Gods rudderless. Now, The Hollywood Reporter confirms the series has finally hired a new showrunner: Jesse Alexander, who has worked with Fuller on both Hannibal and Star Trek: Discovery.
Last month at TCA, rumors abounded that American Gods author Neil Gaiman would slip into the showrunner role for the series. Starz CEO Chris Albrecht seemed to confirm this rumor when he said that Gaiman would take on the job, but Gaiman later refuted this, saying that while he's not technically running the show, he would be working closely with the new showrunner.
I'm already showrunning GOOD OMENS and I won't be physically showrunning two shows. But I plan to work really closely with the new showrunner, and to help plot and guide and build American Gods, just as I did when Bryan & Michael came on as showrunners.

— Neil Gaiman (@neilhimself) January 12, 2018
The THR story about Alexander's hiring reaffirms this, confirming that Alexander will be working alongside Gaiman on season 2. In a statement to THR, Gaiman said:
"I'm thrilled that Jesse is [the] showrunner. He loves and understands the book, he loves and understands the TV series and he's dedicated to making future seasons of American Gods as good and as beautiful and as unique as they can be. Shadow's journey is going to take him, and Mr. Wednesday, and the New Gods and the Old, to some very strange places. I'm glad that we, and the cast and crew, will have Jesse shepherding us on the way."
American Gods focuses on Shadow Moon (Ricky Whittle), an ex-con who finds himself at the center of a war between various deities from various faiths. The first season was wonderful, and even surpassed Gaiman's novel (in my humble opinion, at least). Part of the show's success could be attributed to Fuller, as season 1 had his distinct flare for the dramatic mixed with the comedic and the grotesque (not to undersell Green's contributions to the show, of course). The fact that Starz is bringing in a Fuller associate to run the show now is a good move.
When Fuller and Green left the series, reports indicated that they had already worked on most of the scripts for season 2, something Starz CEO Chris Albrecht confirmed at TCA when he said, "Bryan and Michael will be involved as much as they can be." Albrecht also claimed that Fuller and Green "were not fired, nor did they quit." However, the THR story claims quite the opposite, stating that while Fuller and Green penned at least six scripts for season 2, there's talk of tossing those scripts entirely and starting from scratch, and that the duo were, indeed fired. While budgetary reasons were originally used to explain Fuller and Green's departure, THR also claims Gaiman was unhappy with the direction Fuller and Green were taking the project. If this report is to be believed, the author was apparently concerned with how much the showrunners were straying from his source material.
No return date has been set yet for the American Gods season 2 premiere.