'Irreplaceable You' Trailer: Netflix's New Tear Jerker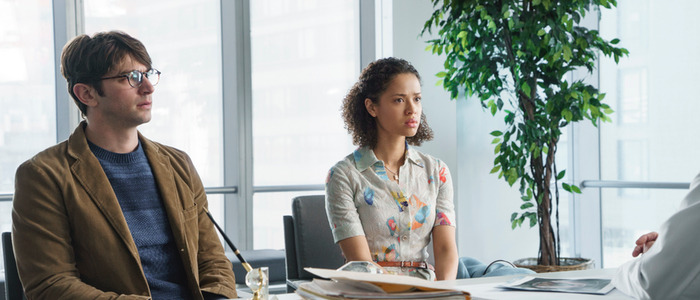 What if you new for a fact that the person you loved would die soon? How would you approach that? And how would your dying significant other face this? These very difficult questions get the tear jerker movie treatment in Netflix's new original film Irreplaceable You, starring Gugu Mbatha-Raw and Michiel Huisman. Watch the Irreplaceable You trailer below.
The time has come for yet another original movie from Netflix. In their endless quest to create as much original content as possible, Netflix is now taking a trip into weepy tear jerking romance land with Irreplaceable You, which looks the result of someone adding dark humor to a Nicholas Sparks novel. Not that there's anything wrong with that. In the film, a couple (Gugu Mbatha-Raw and Michiel Huisman) find their lives upended and their future very much in doubt when they learn that Mbatha-Raw's character has been diagnosed with a fatal illness. The couple tries to deal with this news, and their conflicting emotions, all while hoping for the best but expecting the worst. You can expect many tears to be shed.  Watch the Irreplaceable You trailer below.
Watch the Irreplaceable You Trailer 
I don't know how to feel about this. On one hand, this looks like the type of manipulative, treacly stuff I tend to avoid. On another, look at that cast! Gugu Mbatha-Raw! Christopher Walken! Kate McKinnon! Steve Coogan! Jacki Weaver! That is a very impressive line-up. The film marks the directorial debut of Stephanie Laing, who's worked on shows like Veep, Eastbound and Down and Vice Principals. There's a very good chance Irreplaceable You might turn out to be a pleasant surprise. At the very least, I'm glad the film is putting Gugu Mbatha-Raw in a lead role – she's a wonderful actress, and deserves as much work as humanly possible.
Irreplaceable You arrives on Netflix February 16, 2018.
IRREPLACEABLE YOU is the heartwarming, romantic story of Abbie (Gugu Mbatha-Raw) and Sam (Michiel Huisman), best friends since childhood who are engaged to be married, and whose tranquil New York lives come crashing down when Abbie receives an unexpected diagnosis. Faced with the prospect of an uncertain timeline, Abbie begins a touching and often humorous search for a new love to take care of Sam. Along the way, Abbie makes unlikely friendships with Myron (Christopher Walken), Kate (Kate McKinnon) and Mitch (Steve Coogan) whose one thing in common is that they focus on living, while they are dying. Ultimately, IRREPLACEABLE YOU asks the question, how do you say goodbye?