'Skyscraper' Trailer: The Rock Vs. Big Buildings [Updated]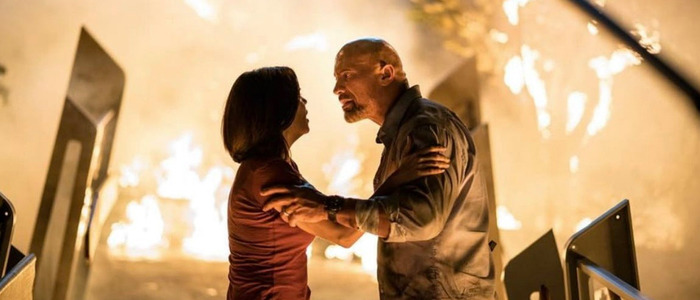 Update: After the Super Bowl TV spot, Universal debuted the full Skyscraper trailer on The Tonight Show With Jimmy Fallon. Check it out below, and our original article follows.
Nothing can stop Dwayne "The Rock" Johnson, not even a really, really big building. In Skyscraper, Johnson plays a muscular man who assesses security for skyscrapers. As bad luck would have it, some nefarious fiend has set the tallest building in the world on fire, and framed Johnson for the deed. Big mistake. The Skyscraper Super Bowl spot shows off all this blockbuster madness as we wait for a full trailer later tonight.
The plot of Skyscraper is wild. Not content to simply concoct a disaster movie, the makers of Skyscraper have put together a complicated plot involving a criminal conspiracy to go along with all that mega-destruction. Dwayne Johnson plays a former FBI hostage negotiator and U.S. war veteran who now works for a company that assesses security for skyscrapers. While on a business trip to check out the tallest building in the world, located in China, all hell breaks lose as the building is set on fire. A big, burning building is bad enough, but soon Johnson finds himself framed for the fire. Now he has to clear his good name while also setting out to rescue his family trapped in the burning building. Like I said, wild.
Skyscraper Trailer
Additionally, a Skyscraper Super Bowl spot shows off all this mayhem, and then later tonight, a full Skyscraper trailer will air during The Tonight Show with Jimmy Fallon.
Skyscraper Super Bowl Spot
Here's your first look at @TheRock in #SkyscraperMovie. See the full trailer tonight in @FallonTonight. pic.twitter.com/3rVi4wI5PC

— Skyscraper (@skyscrapermovie) February 5, 2018
Folks, this looks wild. If I didn't know any better, I might assume this was just a fake trailer that was going to be used in a comedy about an action movie actor. But no, Skyscraper is real, and it looks kind of incredible. The trailer isn't even shy about acknowledging its Die Hard inspirations, going so far as to have the Rock swinging towards the building while clutching a fire hose. Well played, Skyscraper.
Skyscraper comes from the wonderfully-named filmmaker Rawson M. Thurber, who both wrote and directed the film, and who also helmed the comedies Central Intelligence and Dodgeball: A True Underdog Story. In addition to the Rock, the film also stars Neve Campbell (!), Chin Han, Roland Møller, Pablo Schreiber, Byron Mann, Hannah Quinlivan, and Noah Taylor. This movie looks and sounds bonkers, and perhaps that's exactly the type of reaction a movie like Skyscraper is going for. The Rock has made a career out of playing likable heroes in ludicrous situations, and no doubt Skyscraper will have enough mayhem and action to please his fan base. It's just one of two disaster-themed films the action star has hitting theaters this year, the other being the video game adaptation Rampage. Skyscraper opens July 13, 2018.
Global icon Dwayne Johnson leads the cast of Legendary's Skyscraper as former FBI Hostage Rescue Team leader and U.S. war veteran Will Ford, who now assesses security for skyscrapers. On assignment in China he finds the tallest, safest building in the world suddenly ablaze, and he's been framed for it. A wanted man on the run, Will must find those responsible, clear his name and somehow rescue his family who is trapped inside the building...above the fire line.