'Black Panther' Clip: Danai Gurira's Okoye Kicks Ass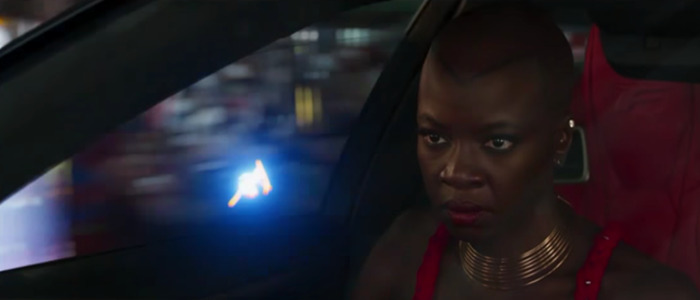 Another day, another exciting Black Panther clip. At this point, it's almost like Marvel is teasing us. We get it: this movie looks amazing. Just release it now, we're tired of waiting and need this movie in our lives. In this new Black Panther clip, Danai Gurira and Lupita Nyong'o engage in some banter while taking part in a car chase. Did I mention it looks great?
Black Panther is going to be big. Advance tickets for the film have already outsold every other Marvel movie, previous clips have been amazing, and the early buzz on the film is overwhelmingly positive. Danai Gurira, who plays Okoye, the head of the all-female warrior squad called the Dora Milaje, appeared on Jimmy Kimmel Live recently and brought with her yet another killer clip from the film. Check it out.
Black Panther clip
In the clip, we see Okoye and Nakia, played by Lupita Nyong'o, cruising in their bulletproof car as they chase after bad guy Ulysses Klaue, played by Andy Serkis. It looks amazing, just like virtually every other piece of footage that has been released from this film. What truly makes this, and other, Black Panther footage stand out is the cinematography courtesy of Rachel Morrison, who recently made history as the first woman ever nominated for an Academy Award for Best Cinematography.
As entertaining as most MCU films are, almost all of them seem to share the same bland, parking lot-inspired color scheme – drab grayness everywhere. In sharp contrast, the cinematography here from Morrison is vibrant and colorful, full of life. I truly hope this is the start of something new for the Marvel Cinematic Universe, and that future films will follow Black Panther and Morrison's example and ditch the parking lot cinematography.
Black Panther, directed by Ryan Coogler and also starring Chadwick Boseman, Michael B. Jordan, Martin Freeman, Daniel Kaluuya, Letitia Wright, Winston Duke, Angela Bassett, and Forest Whitaker opens on February 16, 2018.
After the death of his father, T'Challa returns home to the African nation of Wakanda to take his rightful place as king. When a powerful enemy suddenly reappears, T'Challa's mettle as king — and as Black Panther — gets tested when he's drawn into a conflict that puts the fate of Wakanda and the e

ntire world at risk. Faced with treachery and danger, the young king must rally his allies and release the full power of Black Panther to defeat his foes and secure the safety of his people.