'Castle Rock' TV Spot: Something Terrible Is Happening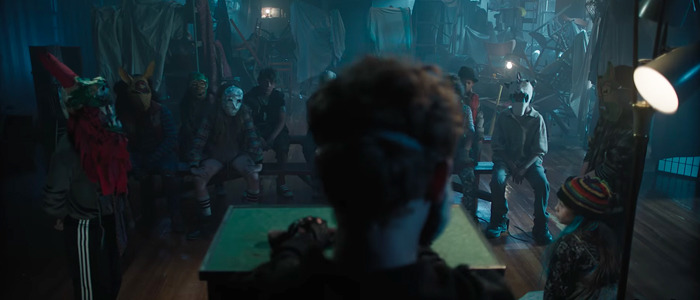 Stephen King himself may not know what's going on with Castle Rock, Hulu's new psychological horror series set inside the King canon, but now he can watch this brand new Castle Rock TV spot along with the rest of us and try to figure it out. (I kind of love that mental image: King obsessively searching through a TV spot frame-by-frame, trying to find connections to his own work.) Let's take a look, shall we?
Castle Rock TV spot
It kicks off with attorney Henry Deaver (Andre Holland, of Moonlight fame) returning to the small town of Castle Rock, Maine, the fictional town where many of King's novels have been set over the years. He says he's received a call from Shawshank, and we see a newspaper headline that mentions the warden's suicide – something we actually saw happen at the end of the film adaptation of The Shawshank Redemption, placing this series soon after the events depicted in that movie on the larger timeline. Deaver isn't sure yet who made the call, but it was probably a death row inmate played by It star Bill Skarsgard.
Then there are flashes of unsettling images more in line with what we've seen in previous trailers: a group of kids with masks (seen in the photo above), Jane Levy's Jackie looking worried, Terry O'Quinn's Dale Lacy in a car, a bloody dog in Sissy Spacek's character's bed (which brings to mind a scene from last year's adaptation of Gerald's Game), blood flowing down a shower drain and some sewer imagery that both recall scenes from It, and more. And the score, peppered with whispers and clipped laughter, just adds to the creepiness of the whole thing.
A psychological-horror series set in the Stephen King multiverse, Castle Rock combines the mythological scale and intimate character storytelling of King's best-loved works, weaving an epic saga of darkness and light, played out on a few square miles of Maine woodland. The fictional Maine town of Castle Rock has figured prominently in King's literary career: Cujo, The Dark Half, IT and Needful Things, as well as novella The Body and numerous short stories such as Rita Hayworth and The Shawshank Redemption are either set there or contain references to Castle Rock. Castle Rock is an original suspense/thriller — a first-of-its-kind reimagining that explores the themes and worlds uniting the entire King canon, while brushing up against some of his most iconic and beloved stories.
Castle Rock debuts on Hulu sometime in Summer 2018.