Lois Lane And Lex Luthor-Centric 'Metropolis' Series Coming From DC Digital Service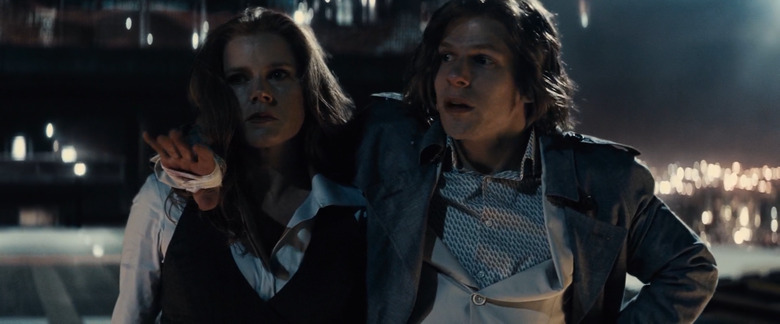 It seems like the preferred way to create a Superman prequel series is to name it after a place where he's lived. Following shows like the popular Smallville and the upcoming SyFy series Krypton, here comes Metropolis, a series from Warner Bros. TV that will premiere on DC's digital streaming service.
But here's the catch: Superman is nowhere to be seen. Instead, Metropolis will follow the adventures of Lois Lane and Lex Luthor, inexplicable partners who "investigate the world of fringe science and expose the dark and bizarre secrets of a pre-Superman Metropolis." Yes, you read that right.
DC and Warner Bros. TV have given a straight-to-series order for Metropolis, which will join other superhero shows on the new streaming service, like the gritty Teen Titans adaptation Titans and the revival of the animated cult favorite Young Justice: Outsiders, according to The Wrap. The 13-episode series comes from Gotham executive producers John Stephens and Danny Cannon, who will write and direct the first episode. No cast has been announced.
The premise of the series seems only vaguely related to the iconic characters of Lois Lane, a famed investigative journalist at the Daily Planet, and Lex Luthor, a greedy, genius billionaire businessman and scientist. In fact, the premise seems like it's pulled straight out of a certain primetime network TV procedural, with the main duo of FBI agents replaced by comic book characters. I'm talking about Fringe (or The X-Files, pick your poison), the Fox sci-fi series that ran for five seasons, and also featured a gutsy, intrepid female lead (Anna Torv, now seen on Mindhunter as the actress who is not Carrie Coons) and a smart-aleck, sardonic male lead (Joshua Jackson). I'm not sure how much Metropolis plans to tweak that formula, but the premise seems so odd for a set of characters who are rarely paired together when they're not interacting with one common thread: Superman.
That's not to say that Lois and Lex haven't crossed paths before — the two characters had plenty of tension on Smallville and have even locked lips in both the '90s TV series Lois and Clark and the animated film Superman: Doomsday. But it just feels...wrong without Clark Kent there to bumble in and sweep Lois off her feet. And to make them crime-fighting partners investigating fringe science? What alternate universe is this?
But superhero-less comic book soap operas have an audience, with the growing popularity of series like Gotham. Even The CW's Arrow and The Flash focus on character drama before tackling the villain of the week. Stephens and Cannon certainly have an understanding of how to make audiences watch a TV series where Bruce Wayne is just a toddler (I know David Mazouz is a teenager, but he's still a baby), so they could probably make Metropolis work.
Metropolis is set to debut in 2019.