'Black Panther' Clip: One Of The Best Marvel Fight Sequences Yet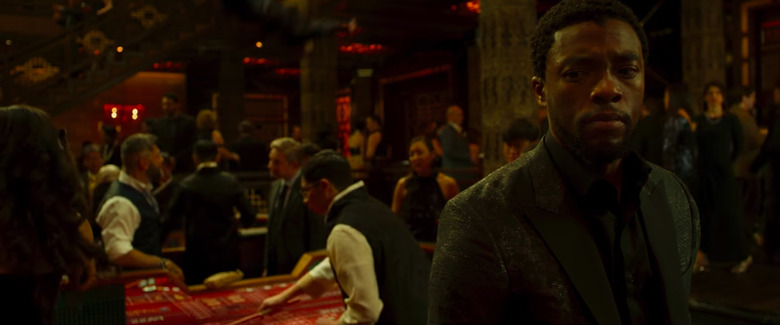 Black Panther may be coming for Captain America: The Winter Soldier's crown as the Marvel movie with the most thrilling fight sequences.
The newest Marvel Studios movie screened early to rave reviews on Monday night, and Disney is doubling down on the hype by releasing a full one-minute clip of T'Challa (Chadwick Boseman) and his team negotiating a fraught deal with Klaw (Andy Serkis). But things go wrong and it leads to one of the most kinetic, thrilling fight sequences we've seen in a Marvel movie yet.
Although much of the film's actual story is still veiled in secrecy, we have a better grasp of the plot of Black Panther thanks to the early buzz and the flurry of TV spots that Disney and Marvel have released. But this is one of the first full scenes that we've seen of Black Panther, though it comes free of context. The one-minute scene takes place in a casino that we've seen glimpses of before, where Martin Freeman's Everett K. Ross seems to be negotiating a deal with Klaw as T'Challa, Nakia (Lupita Nyong'o), and Okoye (Danai Gurira) scope out the room.
Black Panther Clip
First, I would gladly give my firstborn to Danai Gurira, queen of my heart and of this scene. Second, Black Panther is promising to be the movie that breaks the tradition of Marvel movies getting criticized for looking bland. Even in a dimly lit casino, the red and black colors pop, which lends to the absolutely brilliant fight choreography shown off by Gurira, Boseman, and Nyong'o.
Props to Ryan Coogler for eschewing choppy fight editing in favor of long takes that gracefully move the camera to different fights, never letting the action cease. We move from Gurira throwing a man over the balcony, to the chaos that erupts around T'Challa as the shoot-up begins, and to Nakia disarming another man. But the centerpiece of this scene is Gurira smoothly wielding her spear, fighting off dozens of men in choreography that could rival that of John Wick. It's astonishing, and I've watched it 10 times.
Black Panther also stars Michael B. Jordan, Daniel Kaluuya, Letitia Wright, Winston Duke, Angela Bassett, and Forest Whitaker.
Here is the official synopsis for Black Panther:
After the death of his father, T'Challa returns home to the African nation of Wakanda to take his rightful place as king. When a powerful enemy suddenly reappears, T'Challa's mettle as king — and as Black Panther — gets tested when he's drawn into a conflict that puts the fate of Wakanda and the entire world at risk. Faced with treachery and danger, the young king must rally his allies and release the full power of Black Panther to defeat his foes and secure the safety of his people.
Black Panther is set to open in theaters on February 16, 2018.