'Mamma Mia! Here We Go Again' TV Spot: We Got Cher, Babe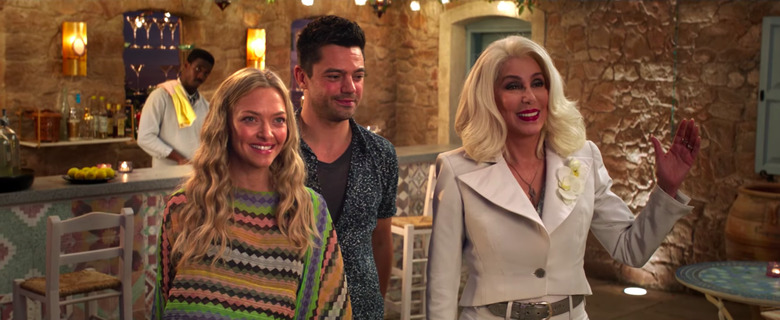 Cher takes the spotlight (or perhaps the moonlight) in the latest Mamma Mia! Here We Go Again TV spot. And it sure does feel good to see the smoky-voiced diva on the silver screen again after taking an seven-year hiatus away from the film industry...even if she's only here to sing a cover of ABBA's "Fernando."
Mamma Mia Here We Go Again TV Spot
The sequel to the hit musical takes place in the present and the past, as Amanda Seyfried's Sophie Sheridan attempts to unearth more about her mother's past romances and life as a single mother, while navigating the trials of new motherhood herself. Though Meryl Streep's Donna Sheridan is suspiciously absent from the trailers except for flashbacks to the first film (is she dead or not?), Lily James plays the free-spirited younger version of the character.
It's looking increasingly clear that the soundtrack to Mamma Mia! Here We Go Again will just be a rehash of the first Mamma Mia's hit songs, but there's nothing wrong with comfort food. I'm still a little baffled that they made a sequel after all. The success of the original film — itself an adaptation of a hit Broadway musical — seemed more like a fluke than a solid hit, spurred on by mothers who dragged their families to theaters so that they could bask in the glory of Meryl Streep and ABBA. As someone who saw the original Broadway musical for this very reason (there was a full year when I was a kid where my mom solely played her ABBA Greatest Hits album in the car), I'm happy to just accept that this sequel exists. The first movie honestly doesn't capture the magic of seeing the musical with a live audience who will gleefully sing along to every song, and as much as I love Pierce Brosnan, the poor man cannot sing. However, the sequel does have Cher going for it. And any movie that follows a free-spirited young woman who romances not one, but three beautiful men only to choose raising a child on her own is great in my book.
And yes, my mom has already broken out her ABBA Greatest Hits album again.
Here is the official, brief synopsis for Mamma Mia! Here We Go Again:
Sophie finds out more about her mother's past while seeking guidance on how to handle her pregnancy.
Mamma Mia! Here We Go Again is set to hit theaters on July 20, 2018.