'A Wrinkle In Time' TV Spot: Powerful Gifts And A Mysterious Warning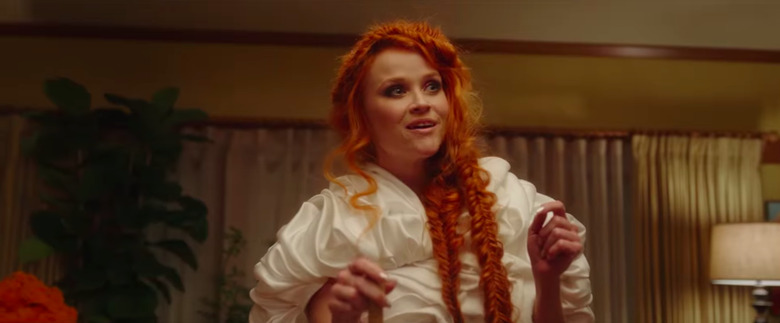 No hero can go on a journey without gifts and wise words from omnipotent beings who began the story as their kooky next-door-neighbors. Because when you get down to it, A Wrinkle in Time is about the crazy cat lady next door who turns out to be a celestial being who can transcend time and space — and only wants to help you find your dashing scientist father.
After the trailers that have focused on the epic journey traveled by the young Meg Murry (newcomer Storm Reid), the newest TV spot highlights the three Misses who send her off on that life-changing quest. Because you can't journey across the galaxy without some inspiring words from Oprah.
A Wrinkle in Time TV Spot
New footage abounds in the latest Wrinkle in Time TV spot, which aired Sunday night during the 60th Annual Grammy Awards. We see the first meeting between Meg and Mrs. Whatsit (Reese Witherspoon), the warmest and most human-like of the three celestial beings who entrust Meg with the quest to find her father. Later, Meg receives special glasses from Mrs. Who (Mindy Kaling), the most cryptic of the three who speaks almost entirely in quotations. And of course, she gets a rousing speech from Mrs. Which (Oprah Winfrey), the most powerful figure of the three and the most ethereal, who warns her not to trust anything that promises her "everything you want."
The rest of the TV spot remains frustratingly vague — footage and exciting set pieces flashing by as Chris Pine yells a lot. Though there is a line from Michael Pena's cheery Red, who claims to know where Meg's father is, but whose eerie costume design and red eyes conceal a menacing force.
Here is the synopsis for A Wrinkle in Time:
Meg Murry and her little brother, Charles Wallace, have been without their scientist father, Mr. Murry, for five years, ever since he discovered a new planet and used the concept known as a tesseract to travel there. Joined by Meg's classmate Calvin O'Keefe and guided by the three mysterious astral travelers known as Mrs. Whatsit, Mrs. Who and Mrs. Which, the children brave a dangerous journey to a planet that possesses all of the evil in the universe.
A Wrinkle in Time is set to open in theaters on March 9, 2018.