'Looking Glass' Trailer: Check Into Nicolas Cage's Creepy Motel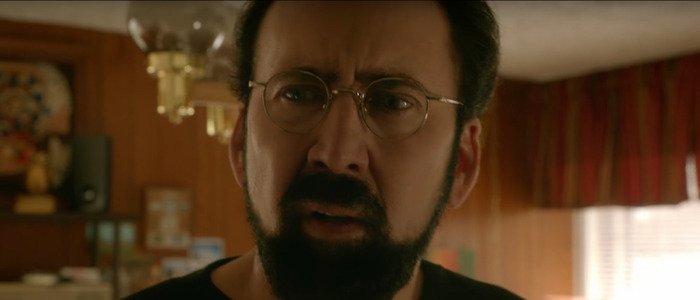 If Nicolas Cage opened a motel, would you stay in it? Before you answer that question, watch the Looking Glass trailer, which features Cage as a motel owner who gets entangled in a story involving voyeurism and murder.
A curiously subdued Nicolas Cage stars in Looking Glass, a "psycho-sexual thriller" in which the actor and human meme buys a motel with a surprising amenity: a secret hiding place with a two-way mirror looking into one of the rooms. Rather than report such a discovery, Cage decides to exploit it, and uses it to spy on some of his guests. Unfortunately, that backfires, badly. Watch the Looking Glass trailer and see for yourself.
Watch the Looking Glass Trailer 
This is a neat premise, and I can't help but wonder if it wasn't inspired by the true story of Gerald Foos. Foos was a motel owner in Colorado who installed what were essentially peepholes in the ceilings of all his rooms, and spied on all his guests. Foos contacted author Gay Talese about this years after the fact, and Talese wrote a book about it, The Voyeur's Motel. Just as the book went to print, however, word broke that some of the things Foos told Talese were clearly fabrications. All of this is chronicled in the compelling documentary Voyeur, which is now streaming on Netflix.
Looking Glass seems to at least be using this concept as a starting point, and then taking it in new, neon-lit directions. Here's the synopsis.
Looking Glass is a psycho-sexual thriller following a couple that buys an old motel in the desert looking for a new beginning, but what seemed at first as an escape is soon a thrilling ride through a mysterious world when Ray (Nicolas Cage) discovers a two-way mirror and witnesses a horrifying murder. In a twisted game of cat and mouse, Ray must race to save his wife and himself from a gruesome secret connected to the hotel and the strange people who visit there.
I have to say, the most surprising thing about this trailer is how low-key Cage is. Make no mistake: Cage is an excellent actor, and he's done a few low-key performances before. But lately, he seems to be permanently stuck in weird over-the-top mode (see Mom and Dad for a recent example). To see him here turning it down a few several hundred notches is unexpected, and actually makes me all the more curious to check the film out. In addition to Cage, the movie also features Robin Tunney and Marc Blucas.
Looking Glass opens in select theaters, on VOD and Digital HD on February 16, 2018.