New 'Dundee' Clip Continues To Pretend This Is A Real Movie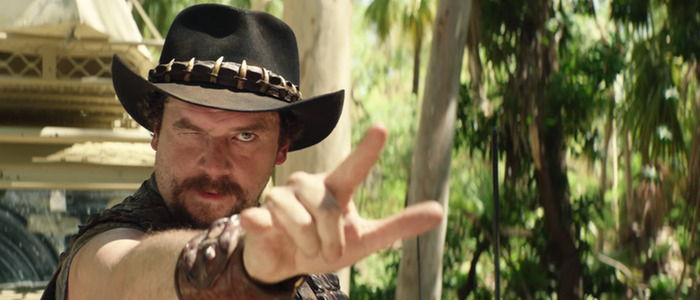 By now, we all know that Dundee, the out-of-nowhere sequel starring Danny McBride as the long-lost son of Crocodile Dundee, is not actually a movie, but rather an elaborate bit of marketing for a Super Bowl ad. Still, that doesn't mean we can't enjoy the bonkers stuff this fake movie keeps putting out. Like this brand new Dundee clip, where McBride tries to tame a water buffalo.
Over a week ago, the trailer for a film called Dundee: The Son of a Legend Returns Home appeared seemingly out of nowhere. It starred Danny McBride as the long-lost son of Crocodile Dundee, who travels to Australia to find his missing father (Paul Hogan). The appearance of the trailer had pretty much everyone (including the /Film staff) wondering: is this for real? Days later, a new clip surfaced and revealed that Chris Hemsworth was a member of the cast. Again, we asked: is this a real movie? The answer: no, it's not a real movie. Instead, we found out a few days ago that this is likely all leading up to an elaborate Super Bowl ad for Australian tourism. Still, that doesn't mean we can't enjoy whatever new silliness Dundee has to offer us. Like this brand new clip, for instance. Watch as Danny McBride's Dundee tries to tame a water buffalo!
This clip is, of course, a comical recreation of a scene from the original film, in which Paul Hogan's Crocodile Dundee uses his magical Outback Powers™ on a stubborn water buffalo. Here's the original scene, in all its glory.
Even though I fully acknowledge that all of this is, indeed, for a commercial, I still can't help be amazed at how much effort the makers of Dundee are putting into this. A trailer for a fake movie is one thing, but the folks behind all of this just went ahead and filmed an entire scene. It begs the question: if they did that, why not just go ahead and film an entire movie? Just go for it! This also makes me wonder just how long this potential Super Bowl commercial is going to be – there's no way all of this footage will be used. Perhaps one day all the Dundee footage will be compiled together in one place. If not, I encourage everyone to start petitions at once demanding that someone release the Dundee Cut.
I'm sure we'll get a few more Dundee clips or trailers before the reveal of the commercial during the big game. The Super Bowl airs February 4, 2018, so the people behind Dundee have a few more days to work their magic.