Steven Soderbergh Says The Future Of Filmmaking Is iPhones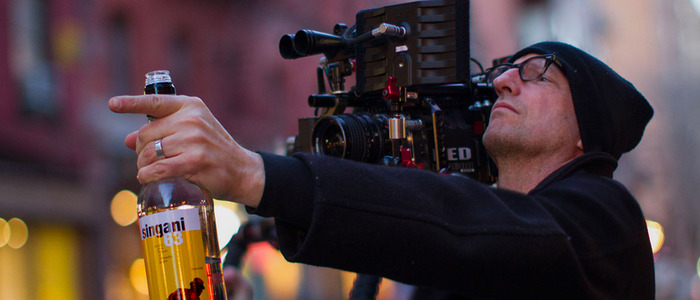 Steven Soderbergh is a big fan of making dramatic statements on the state of cinema. "I just don't think movies matter as much any more," the Ocean's Eleven director said in 2013 when he announced his retirement from feature filmmaking. After that, the director did retreat into television, creating prestigious acclaimed series like The Knick and The Girlfriend Experience.
But Soderbergh briefly put his retirement on hold to direct the invigorating, severely underrated "hillbilly heist" film Logan Lucky, distributed independently through his own company last summer. And now, he inches his way further back into the feature film world with his newest experiment: Unsane, a thriller shot entirely on an iPhone. Soderbergh is still renouncing traditional studio filmmaking, but he says smartphones will be the alternative that will soon sweep the movie industry.
Soderbergh first broke onto the scene with the Sundance favorite sex, lies and videotape, a groundbreaking film that helped revolutionize the independent filmmaking movement. So it's no surprise that the director is always looking to the next step that will help push the limits of moviemaking. He's not the first director to make waves by shooting a film entirely on an iPhone — Sean Baker's electric 2015 film Tangerine proved it could be done and done well — but Soderbergh is certainly helping to bring more credibility to the technology with Unsane, a mysterious thriller starring The Crown breakout star Claire Foy. At the Sundance Film Festival, Soderbergh touted consumer-grade technology as the future of filmmaking, Indiewire reports:
 "I think [shooting on iPhones] is the future. Anybody going to see this movie who has no idea of the backstory to the production will have no idea this was shot on the phone. That's not part of the conceit."
Somewhere, Christopher Nolan is weeping.
There have been only a handful feature film projects that have successfully used iPhone technology on a cinematic scope, though there's no denying that, with the right filmmaker, the smartphone could churn out a beautiful film. "People forget, this is a 4k capture," said Soderbergh. When asked if he planned to exclusively shoot with iPhones from then on, Soderbergh responded with conviction:
"I'd have to have a pretty good reason not to be thinking about that first... There's a philosophical obstacle a lot of people have about the size of the capture device. I don't have that problem. I look at this as potentially one of the most liberating experiences that I've ever had as a filmmaker, and that I continue having. The gets that I felt moment to moment were so significant that this is, to me, a new chapter."
I poke fun at Soderbergh's statements, but the director does make a point about the movie industry becoming a less welcoming space for experimentation and mid-budget filmmaking. The studio system rewards high and low-budget films, with little space for ambitious mid-tier directors. There's a reason many directors are finding their way to TV. But Soderbergh seems to have come up with a solution to his conflict with the Hollywood studio system. He independently distributed his last film Logan Lucky through Fingerprint Releasing, and plans to use a similar, tweaked approach with Unsane.
"I'm playing a long game here," he said. "I'm trying to develop an approach to putting out a movie in wide release that makes some kind of economic sense for the filmmakers and the people that have a participation in the movie. It's going to take a while."
Unsane will premiere at the Berlin International Film Festival in February. It is scheduled for release on March 23, 2018.