'Black Panther' TV Spot Shows Off Even More New Footage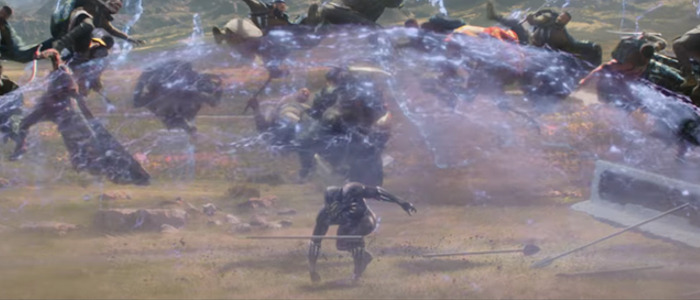 We're getting closer and closer to the release of Black Panther, and every new bit of footage revealed makes the film look even more amazing. Case in point: this new TV spot, which shows off even more new footage, blasts some Kendrick Lamar music, and ensures you'll be buying a ticket for opening night.
Alright, Black Panther, we get it – you look incredible! Stop bombarding us with such awesome footage! We're a few weeks away from Black Panther, which has already sold more advance tickets in its first 24 hours than any previous Marvel Studios movie, beating previous record holder Captain America: Civil War. The cast – Chadwick Boseman, Michael B. Jordan, Lupita Nyong'o, Danai Gurira, Martin Freeman, Daniel Kaluuya, Letitia Wright, Winston Duke, Angela Bassett, Forest Whitaker, and Andy Serkis – is incredible. And director Ryan Coogler is supremely talented. Pretty much every single thing about this movie is incredible, and now there's a new, exciting TV spot featuring some of Kendrick Lamar's soundtrack. What have we done to deserve such riches? Nothing.
Black Panther TV spot
Gosh almighty, this movie looks cool. Even if I wasn't already sold on this movie, Michael B. Jordan yelling, "I'm gonna burn it all!" is enough to make Black Panther a must-see. I've been a bit burned-out on Marvel movies lately, but this looks exciting. I really hope it lives up to the hype and I have a sneaking suspicion it will. In other news, the official Black Panther rating was recently announced. Like all MCU films, it's PG-13. And what earned it that PG-13 rating? "Prolonged sequences of action violence, and a brief rude gesture." I'm very curious to see what this "brief rude gesture" is. I just hope it's not too uncouth, or it might make my monocle pop off my eye.
Black Panther opens on February 16, 2018.
Marvel Studios' Black Panther follows T'Challa who, after the death of his father, the King of Wakanda, returns home to the isolated, technologically advanced African nation to succeed to the throne and take his rightful place as king. But when a powerful old enemy reappears, T'Challa's mettle as king—and Black Panther—is tested when he is drawn into a formidable conflict that puts the fate of Wakanda and the entire world at risk. Faced with treachery and danger, the young king must rally his allies and release the full power of Black Panther to defeat his foes and secure the safety of his people and their way of life.