'X-Men: Dark Phoenix' Score Brings Hans Zimmer Out Of Superhero Retirement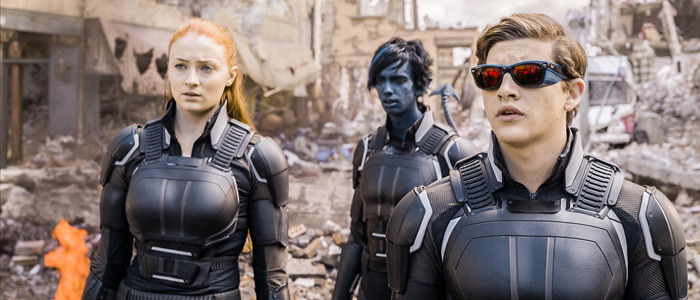 There's no putting this rock god into retirement. Last year, Hans Zimmer dramatically announced that he was "retiring from the superhero business" after he was beaten down from composing the score for Zack Snyder's Batman v Superman: Dawn of Justice.
But that retirement was short-lived, as it appears that the Oscar-winning composer is returning to superhero movies to score Simon Kinberg's X-Men: Dark Phoenix.
Rumors swirled in the comic book movie circuit that Zimmer may come out of his self-declared superhero movie retirement to return for the 20th Century Fox film, but Dark Phoenix star Evan Peters (who plays fan favorite character Quicksilver) seems to have confirmed Zimmer's un-retirement. At Sundance, Peters appeared on Josh Horowitz's HappySadConfused podcast (via Collider) and said:
"[The set] was actually very tame. Simon directed this one, and came in very prepared, very professional. It was a different energy on set and everything got done like clockwork. It was very seamless. Everybody was a little bit more level-headed, so it was a very pleasurable, light experience. I think the film is gonna be incredible. Hans Zimmer's scoring it—I don't know if I was supposed to say that or not. Simon has surrounded himself with incredible people, and Simon knows this world better than anybody, so it was just cool to see him—he's so happy and in his element in that world, and also being able to direct and guide everybody in this way. I was very happy for him and I think it's gonna be great."
Zimmer has had a storied career, creating soaring, unforgettable scores for The Lion King, the Pirates of the Caribbean series, Gladiator, The Last Samurai, and countless other movies, garnering multiple Academy, Grammy, and Emmy Awards in the process. But in recent years, Zimmer has almost become synonymous with the films of Christopher Nolan, composing the frequently imitated, oft-parodied ominous score of Inception, and the moody, dark themes of The Dark Knight.
Since then, Zimmer and Nolan have been attached by the hip, leading Zimmer to become the premier composer for the character of Batman. He would go on to compose for Warner Bros. superhero films outside of Nolan's Dark Knight trilogy, but composing the score for Batman v Superman would turn out to be one superhero movie too many. Zimmer quit superhero movies after Zack Snyder's 2016 film, stating that he felt he had "betrayed" Christian Bale's performance of Batman by composing for a film that featured Ben Affleck as the Caped Crusader.
Before he tentatively left the superhero business, Zimmer at least gifted us with a rousing theme for Gal Gadot's Wonder Woman, which he scored alongside Junkie XL. The heavy metal theme punctuated by a cello solo galvanized that otherwise clunky film, and gave us one of the few truly memorable superhero themes of the modern era.
But now, it appears that Zimmer's work on Batman v. Superman won't be the composer's last go-around with the superhero business. In fact, when Zimmer first announced his retirement, he acknowledged that it probably wouldn't be permanent — as long as he could find a good script, he told Inverse. "Ron Howard actually said something very smart to me," Zimmer recalled. "He said, 'Don't say you will never do a superhero movie again, wait for somebody to turn up with an amazing script for a superhero movie.' And I suppose that's what I'm saying: Can I please have the amazing script?"
We'll see if Dark Phoenix lives up to Zimmer's demands of an "amazing script" when it hits theaters on November 2, 2018.