'Tyrel' Review: Jason Mitchell Headlines This Uneasy And Uneven Racial Drama [Sundance]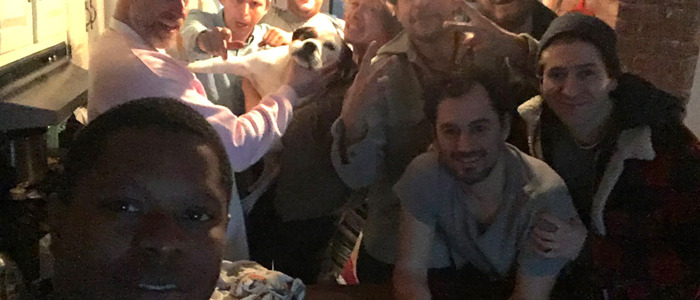 As a flurry of white snowflakes fall on a pitch-black sky, the word TYREL is superimposed over them in bold black font. It's writer/director Sebastian Silva's first attempt of many to underline the differences between this film's black protagonist, played by Jason Mitchell (Mudbound, Straight Outta Compton), and the group of all-white bros he's staying with during a weekend trip to the Catskills to celebrate one of their birthdays. The thing is, Mitchell's character's name isn't even Tyrel, it's Tyler – the title comes from a misunderstanding from one of the white guys, just one of the endless micro-aggressions (and physical aggressions) Tyler endures during this trip. But while Silva's exploration of cultural isolation sounds like it could be the heir apparent to last year's Get Out, Silva doesn't do enough with the premise to give this movie the same lasting impact.
With his girlfriend's visiting family crowding his small apartment, Tyler (Mitchell) accepts an invitation from his friend John (Christopher Abbott) to head upstate for the weekend to celebrate a friend's birthday at a house in the woods. But he fails to mention that Tyler would be the only black person there, and as the alcohol flows, so do the indignities Tyler must suffer at the hands of these increasingly drunk white guys – led by a birthday boy played by the seemingly omnipresent actor Caleb Landry Jones.
They play a game in which they read movie lines in different cultures' accents, and there's an exceedingly agonizing moment when Tyler is pressured to read one as "an old black woman from New Orleans." He begrudgingly does it, but a quick insert shot of his balled up fist shows that Tyler feels as if he just participated in a grave betrayal. A wrestling match breaks out at one point. An acoustic guitar session results in everyone except Tyler loudly singing R.E.M. songs. If nothing else, Silva's movie does an excellent job of capturing the feeling of being an outsider at a party. Since that's not a particularly enjoyable experience for anyone, Tyrel isn't a movie with many pleasures to be found.
Michael Cera shows up halfway through the weekend, adding yet another injection of whiteness into this cast, but Tyler immediately latches on to his character because he's the only one there who actually seems to really see him; at least he openly acknowledges that Tyler is the only black guy there, a nervous reality the others are content with ignoring. But Cera, playing a rich jerk who's a bit too comfortable with cultural appropriation, can't be relied on for solace – Tyler is surrounded by people, but utterly alone.
Mitchell's performance is organic and complex, and watching him perform the mental calculus necessary to get him through any particular moment is the most enjoyable aspect of the film. The scenario in which he finds himself, coupled with Silva's vigilant hand-held camera, gives the movie a documentary feel; the artifice falls away as we watch Mitchell try to stay afloat in a deluge of unpleasantness.
The story takes place on the day Trump is inaugurated, firmly establishing this as a period piece set in early 2017. But Silva never actually says anything with those offhanded political references, and the way Tyler has to continually weather these encounters is not an experience that has any particular significance to the previous twelve months: it's something black people have faced for years.
There's definitely value in a story like this being told: it's relatable for some and potentially enlightening for others, and it may ultimately be a net positive that it's out in the world. But I was waiting for a resolution that brought the whole thing full circle, and Silva's character study just sort of...ends. It feels incomplete without a satisfying conclusion, like it isn't doing total justice to its protagonist. Maybe that's the director's point: justice isn't always coming, and the black experience isn't something that can be wrapped up with a bow. I just wish those themes came across more elegantly, because Mitchell's performance deserves a better movie around it.
/Film Rating: 6 out of 10