Star Wars Bits: 'Rebels' Trailer Breakdown, John Williams At Work, And A New Star Wars Book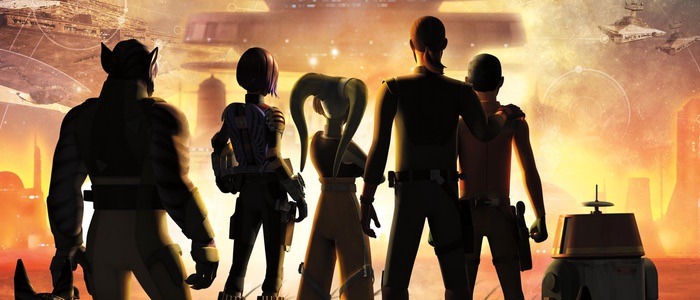 In this edition of Star Wars Bits:
Dave Filoni breaks down the new trailer for season 4 of Star Wars Rebels
The fempire strikes back with a de-meninized edit of The Last Jedi
Rian Johnson shares a BTS clip of John Williams conducting The Last Jedi
Porg high-tops!
And much more!
All things must come to an end, including, unfortunately, Star Wars Rebels. In anticipation of the final few episodes of the series, Executive Producer Dave Filoni breaks down the mid-season trailer for Entertainment Weekly. "You want to give kids a sense that there's growth, that you can change, that you learn," Filoni said. "Sometimes you fail, but you can overcome those failures." Fingers crossed for our beloved Ghost crew!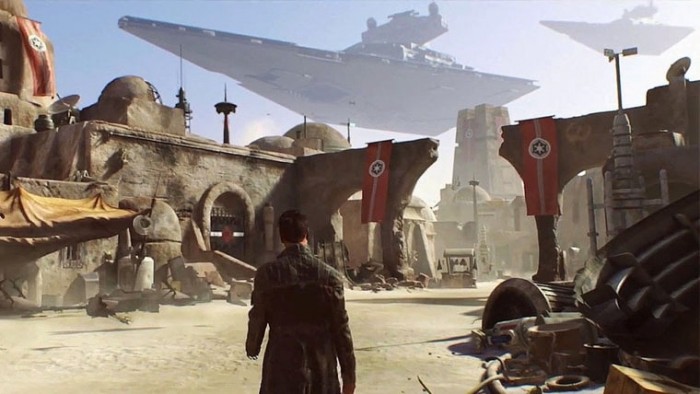 Game developer Amy Hennig is as frustrated as you are over the scuttled plans for Visceral's Star Wars game. The acclaimed writer and director, whose credits include the first three Uncharted games, talks with fellow game designer Sean Vanaman in a piece published by Polygon. Check out the link for Hennig's full thoughts on the Star Wars game and her own creative endeavours.
Calling all @StarWars fans! Pick up your exclusive #Solo: A #StarWars Story logo t-shirt @DisneyParks through May 25th and be a #ForceForChange, 25% of all proceeds benefit @UnicefKidPower https://t.co/XY1KljBegq

— Disney Parks (@DisneyParks) January 12, 2018
Proving that there is still good in the megalomaniacal Disney corporation, Disney Parks announced that 25% of all proceeds from these exclusive Solo: A Star Wars Story logo t-shirts will benefit UNICEF Kid Power. Get your Solo logo (say that ten times fast) tee for a limited time at a Disney park near you.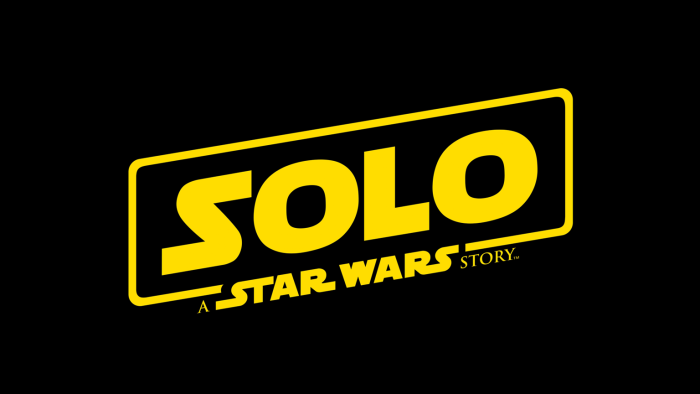 Speaking of the Solo logo, that's just about all the info we have so far regarding the upcoming Star Wars movie – that, and a brief synopsis. With only four months to go before Solo hits theaters, Disney has yet to release even a teaser trailer for the film. MovieWeb offers some theories as to why that is (coughreshootscough) and when we can expect to see some actual footage.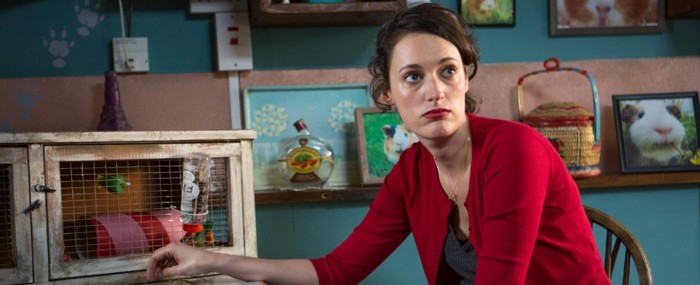 Fleabag writer and star Phoebe Waller-Bridge, who has an undisclosed role in Solo: A Star Wars Story, recently commented on the transition from directors Chris Lord and Phil Miller to Ron Howard. "The handover there was done with such warmth and generosity from everybody, and Ron's just a master at his craft," she told IGN. "He's going to make a beautiful film out of it." Sounds legit, but I'm honestly starting to wonder if Kathy Kennedy is systematically Jedi mind tricking everyone associated with the production of this film...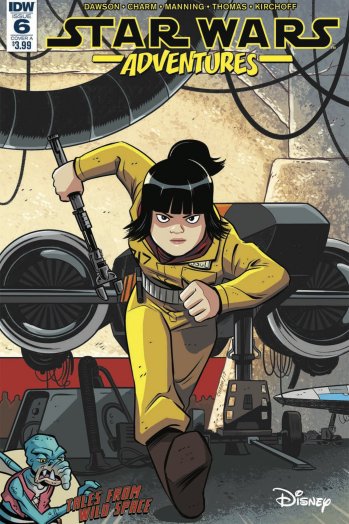 The Last Jedi's Rose Tico gets a story of her own in the latest issue of IDW's family friendly Star Wars Adventures comic series. The story is penned by Delilah S. Dawson, doing a 180 from her usual fare of depicting villainous women like Captain Phasma in the Phasma novel. The story, called "Rose Knows," also stars Rose's sister Paige and a certain rebellious Resistance commander. Check out THR for a more extensive preview.
Ah, internet justice in the form of fanboy tears. So delicious. After a Men's Rights Activist decided to "improve" The Last Jedi by editing out all of the women, a Dorkly user shot back with a cut of the film that edits out all of the men instead. This new edit wraps up at a tidy 36 minutes because "the plot was much simpler and easier to follow without dudes mucking up the works." Into the garbage chute, flyboys!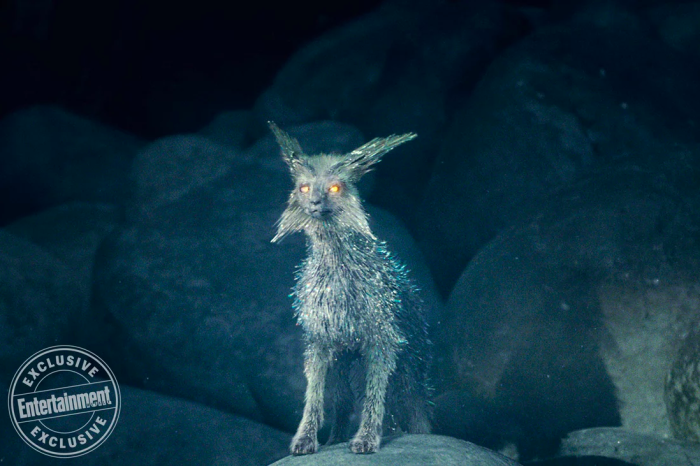 Xenozoologists, rejoice! Omega Underground has learned that Neal Scanlan, Supreme Overlord of the Star Wars creature shop and creator of Porgs, Fathiers, and Vulptices (oh my!), will be returning for Episode IX. With Scanlan and John Williams locked in, we're like 80% on our way to a complete Star Wars film already.
Another pressing question from The Last Jedi has been answered. A fan asked Mark Hamill and Rian Johnson on Twitter what happened to Luke Skywalker's metal arm when he became one with the Force at the end of the film. After Mark Hamill quipped "Me too. Let me know if you get an answer," Johnson chimed in by saying that someone in the edit room suggested Luke's hand should "clank down onto the rock" when he fades away, but that it "might have undercut the moment." Ya think?
Hey @rianjohnson- Maybe Luke just transported to a Nudist Colony.#ThisTheoryWhichIsMineAndBelongsToMeHoweverLikelyOrUnlikelyImFineWithIX https://t.co/zNt9olUJFU

— Mark Hamill (@MarkHamill) January 20, 2018
Not one to let the matter drop, Hamill finishes things off with a crack theory of his own: Maybe Luke was transported to a nudist colony? Hey, maybe Chewbacca can tag along...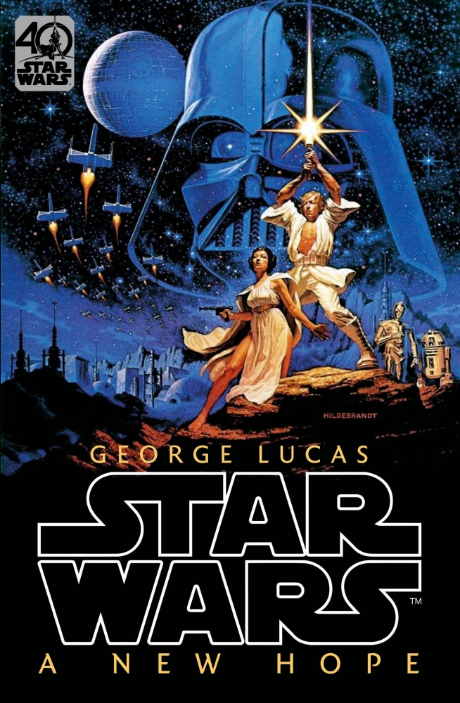 Clear some space on your Han Solo Carbonite Coffee Table for a new Star Wars tome from The New York Times, reports ScreenRant. Titled In a Galaxy Far, Far Away, this "ultimate anthology" of Star Wars coverage from the Times begins with an article on George Lucas back in 1973, which includes this hilariously quaint excerpt: "George is currently working on another science fiction screenplay, 'The Star Wars,' which he describes as a 'real gee whiz movie' in the Flash Gordon-Buck Rogers tradition." Gee whiz! If you're not prepared to shell out $70 for the book, take a peek at this preview video from Rancho Obi-Wan president Steve Sansweet instead.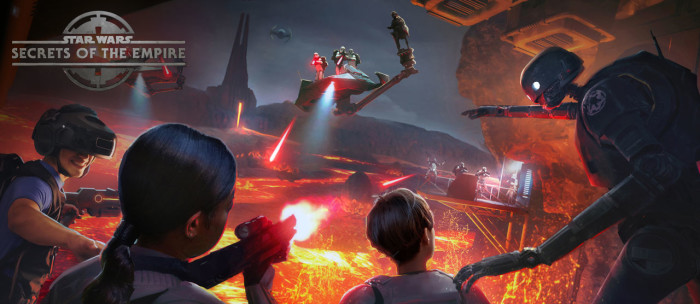 We are living in the future, people. Star Wars: Secrets of the Empire, the gobsmackingly realistic VR experience from The Void, earned a nomination for Outstanding Visual Effects in a Special Venue Project for the 16th annual Visual Effects Society Awards. The full list of VFX nominations for The Last Jedi, which includes regular old movie scenes, can be viewed at Star Wars Underworld.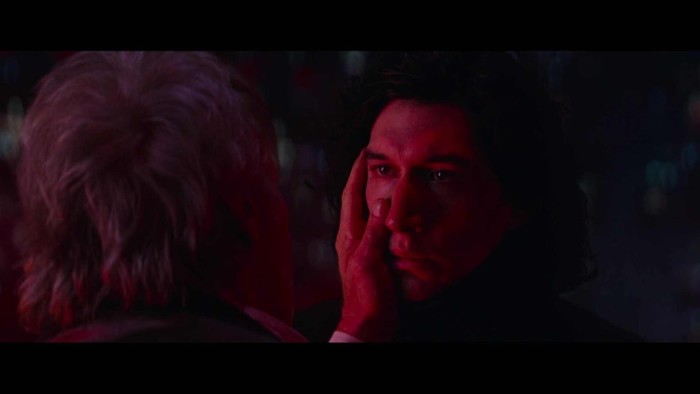 An eagle-eyed (and angsty-hearted) Star Wars fan on Reddit came up with a theory as to why Kylo Ren's scar is where it is when The Last Jedi begins: because that was where his father, Han Solo, last touched him. And here we all thought it was just because the other scar looked goofy. You're tearing me apart, Redditor!!

The Last Jedi could be my least favorite movie of all time (don't worry, it isn't) and I would still be obsessed with the sassy internet cinnamon roll that is Rian Johnson. In response to angry, entitled fans who insisted that "that's not how the Force works!!" when Luke activates his Force projection powers, Johnson put out a thread of tweets to prove that a Jedi is able to "create a short-lived duplicate of himself or herself... that is visually indistinguishable from the real item." Like a true and proper nerd, he consults once of the original, ancient Jedi texts to prove his point. Would you like some Hoth ice for that Mustafar burn?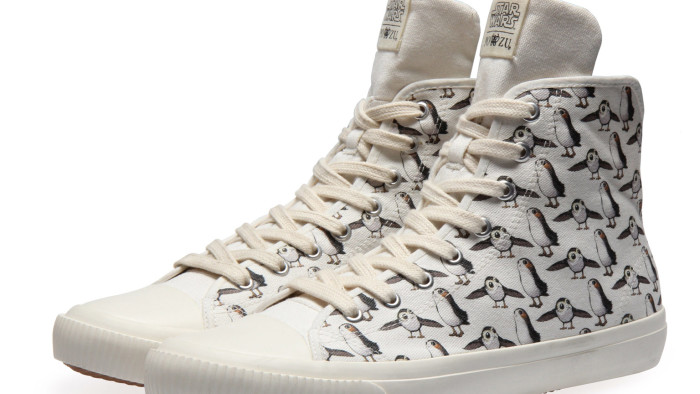 Must. Resist. Porg sneakers. From Po-Zu. Courtesy of StarWars.com. #RESIST
The Star Wars Explained video channel addresses a host of interesting new theories and questions, including: was there a Holonet journalist embedded in the battle of Crait? Can non-Force sensitive people view Force ghosts? And did Yoda Force project himself to Ezra Bridger in Star Wars Rebels?
Fans starved for Star Wars Oxygen, you'll be gasping for air no longer: Charlie Brigden over at Film School Rejects has composed an evocative and thorough breakdown of John Williams' score for The Last Jedi. Here's a sampler of Brigden describing what's occurring musically during a particularly poignant scene:
"Leia's theme  has always had a touch of melancholy behind the strength of the character, and both are on display here in the sequence where her ship is attacked and she finds herself adrift in space," he writes. "The theme returns on delicate piano as she floats amongst the debris before it gives way to the Force theme as she's able to use its power, and here Williams uses a beautiful section of the concert suite of her theme as she pulls herself towards the ship before ending with the Force."
Rian Johnson tweeted out a gem of a behind-the-scenes tease: a clip of John Williams conducting the opening fanfare for The Last Jedi. To quote Johnson: "Nothing I can type will set this up well enough, so I'll just say: John Williams."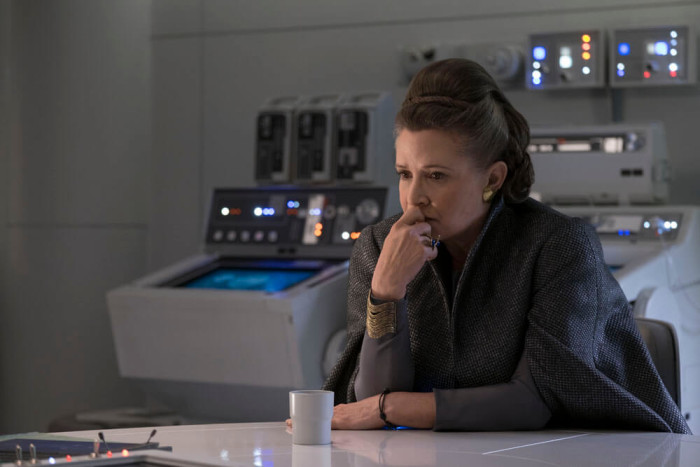 Costume designer Michael Kaplan, who recently earned a nomination from the Costume Designers Guild (if not from the sci-fi averse Academy), sat down with The New York Times to discuss the process of creating costumes for the lush and gorgeous-looking Last Jedi. Kaplan talks about Leia's regal space capes, the Praetorian guards' muscle car-inspired armor, and of course, Kylo's big fashion moment.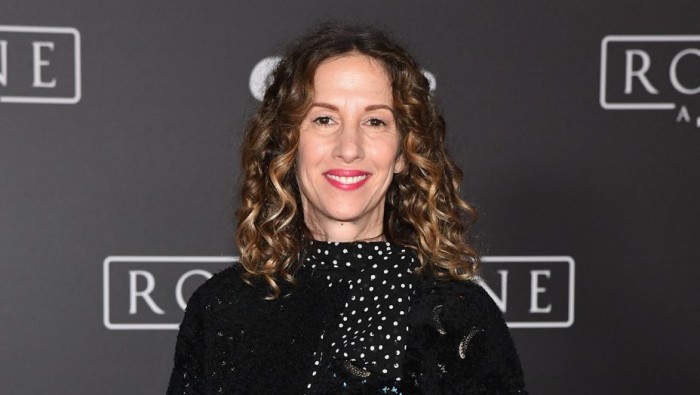 Allison Shearmur, a producer for Rogue One and Solo, died at age 54 last week after a battle with cancer. Shearmur, a former executive at Paramount and Lionsgate, was an outspoken advocate for gender equality in the workplace. Read more about Shearmur's life and career at THR.