Netflix In Talks To Acquire Next 'Cloverfield' Sequel [Updated]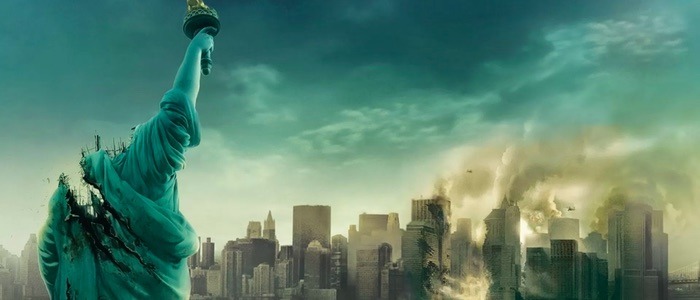 Update: Sources have told
 that Netflix is in talks to acquire the third untitled Cloverfield movie from Paramount. This means that the sci-fi movie formerly known as The God Particle may not receive a theatrical release. Our original story continues below.
What, exactly, is going on with the untitled third Cloverfield movie?
The movie has seen multiple release date delays and a virtually non-existent marketing that only kicked off with a burgeoning
, mere months before its intended release date. Even then, it's planned April 2018 release date seemed like an afterthought, changed abruptly over the holidays after not a peep was heard from Paramount and Bad Robot regarding the quick approach of the prior February 2018 release. Could it be part of J.J. Abrams' and co.'s unorthodox grassroots marketing that it employed for the first Cloverfield and for 10 Cloverfield Lane? Or could it be signs of a troubled production?
A new rumor suggests that it's the latter. A week after the viral marketing for the new Cloverfield sequel started, rumors claim that the film could be dropped from theatrical release and head straight to Netflix.
The untitled Cloverfield movie, formerly known as God Particle, was originally scheduled for a February 2017 release, but has been continually pushed back — first October 2017, then February 2018 — until its current April 2018 release date was settled on. That, and the
movie's total lack of advertising and trailers
, seemed to spell trouble for the film which, to be fair, was completely shrouded in mystery à la every one of the Cloverfield movies. But a new rumor suggests that the theatrical fate of the movie was more dire than anticipated.
"Overheard on the ground at Sundance: New Cloverfield movie may be heading to Netflix," Tracking Board editor Jeff Sneider reported on Twitter. "No confirmation yet and I'm heading into a movie. Just passing along, since the delays HAVE been suspicious..."
Overheard on the ground at Sundance: New Cloverfield movie may be heading to Netflix. No confirmation yet and I'm heading into a movie. Just passing along, since the delays HAVE been suspicious...

— Jeff Sneider (@TheInSneider) January 23, 2018
Could Paramount be dropping the Cloverfield sequel, leaving it free for Netflix to pick it up? We reached out to Paramount about these rumors, but received no response.
Of course, getting picked up by Netflix isn't a death sentence for a movie — though the streaming service has proven to have trouble
that aren't Bright — but it does seem to suggest that the Cloverfield sequel doesn't have the confidence of Paramount, or struggled during test screenings. The film by Nigerian-American director Julius Onah was highly anticipated by fans since day one when Bad Robot
bought Oren Uziel and Doug Jung's spec script in 2012
. The buzzy script has reportedly been changed completely since its purchase in order to fold in the Cloverfield universe elements.
The movie stars Daniel Brühl, Elizabeth Debicki, Aksel Hennie, Gugu Mbatha-Raw, Chris O'Dowd, John Ortiz, David Oyelowo and Zhang Ziyi as astronauts aboard an American space station who are shocked when they find that Earth has disappeared from view after an accident with the particle accelerator. But the plot thickens as the astronauts discover traces of another space station nearby.
When J.J. Abrams
introduced the concept of the "mystery box"
— the director's secretive and twist-heavy approach to storytelling — he probably didn't mean it to engulf one of his projects to the point that fans can't find it at all. Or maybe, in the case of the untitled Cloverfield sequel, he actually does. With a title still not announced — though internet sleuths are calling it Cloverfield Station — and a theatrical release still in question, could this all be a game of marketing subterfuge? It's possible that Abrams is looking for a way to confound fans even further after changing the game with his viral-driven Cloverfield marketing in 2008, and the Beyonce-level surprise release of 10 Cloverfield Lane. Maybe driving rumors of trouble could just be the
new Bad Robot marketing mystery box
. Or maybe this movie is just going to end up buried at Netflix.